Maple Bourbon Syrup For A Lazy Sunday
We had a chilly, damp weekend and quite a lazy, yet productive Sunday. Before we got busy sorting and purging in the attic I made Buttermilk Pancakes with Maple Bourbon Syrup. It is so delicious that I plan on making large batches of this infused syrup and storing it up for future pancake breakfasts.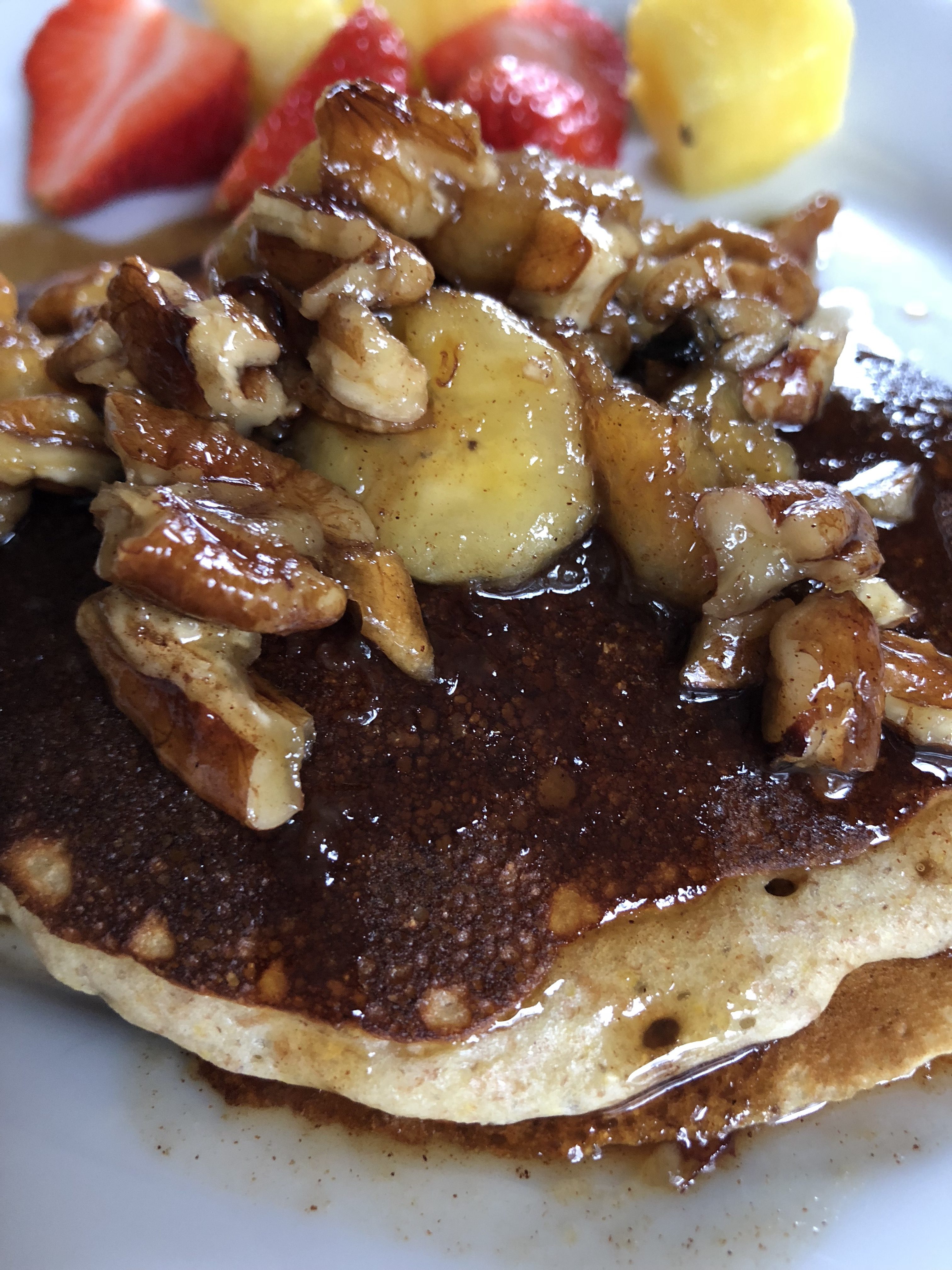 I say lazy Sunday as we sat around and sipped on hot cups of coffee while catching up on some reading and discussing summer vacation plans.  I can't wait to share where we are going this July!  But that is for another post.  After we lazed about we worked up an appetite and having just made a trip to the Old Mill of Guilford I knew pancakes had to be on the menu.  Founded in 1767, today the mill continues to produce all-natural, stone-ground, whole grain foods, just as it has for over 240 years.  If you live in the vicinity it is well worth a trip to the mill store where you can haul home bags full of grits, cornmeal, polenta, wheat flour, pancake mixes, scone and muffin mixes, spelt flour, and so much more.  They even have gluten-free buckwheat and white rice flours for sale.
This Maple Bourbon syrup would go well on any pancake or waffle recipe you prefer.  Just be sure you make some and enjoy it on your next lazy Sunday.
Ingredients
2 large bananas sliced
3 tbsp. unsalted butter
3 tbsp. bourbon
1 cup Maple syrup
1 1/2 tsp. pure vanilla extract
1/2 tsp. ground Ceylon cinnamon
1/2 tsp. ground ginger (optional)
Instructions
Slice bananas into rounds.
Place butter into a non-stick skillet and melt on medium heat.
Add banana slices when butter is frothy and cook 2 minutes or until golden around the edges.
Flip banana slices over and cook 1 more minute.
Transfer banana slices to a plate.
Remove pan from heat and add bourbon, then return to heat and simmer for 1 minute, scraping any bits from bottom of pan.
Add syrup, vanilla, cinnamon and ginger, if using, and stir until well blended and hot.
Serve pancakes with a few banana slices plopped not op and pour a generous amount of bourbon syrup over all.
Top with a few chopped pecans.
http://www.theorangebee.com/2018/02/01/maple-bourbon-syrup-for-a-lazy-sunday/