2017 Book Review – Hooked On An Author
Happy New Year – I warmly welcome 2018!  I am sharing my 2017 book review in hopes you will share some of your favorites by leaving me a comment in the comment section!
Quite frankly 2017 could not end quick enough.  While I enjoyed some wonderful moments, (our trip to Europe, a long beach weekend, seeing my girls) there were some tuff times that I'd just as soon forget.  Those times however are part of my life's history and for now they'll be put on the back shelf as the situations causing some distress and stress, change.  I can always find reprieve in a book and did so by polishing off 10 books in 2017.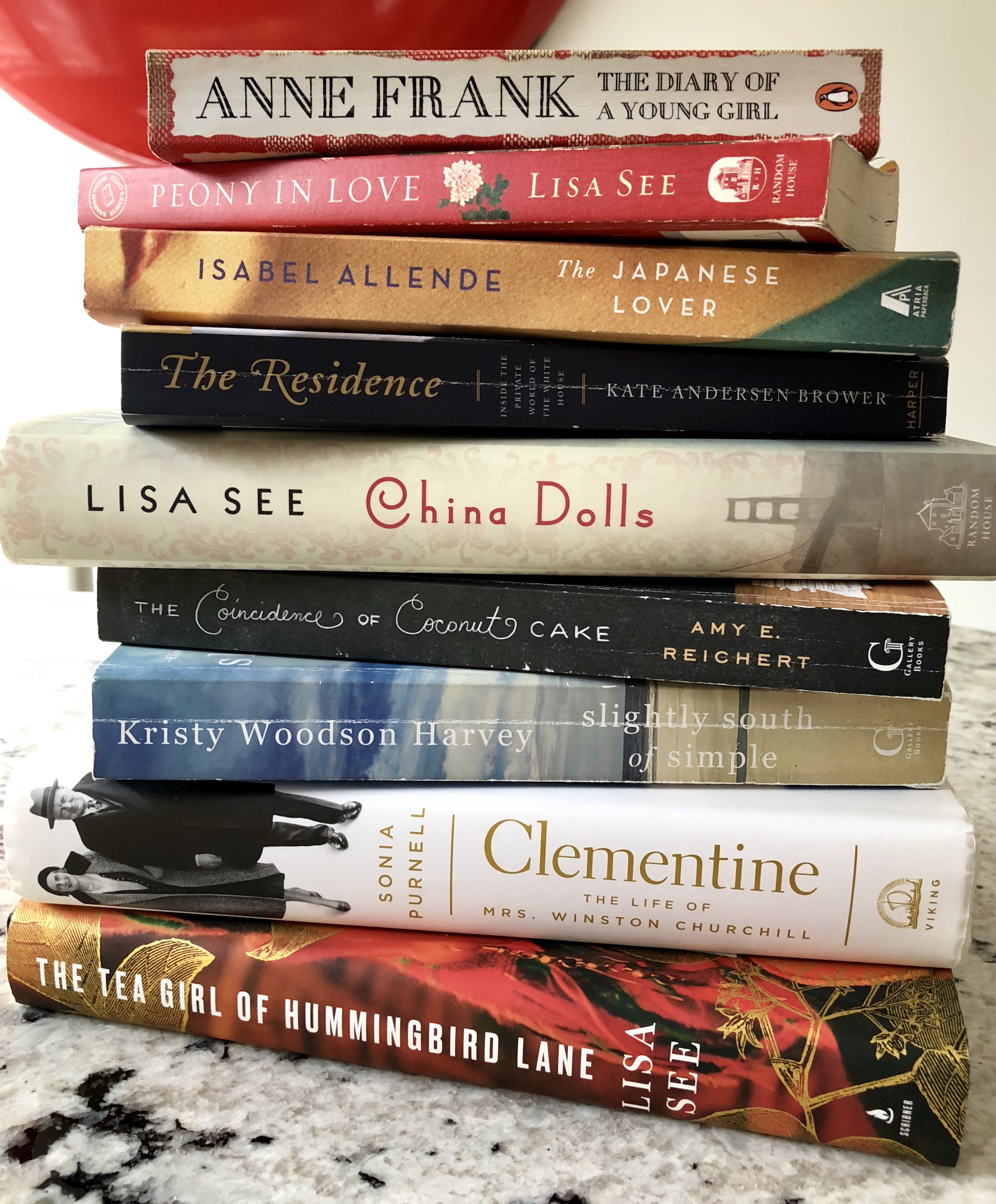 As noted in the title I seem to have found myself hooked on one author in particular. I can thank "Miss T' for my new found pleasure in reading books by author Lisa See, an American writer and novelist.  It was somewhat of a departure for me to read books based on the lives of Chinese women.  I'm infatuated with her historical fiction and will likely find myself absorbed in more of her books this year.  As much as I love to travel reading books such as these transport me as though I am on a travel adventure!
Anne Frank – Need I say more?  This is the 3rd time I've read this heart-wrenching book.  The first two times being when I was 11 and 19 respectively.  I discovered that this edition, which I purchased at The Anne Frank museum in Amsterdam is a revised and unedited version of her diary.  I've discovered that the first two times I read Anne's diary there were many parts omitted by her father.  When he first decided to publish her writings he chose to leave out any parts revealing her sexuality as well as the difficult relationship Anne had with her mother.  It did make for a different read – but definitely a better one.
You probably know the story and this book does not need a review.  Let me say, " I will never be able to comprehend what it was like for Anne and her family to endure the horrific events that took place during and in their lives. To me she is an intelligent, adorable, amusing, quirky young lady who is quite the writer.  I admire this young girl".
The Japanese Lover ~ Isabel Allende – I love Allende's books and have ready many.  She faithfully pulls readers into her characters lives from the first page and that draw makes it hard to put her books down.  This colorful cast of personalities takes us into the love and life of Alma Belasco and Ichimei Fukuda.  Friendship, family, passion, reflection and lastly old age will pull you from page to page as her story unfolds.  Secrets, mysterious letters and gifts and the why are revealed in the end.  If you are an Allende fan read this, if you have never read Isabelle Allende start now!
Clementine The Life Of Mrs. Winston Churchill ~ Sonia Purnell – This book has it's benefits, even though it is a fairly hefty hard-cover.  I put Clementine down countless times for a lightweight paperback as she was too cumbersome to travel with.  The thing is, this storyline is easy to delve back into.  Clementine, pronounced Clementeen, chose the incalculable job of marrying Winston Churchill.  He may have changed the course of history but Clemmie was his source of resolve and direction more oft than not.
Born into penniless aristocracy Clementine was the target of cruel snobbery and isolation.  Extremely intelligent and beautiful but captive to paralyzing insecurities, she made his career her mission.  Purnell captures the dynamic of this couple,  completely devoted to one another with a curious distance between them.  They slept in separate beds, vacationed individually and often argued over money and their children.  It is clear from this long overdue account that without Clementine, Churchill would never has risen to greatness.  It validates the phrase "behind every great man there is a great woman"!
The Coincidence of Coconut Cake ~ Amy E. Reichert –  Set in downtown Milwaukee, Wisconsin with a food focus The Coincidence of The Coconut Cake is an easy and fun read.  Nothing deep here but enjoyable none the less.  Sometimes we just need a book like this.  Since food is one of my main interests in life I'm certain it was the title that caught my eye.  I do love a good coconut cake too and I'm sure Chef Lou Johnson made an amazing, mouthwatering one! Watching Lou tirelessly build her struggling restaurant, Luella's, along with a troubled relationship is just the beginning.  Fate intervenes when a famous restaurant critic pays a visit on a disastrous night to Luella's.  A lighthearted story of love and perseverance surrounding food.  Good beach read!
The Residence Inside The Private World Of The White House~ Kate Anderson Brower – Former White House correspondent Brower opens the doors to the U.S.'s most famous address. If you were hooked on Downton Abbey you may get hooked on this revealing look into the life of the White House staff.  She takes us behind the scenes of the Kennedy administration followed by Lyndon Johnson, Reagan, Nixon, Carter, Gerald Ford, the tumultuous Clinton presidency, both Bushes, all the way through Barak Obama.  "Wow", is all I can say.
It never occurred to me what the staff is doing behind the scenes on any given day at our presidential residence.  With each new administration comes a new family, a new set of values and requirements not to mention personalities – and a new set of challenges and changes to the intensely loyal and hardworking people who serve them.  My father-in-law suggested this book and I'm happy he did as it was an eye-opening and entertaining read.
Slightly South of Simple ~ Kristy Woodson Harvey  – Harvey is a North Carolina writer where she also writes a popular interior design blog.  This book was my summer beach read and that's exactly what it is good for.  A story that explores the bonds between mothers, daughters and sisters.  Love, infidelity, divorce, childbirth, high society and beach bungalow life weave a story that is never quite as simple as it seems.
The Magic Strings of Frankie Presto ~ Mitch Albom – The author of Tuesdays with Morrie writes a magical story narrated by the voice of "music" itself.  It took me about 3 pages to determine just who was narrating this story but once I figured it out I took off.  This story of a war orphan born in a burning church takes you on an extraordinary journey around the world.  With a talent to change peoples lives using 6 mysterious blue strings on his beloved guitar – Frankie navigates the musical terrain of the twentieth century.  He loses his way when he becomes a famous star until tragedy steals his ability to play the guitar that defines him.  A novel of the love between a man and a woman, an artist and his mentor and a musician and his talent.  This story carries you along and is hard to put down!
Now onto the author I seem to be hooked on – Lisa See.  You'll notice I read three of her books this year.  The first was China Dolls, followed by The Tea Girl of Hummingbird Lane and lastly Peony in Love.  Lisa See writes historical fiction.  I was fascinated by her adept way of educating me on the lives of people from China.
China Dolls ~ Lisa See – Set in 1938 San Francisco and the glittering world of Chinese nightclubs, See's story of 3 young women, Helen, Grace and Ruby, from three different backgrounds meet at the exclusive ForbiddenCity nightclub. Helen lives with her traditional Chinese family, Grace an American-born Chinese girl, and Ruby, defiant and unconventional become fast friends. Love, war, secrets and betrayal -China Dolls is a page turner!
The Tea Girl Of Hummingbird Lane ~ Lisa See – This book above the others  I read of See's enlightened me to so much about the Chinese culture.  I'd never heard of Pu'er Tea until I read The Tea Girl of Hummingbird Lane and was delighted when I was able to find it at a local tea shop.  In their remote Chinese mountain village Li-Yan and her family are tea farmers.  When a stranger arrives to inquire about purchasing the valuable tea Li-Yan begins to reject the customs that shaped her childhood.  When she leaves her baby daughter, wrapped in a blanket with a tea-cake tucked into its folds she has rejected tradition and leaves her village for education, a business and city life.  The daughter is raised in California by privileged adoptive parents.
Both mother and daughter wonder about the other and each searches for the meaning in the study of Pu'er, the tea that has shaped their family for centuries.  A powerful story about two women separated by culture, circumstance and distance.  If you are a mother to a daughter you will feel the connection between mother and daughter in this story.  That connection is what most resonated with me as I read The Tea Girl of Hummingbird Lane.
Peony in Love ~ Lisa See –  This was my final book for 2017 and quite a departure from my usual read.  Also quite the  shift for Mrs. See.  Seventeenth-century China is the setting for Peony's story.  See writes about life in the living world as well as the after world in this story of love, destiny, desire and sorrow.  Based on actual historical events this novel vividly evokes another time and place.  It's a coming of age story, a ghost story, family saga and a beautiful work of social and musical history.  Take this book on vacation – it's the perfect poolside read or for passing hours on a long flight.
This wraps up my 2017 book review.  I'm into book number 1 for 2018 – A Man Called Ove.  It's been an easy read and kept me occupied throughout a bout of the flu and some bone-chilling temps in North Carolina which have kept me indoors more than I like.  Let me hear your comments if you've read any of these books.  Yay or nay I"m curious to hear what you have to say!