Apple Pie Amsterdam – Round Two – Did I Nail It?
Well, do you think I nailed round two of Apple Pie Amsterdam? Hopefully my guests…read…guinea pigs from the second go round will weigh in and answer that for you!  Personally I felt good about the outcome.  Making the few changes I mentioned in my first post – read it here – made a big difference in the final pie.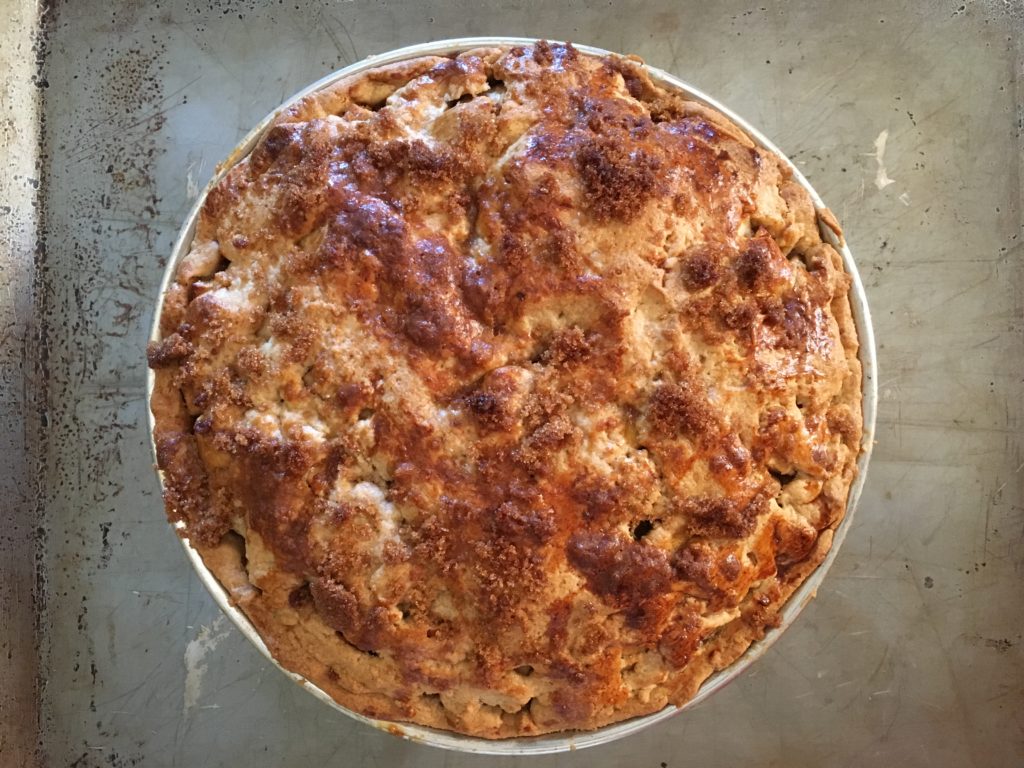 These are the changes I wanted to make:
1. Pie needs to bake for another 7-10 minutes
2. It needs additional spice mixture
3. Use all 10 apples and press repeatedly until apples chunks are compact
4. Cut bigger chunks of apple
5. Use less dough in the bottom of the pan – reserve a bit more for the topping
Here are the results:
1. Baking for another 10-15 minutes ensured the crust was done through and through.
2. Adding one extra teaspoon of Speculaaskruiden (Dutch Spice Blend) supplied just the right amount of all those delicious flavors – but was not overwhelming.
3. Adding the apples a few at a time and then pressing them into the crust as I went, allowed all the apples to go into the crust  leaving few gaps in the filling. This meant that the pie "stood up" better.
4. Bigger chunks of fruit also helped the pie "stand up" but were not too big to eat!
5. Decreasing the amount of dough I used on the bottom and sides of the pan I believe, also helped the crust bake up better and I like having more dough on top to cover all the filling.
The only new tip I have to add is that after a day the pie begins to get juicer – of course it does – and my slices don't hold up as well as they did on the first few.  (At Winkel 43 in Amsterdam they never have leftovers – there is always a line to get a slice of this pie.)  Refrigerating any pie that is not eaten when you first slice it helps alleviate this problem but I only figured that out after it sat at room temp for 2 days.  Another solution would be to bake this pie when you have house full of pie eaters!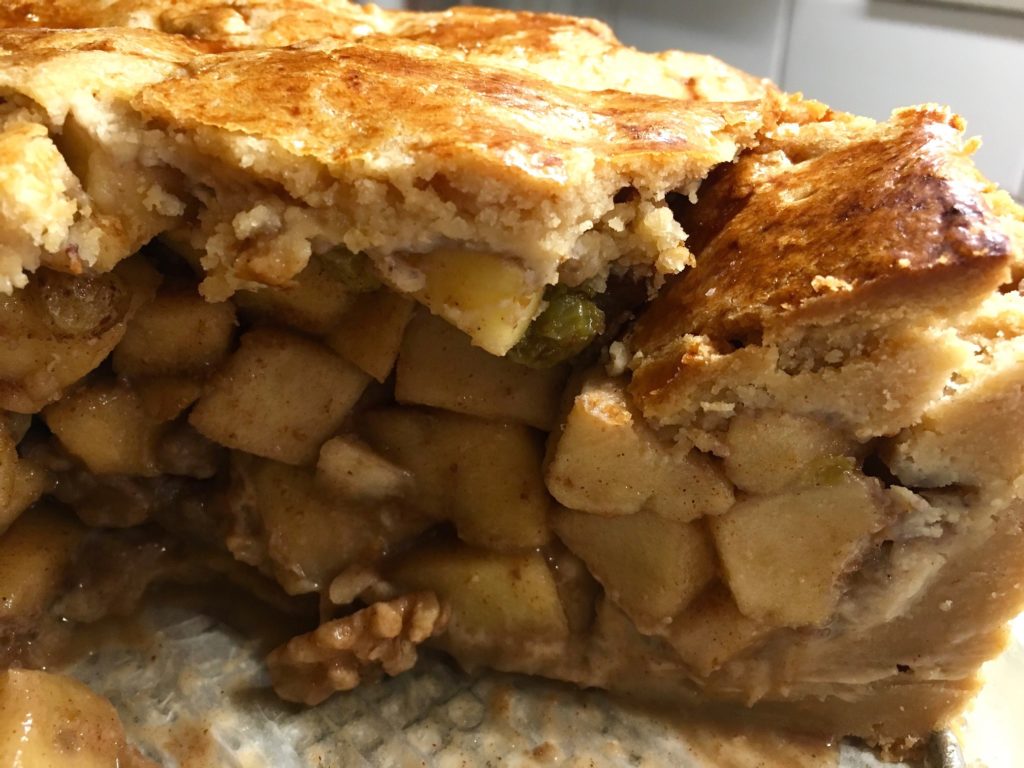 The photo of the slice above was after 2 days on the counter.  You can see it still held up pretty well.  Full of chunky apples, golden raisins and walnuts this pie has "fall" written all over it.  I am ready to share the recipe with you now and would love to hear any comments or suggestions if you try your hand at it!  What I did miss was taking any photos of the fluffy fresh whipped cream dollops that I serve on top.  You can do ice cream or whipped cream – they do both in Holland.  I like the lightness of the whipped cream, I just had too many folks with their hands out for a slice when I served it and so failed to take a pic.  You get the idea! Hey, by the way not only is this pie delicious as dessert but it's damn delicious for breakfast with a hot cup of tea or coffee – just saying'!
Ingredients
Crust:
1 1/2 cups unsalted butter, room temperature, cubed
1 1/3 cups brown sugar, firmly packed
Pinch of salt
2 eggs, slightly beaten
5 cups flour
Filling:
7 firm medium size apples - Braeburn or Gala
3 soft medium size apples - Golden Delicious or Pink Lady
Zest of 1/2 orange and 1/2 a lemon - finely grated
Juice of 1/2 lemon
1/3 cup brown sugar ( plus extra for topping)
3 teaspoons Dutch Spice Blend - Speculaaskruiden (recipe below)
2 teaspoons cornstarch
1 shot of Brandy
1/2 cup golden raisins
1/2 cup chopped walnuts
Spice Mix:
4 tsp.ground cinnamon
1 tsp. ground cloves
1 tsp.ground mace
1/2 tsp. ground ginger
1/4 tsp. ground cardamom
1/4 tsp. ground coriander seeds
1/4 tsp. white pepper
1/4 tsp. ground nutmeg
1/4 tsp. ground anise seeds
Instructions
Crust:
In a stand mixer mix butter and brown sugar together until creamed.
Add salt and most of the eggs, (save 1 tbsp egg to brush on top).
Blend until eggs are well incorporated.
Add 1/3 of the flour and mix until well blended.
Add another 1/3 of the flour and blend, scraping down sides of the bowl.
Add remaining flour and blend until dough comes together.
Cover with plastic wrap and allow to sit at room temperature while you prepare the filling.
Making the filling:
Peel and core the apples.
Cut into medium size chunks.
In a very large bowl mix apples with the orange and lemon zest, lemon juice, brown sugar, Dutch Spice Blend, cornstarch, brandy, raisins and walnuts.
Assemble the pie:
Grease a large 9" springform pan and cover the bottom with parchment.
Reserve 1/3 of the dough.
Press the remaining dough into and up the sides of the springform pan.
Be sure to cover the bottom and all the way up the sides.
Add apple filling a bit at a time and press down as you go, until all the apples have been added. (you may have a few leftover)
Press down and make the top as flat as possible,
Take reserved dough and flatten out in your palms as much as you can and then lay it on top of the filling.
Gently spread the top dough all the way to the edges and pinch together with side dough until the top is completely covered.
Brush the reserved egg over the top of the dough.
Bake in a 375* preheated oven for 70-85 minutes - depending on how accurately it heats.
Check the pie after 60 minutes and cover the crust with foil to prevent too much browning, if necessary.
Using a sharp knife test to see that apple slices feel done before removing the pie from the oven.
Cool 2-3 hours.
Serve with a dollop of fresh whipped cream or ice cream.
http://www.theorangebee.com/2017/11/03/apple-pie-amsterdam-round-two/