Why You Should Visit Gent, Belgium
I've visited Belgium before.  Brussels only and many years ago.  I remember it being a clean city with countless red brick buildings.  Can you tell it was a long, long time ago?  After doing my research on visiting Belgium I quickly narrowed down our choices to Brugge or Gent aka Ghent.  I'm sure we would've enjoyed either but we settled on Gent because it is small in comparison.  I knew our next stop would be Paris – a bustling, crazy busy city so I clued in on the calm before the storm concept!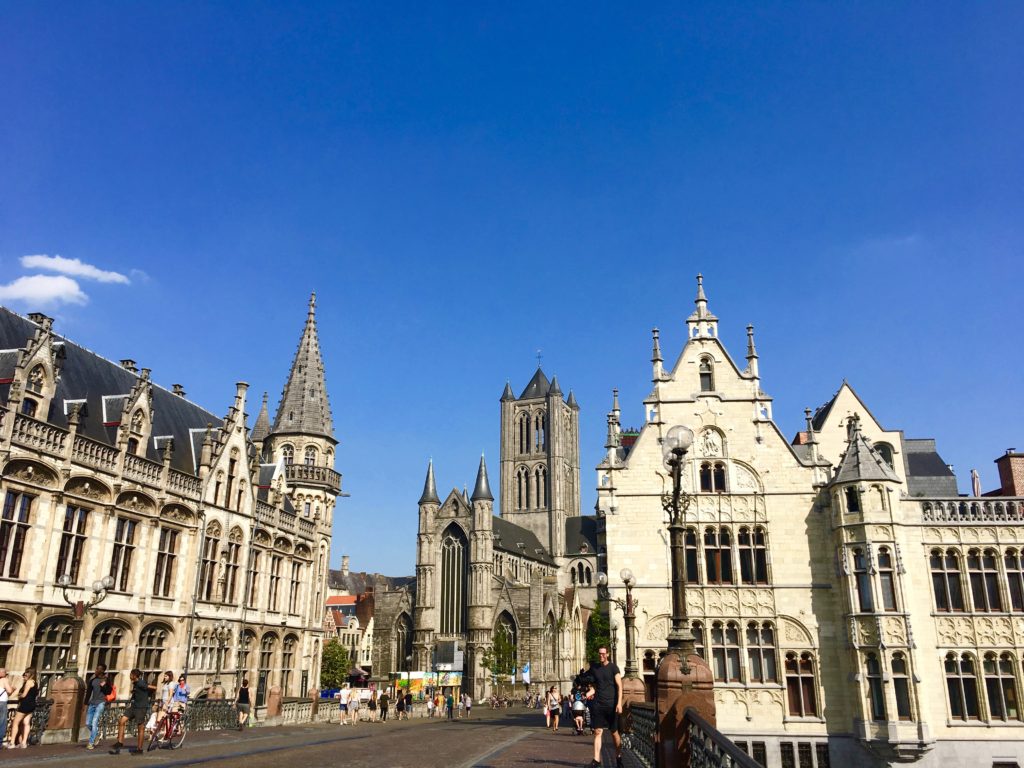 The medieval city of Gent is chock full of Flemish architecture and Gothic sites such as St.Bavo's cathedral and Castle of the Counts.  When you tire of site seeing a stroll along the Graslei is relaxing and quintessential Europe.  I'm sharing the highlights of our time in Gent in hopes that you too, will visit this jewel of a city.
Gent Illuminated, if you think Gent looks lovely in daylight you can't imagine the beauty of the town lit up at night.  Beginning at dark and lasting until midnight there are no less than 55 sites illuminated for your viewing pleasure.  It is enchanting, romantic and not to be missed.  You can follow a map that guides you on a 2 hour tour of all the sites or do as we did, just wander.
The Graffiti Walls are a fun way to deviate from the main streets for a few minutes.  It's cool Gent lets anyone express themselves in the art form on this lengthy pathway.  Colorful, whimsical and creative, yet we noticed that the art of a few talented artists is somewhat overshadowed by many untalented spray painters.  None the less it is worth walking through.  I imagine it changes constantly and therefore should not be missed.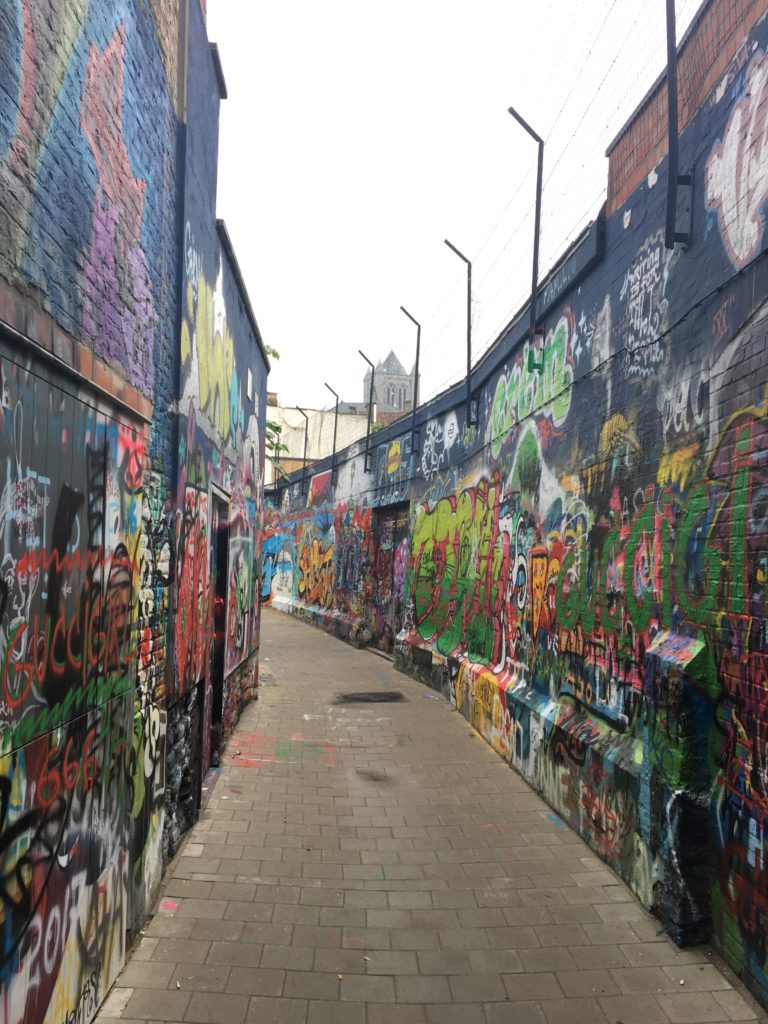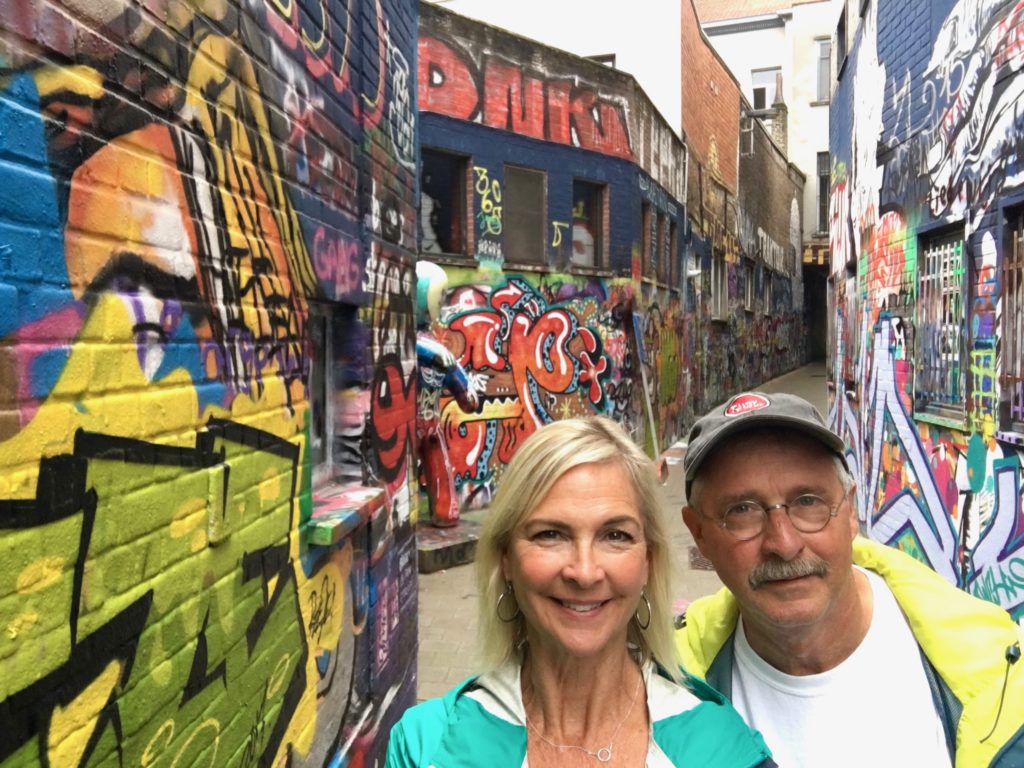 Belgian Waffles are nothing like our waffles here in the U.S.  Even those waffles they hawk at the state fairs do not come close to these melt in your mouth delicacies.  When in Belgium….do not miss out on trying at least one.  We were told by the owner of our apartment that Max served the best waffles.  Of course, this is where we went.  It's a lovely cafe where sitting outdoors offers a view of the City Plaza and the pianos – we'll get to that in a minute.  Whatever you do have a waffle at Max – with or without fresh berries.  Warning – they don't have "tap water"….really?  How do you wash dishes?  Spring for bottled water and eat a waffle!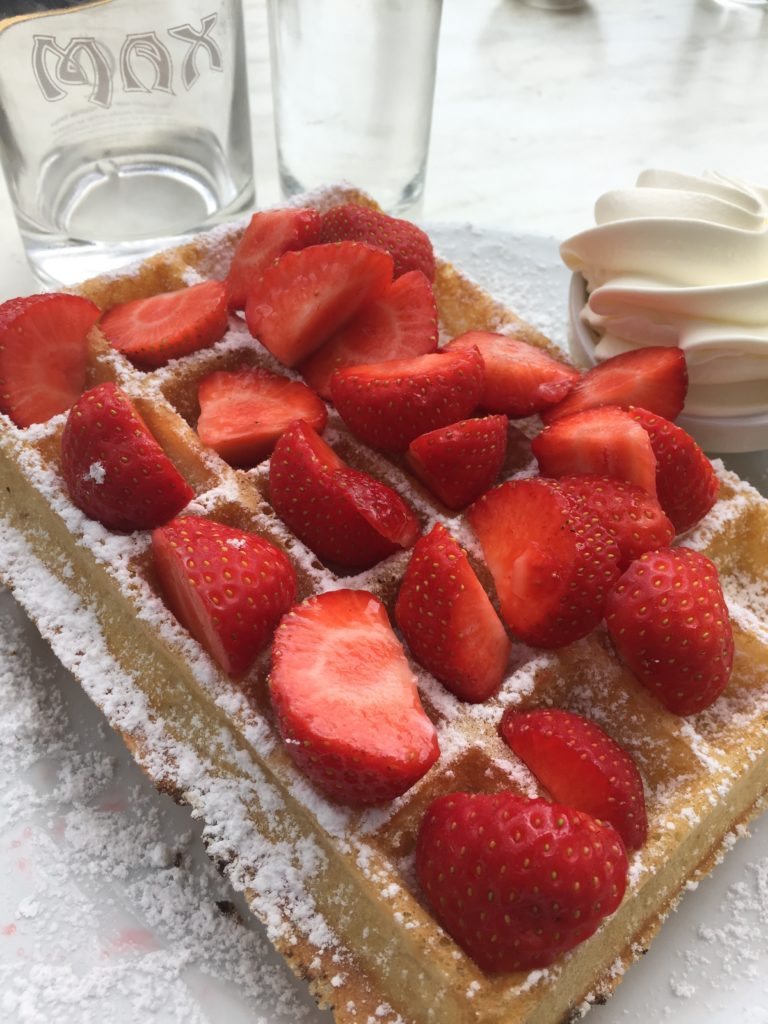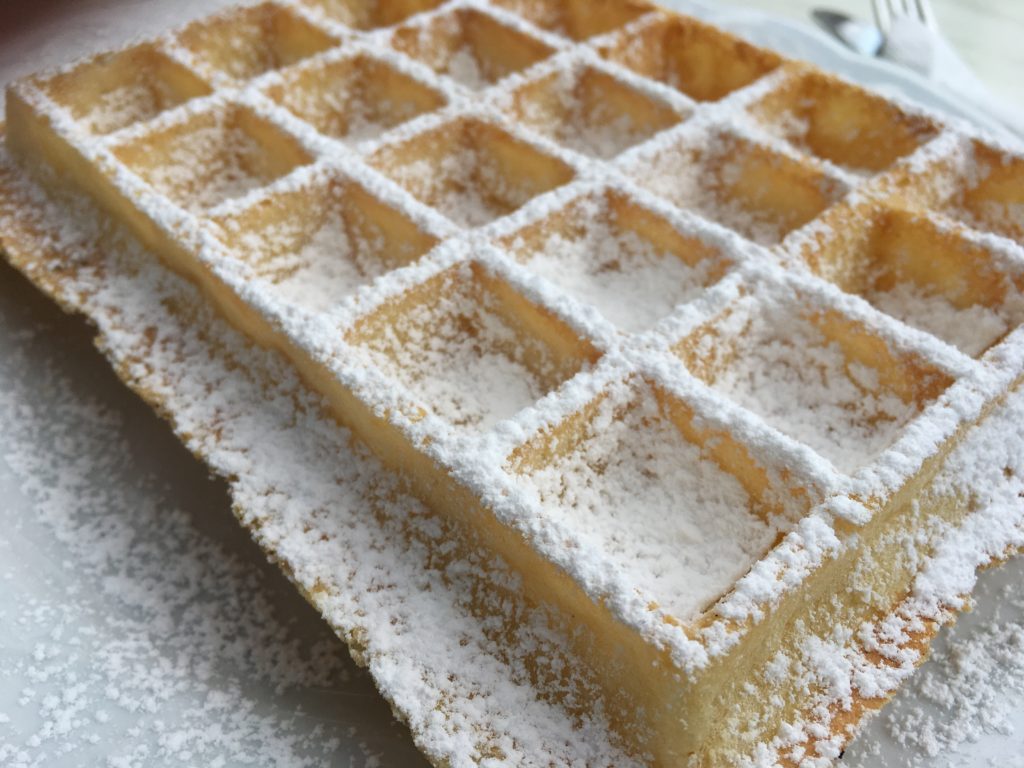 City Pavilion was a delight we stumbled upon on our very first night in Gent.  We went back multiple times to hear a variety of people play a baby grand piano.  City Pavilion, an imposing wooden structure in the shadow of the Belfry, protects a circle of pianos all centered around a baby grand piano.  The baby is there for any and all to sit and play.  Often times a talented pianist will sit and play for quite a time and at other times there is a que for one to tickle the ivories.  We heard everything from classical piano to the Beatles being played, occasionally with vocal accompaniment.  Around 11:00 p.m. a caretaker comes and closes the circle of pianos around the baby grand and locks them in securely until the next morning when he undoes the whole thing.  Do it – you won't be sorry.  And if you play get in line – it's not an official line but more of an honor system for who is next. Lovely FREE entertainment!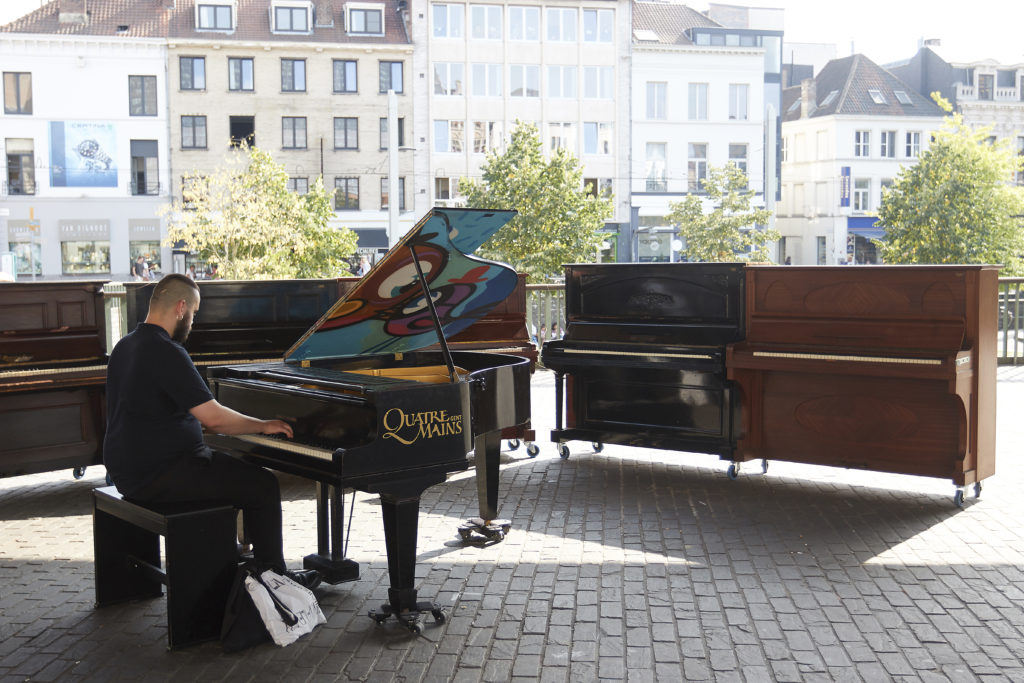 Castle of Counts – Gravensteen is a must see particularly if you are intrigued by the medieval forms of punishment – read -torture.  Quite disturbing yet riveting!  I had a hard time imagining exactly what it would've been like to actually reside here but found the architecture beautiful and the views breathtaking from the tower.  Perfectly restored and surrounded by a moat, be prepared to climb many staircases when visiting Gravensteen.  Tickets are not expensive and you can tour the entire castle in about 1-1 1/2 hours.  Then have a beer!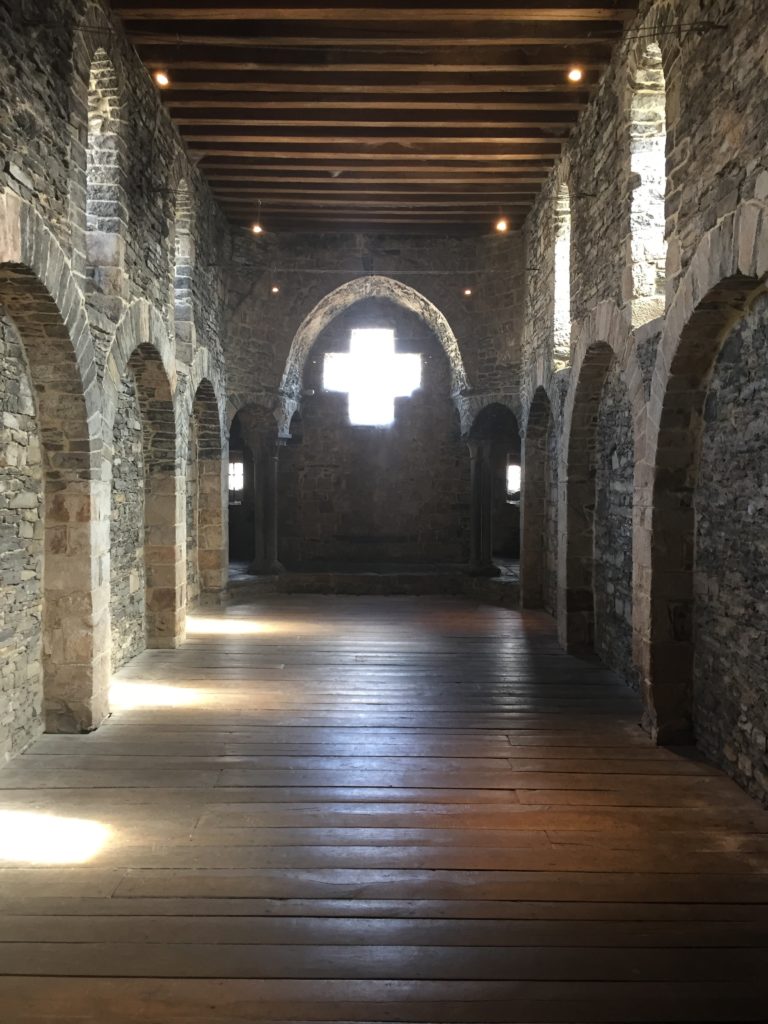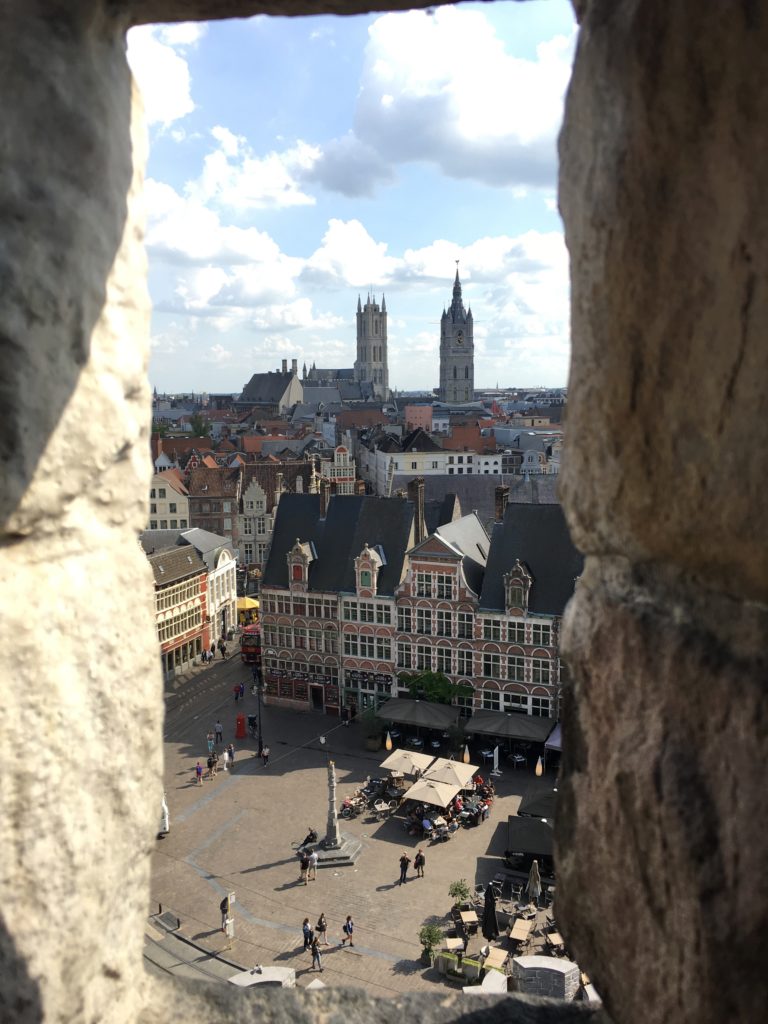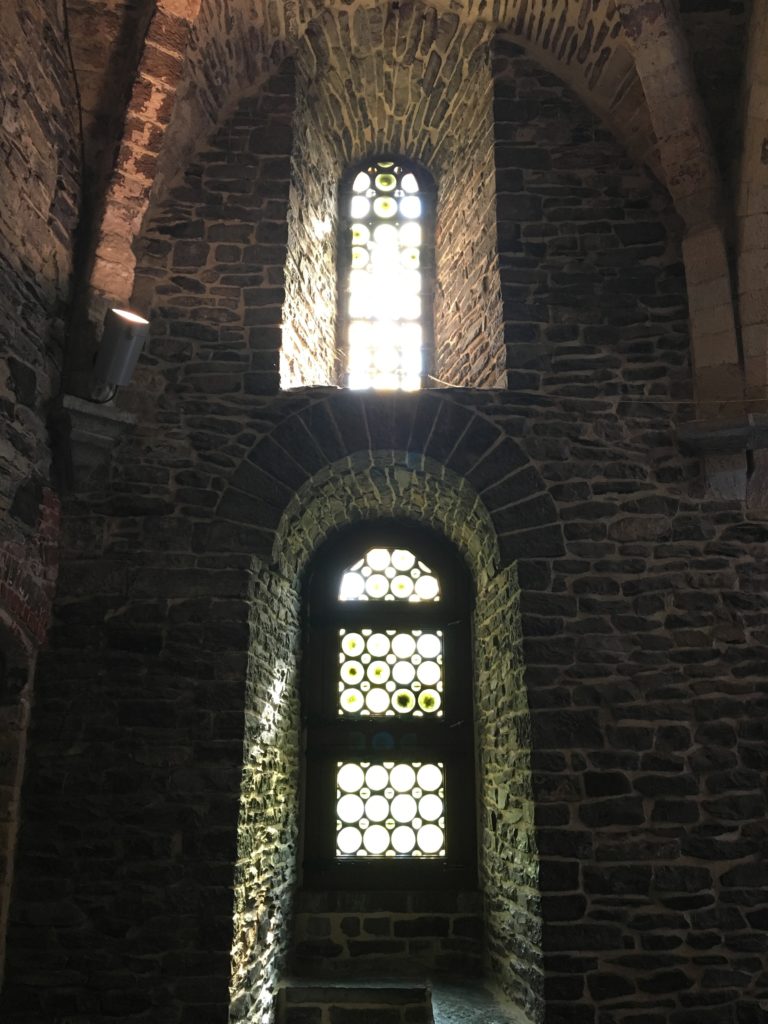 Doors fascinate me and arouse my curiosity.  Who lives behind the door?  What do they do?  Gent had some of the most colorful and intriguing doors.  If you enjoy this pastime of just observing your surroundings – even something as simple as a door you'll have fun exploring Gent.  Take a look at a few of my favorites!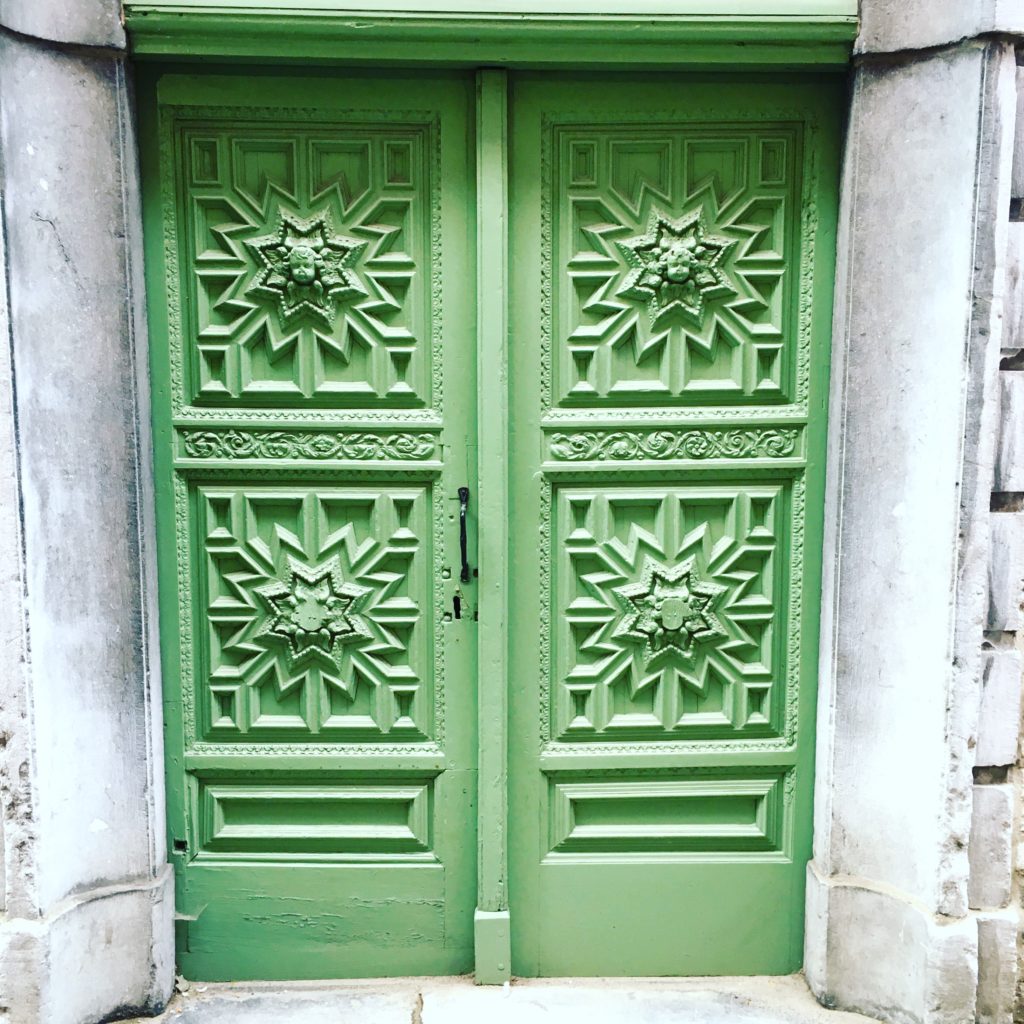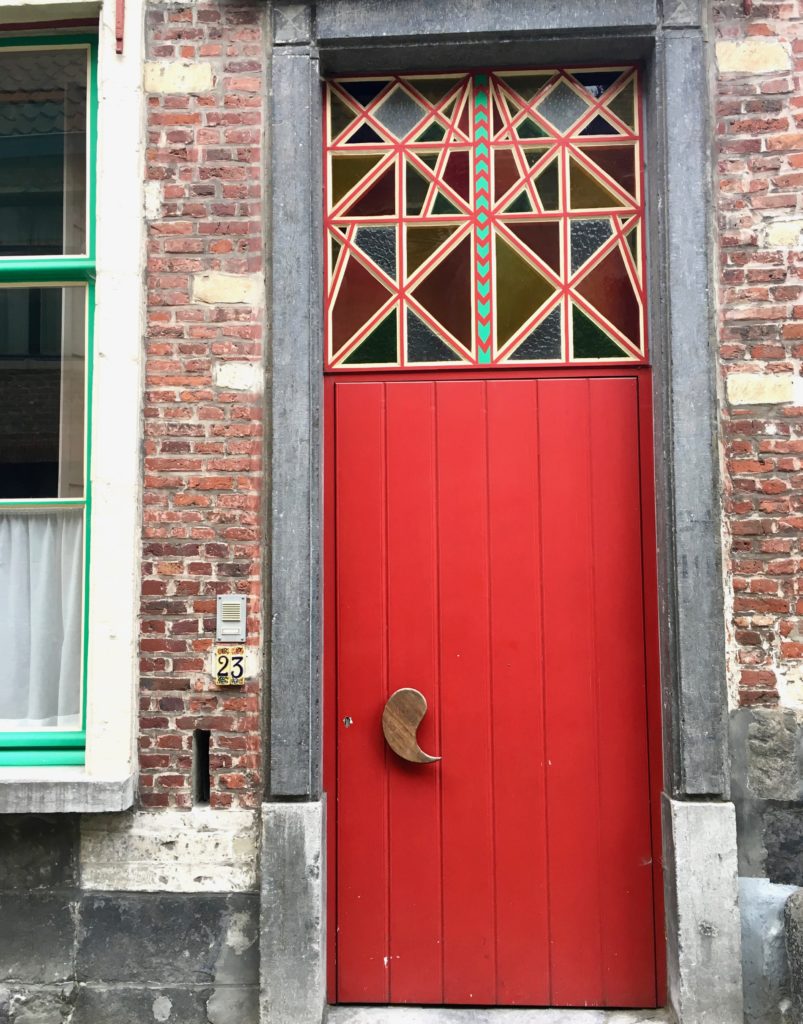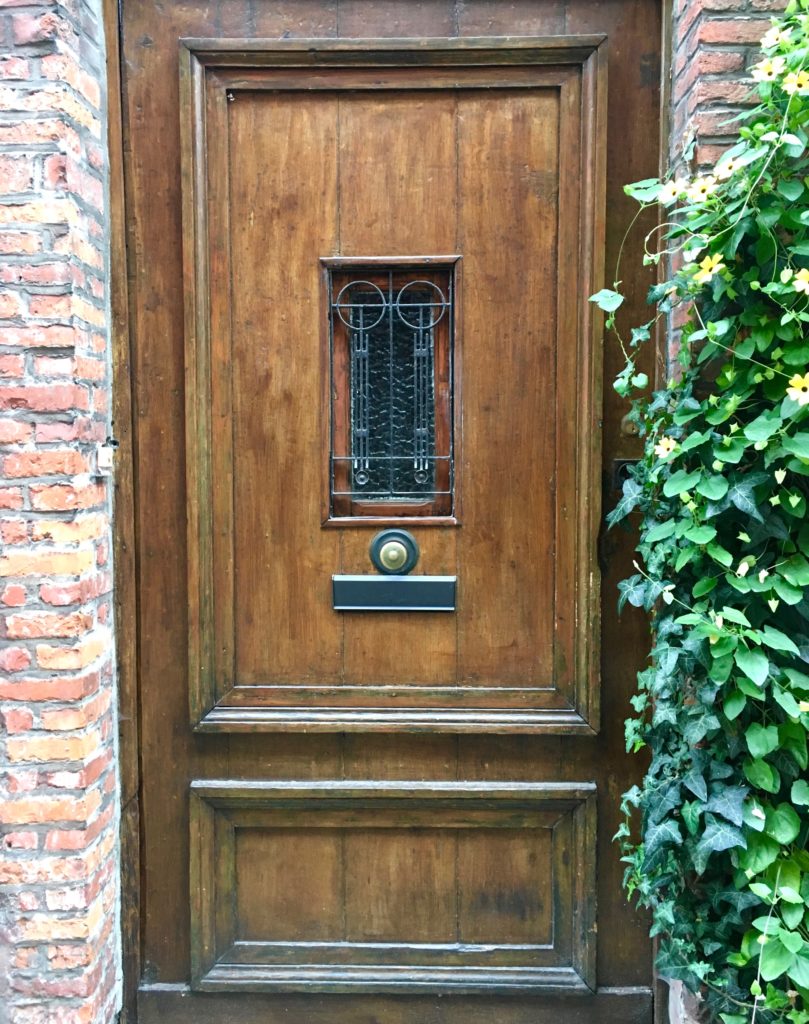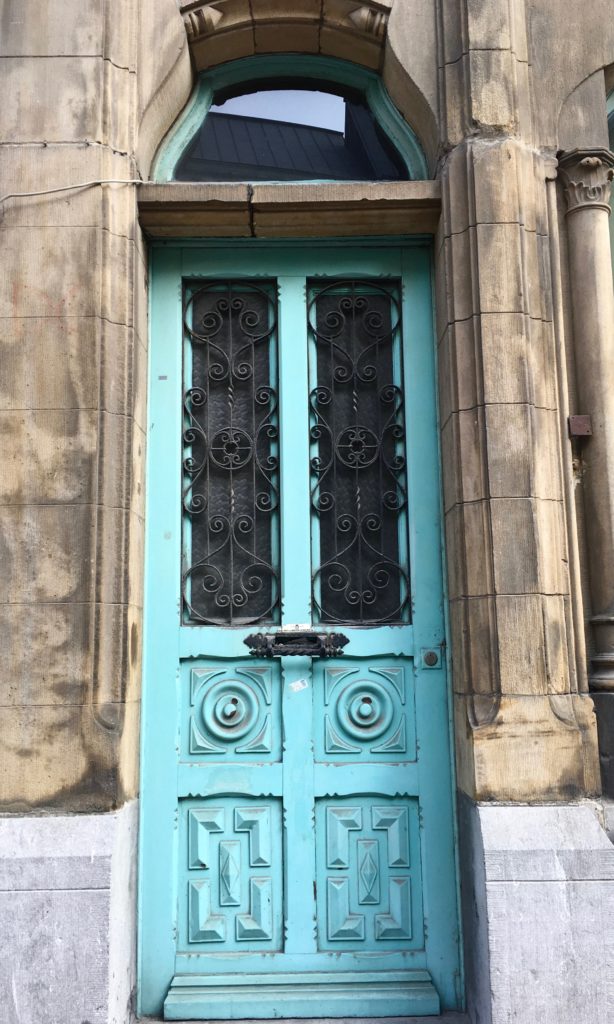 Beer, well we are in Belgium home of some superior brews.  Stop often, sit down, order a cold one and take in the view.  There is no shortage of beauty to be enjoyed while sipping a brewski.  We made a habit of stopping at least two, usually 3 times a day to enjoy a beer, with or without food.  It's a wonderful way to try beers you won't find everywhere and rest your feet.  Or stop in one of the many shops displaying their vast array of beer and choose wisely!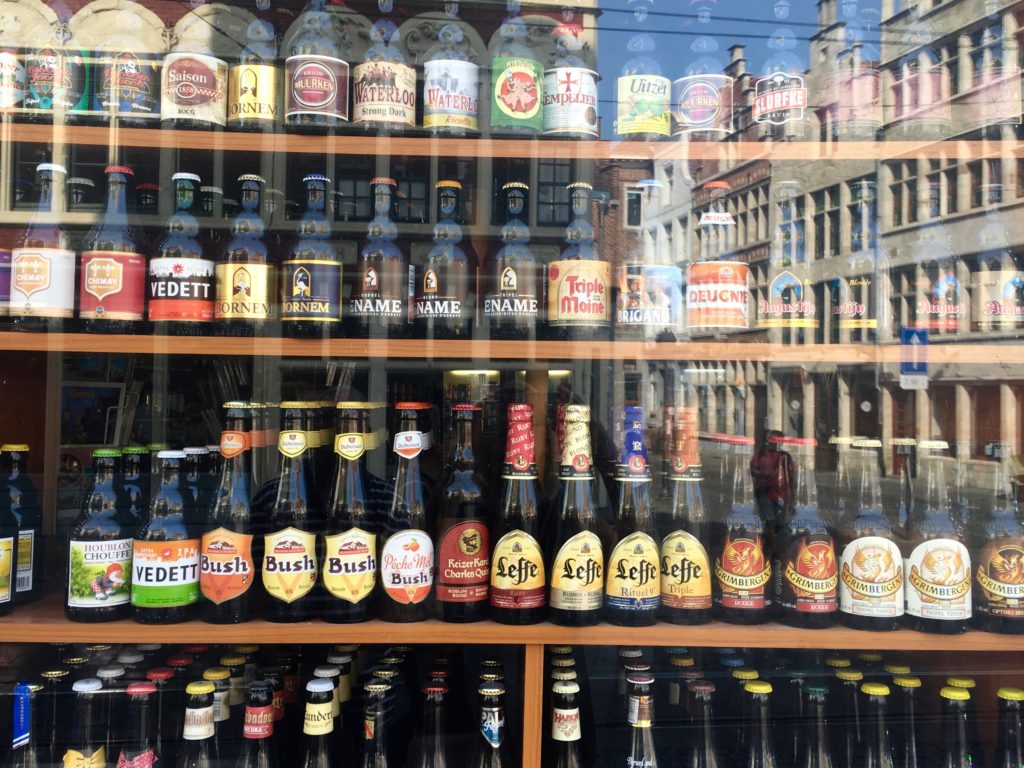 Cocktails at Jigger's are a must. Creative, out-of-the-box thinking mixologists shake, stir and whip up some delicious twists on classic cocktails.  In a quiet neighborhood, a bit off the beaten path is Jigger's a tiny bar with in and outdoor seating.  Prepare to imbibe in some super fun cocktails before dinner at this gem of a bar!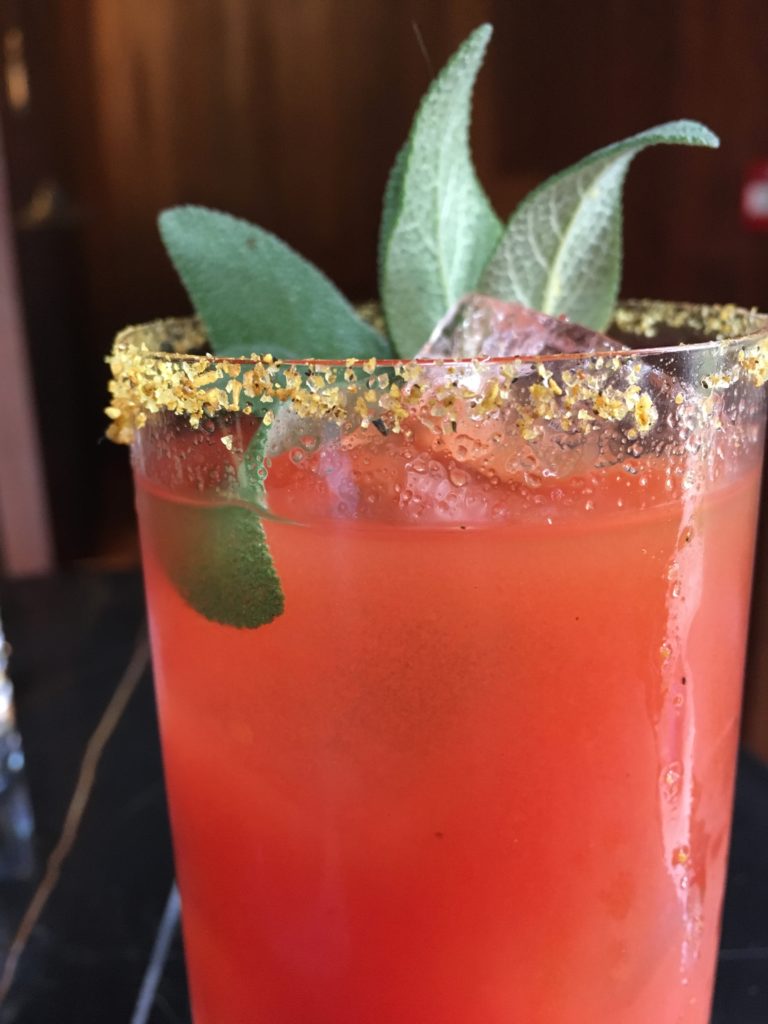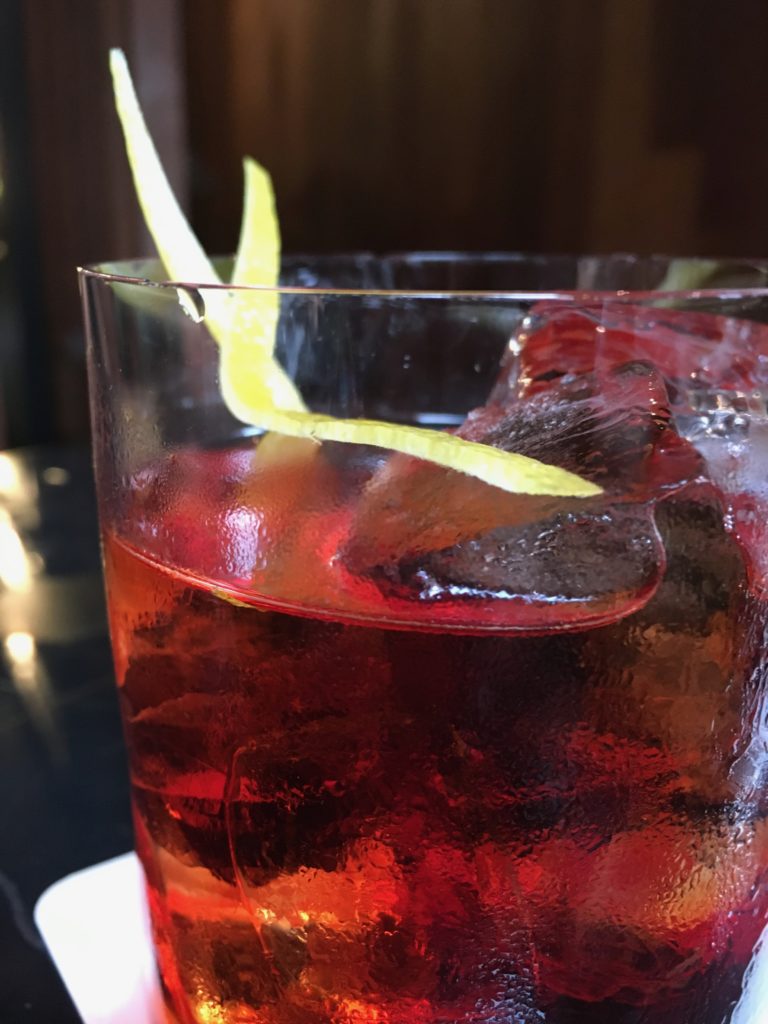 Adoration of the Mystic Lamb restored and ravashing looks remarkably new.  Painted by Hubert and Jan van Eyck from 1430-1432 it is one of the most significant works of art in Europe.  It can be seen at St. Bavo's Cathedral in Gent!  The large and complex altarpiece has suffered greatly over the centuries.  Dismantled, stolen, and damaged many times over, it was reassembled, cleaned, and restored after World War II.  Also known as the Gent Altarpiece it is the size of a barn door and one of the most famous and coveted paintings in the world.  Thieves broke into the cathedral one night in 1934 and made off with the lower left panel.  The theft is an unsolved mystery and is part of the popular cultural awareness of the people of Gent to this day.  I'd call this a once in a lifetime chance to see this grand artwork.  St. Bavo's cathedral will impress you as well – a 2 for 1! It's possible no photos were allowed….but I snapped one with my cell phone…oops – NO flash though.
Are you booking your tickets? If I have not convinced you to visit Gent, Belgium on your next trip to Europe I am sorry.  My husband and I are ready to go back now.  We enjoyed our visit but realize there is still so much to see in this beautiful community.  Oh and the food?  It's number 1 for vegetarian fare restaurants.  We never had a bad meal in Gent from traditional Flemish food to Italian to Indonesian!  You can bet I'm booking a ticket again  – hopefully sooner rather than later!