So about that apple pie in Amsterdam…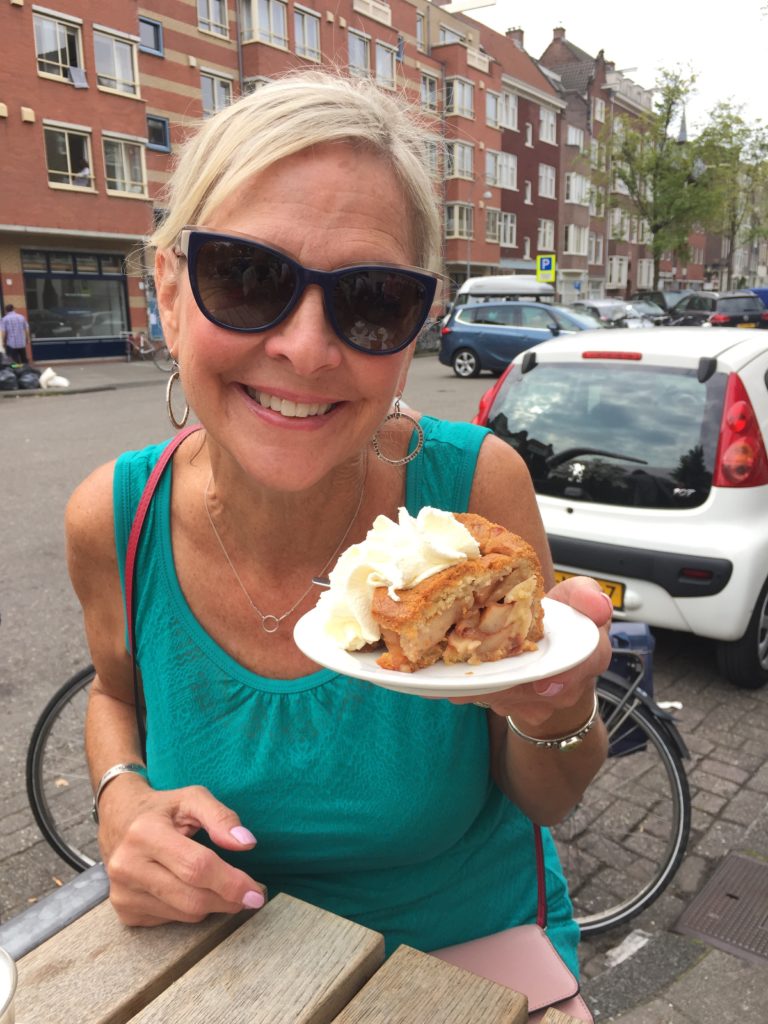 Before we left for our European trip I did a ton of research about the places we'd visit.  Particularly Amsterdam and Gent as I'd only been to Amsterdam once and it was a long, long time ago and never to Gent.  In fact my memories of Amsterdam were of a dirty, scummy city with canals that looked gross and lots of pot heads leaning up against buildings – too stoned to move.  Not a pretty picture.  I am so thankful that we went and I discovered that it is nothing like that now!
In doing my research I'd read several articles about eating apple pie or appeltaart in Amsterdam.  Some critics wrote that it was the best they'd ever eaten while others said,"they call this apple pie?", "this is not apple pie, what's up with that crust?", "this pie is awful, no flaky pie crust here and this is apple pie?"  Americans no doubt.  Part of the pleasure in traveling is trying new foods prepared exactly as is tradition in the country you are visiting.  That's how I feel anyway!  If you aren't open to this concept in my opinion you are missing out on an immense element of the experience.
We headed to Winkel 43 as I'd read it served the "best" apple pie in Amsterdam.  This was confirmed while speaking with the owner of our apartment in AMS when he encouraged us to visit the Noordermarkt on Saturday morning and grab a piece of pie at the "best" place in Amsterdam – Winkel 43.  After standing in quite a long line and ordering our pie and coffee we took a seat at an outdoor table with a local, older woman who was about to vacate the spot.  As she stood to leave she smiled at me and said, "the best apple pie in Amsterdam!".  Did I mention we were enjoying our pie for breakfast? Yep! Somehow I knew we'd found the most popular and delicious apple pie in the whole city!  Let's call it an institution for apple pie.  We were not disappointed.
Apple pie is on every menu in Amsterdam.  Every cafe or restaurant makes it slightly different but none of these apple pies are like those in the good ole' USA.  I love our American version of apple pie but admit the Dutch put a pretty scrumptious spin on apple pie.  On this side of the ocean the pie is thinner, with apples layered or piled between two sheets of flaky pastry. In Holland the pie is made in a springform pan, with the crust filling the bottom and sides of the pan.  Reminiscent of shortbread and graham cracker crust.  Slightly sweet and filled with a mix of soft and firm apples.  Oftentimes the top is latticed or topped with a crumble – such as Winkel's pie.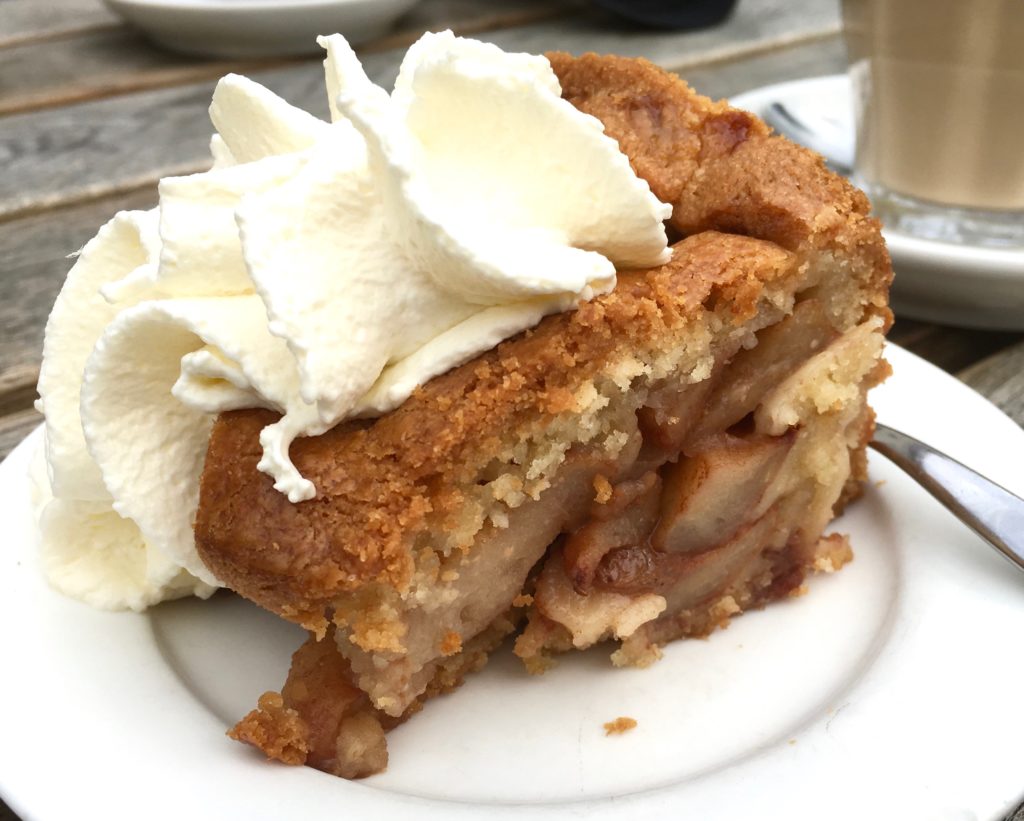 Served with a large dollop of fresh whipped cream or ice cream and there – you have it!  I almost enjoyed eating the fluffy whipped cream as much as I did the pie and cream together.  I definitely prefer mine with whipped cream, thank you.  Flavored with cinnamon, cloves, mace, ginger, coriander, cardamom, pepper, anise and nutmeg or a spice blend referred to as Speculaaskruiden or Dutch Spice mix.  If you don't have all these spices handy you can omit a few but don't leave out cinnamon, ginger, cloves or mace!  Raisins and a touch of Calvados, cognac or brandy, as well as a bit of citrus finish rounding out the flavors.  Are you drooling yet?
We walked off our breakfast by rummaging around in the organic food market/flea market in front of the Noorderkerk or North Church.  A lovely square and market filled with cheeses, fresh baked breads, sausages, olives, fruits and veggies fresh from the farm and hats, postcards, coats and clothes, vintage and not, pottery, jewelry and well you name it, it's there!  It was a wonderful way to spend our Saturday morning in Amsterdam.  I'll be sharing more about the highlights of our visit to this wonderful city in a future post!
I plan to make this delicious apple pie in a few weeks when we have out of town guests. My favorite time to try new recipes – my guests always make good guinea pigs!  After I've played around with a few recipes and settle on the perfect one – or the one most like Winkel 43 I'll share it with you.
Have you visited Amsterdam?  Winnkel 43?  Noordermarkt?  Leave me your thoughts!