First Time Visitors Guide – 10 Things You Should Know Before Traveling To Europe
First-time or well seasoned traveler?  If you're traveling to Europe here are 10 things you need to know! If you are a seasoned traveler this list may seem obvious – although if this is your first trip to Europe you need to know some ins and outs. It's perfectly normal to feel anxious about how you'll manage in a foreign country when it is your first time. I've compiled a list of 10 things that hopefully will make you feel at ease as you venture off on your first European vacation!
My man, Dan and I recently returned from a 2 week trip where we visited Amsterdam & Haarlem, Netherlands, Gent, Belgium and Paris. I'd have liked to have one more week to visit another city or country but we paced ourselves perfectly and felt immersed in the countries we visited. Since returning home I've put some thought into what I'd want to know if it were my first time traveling to Europe.
1. Site Seeing – Do not hurry through Europe. It is tempting to rush from site to site and see as much as possible. Sadly, if you attempt this you will miss the beauty of Europe. Decide how many days/nights your trip will encompass. Spend at least 4 days/nights in every city on your itinerary. Take it slow and savor the moments. We made a point to stop at least once every morning and afternoon to sit in a cafe, a park, on a bench, along a river or canal, in a square or on the steps leading to a museum or monument. Often times this is when one of us would notice something small, a poster in a window advertising a local event, a food we wanted to try, a local shopper carrying their goods home, a cat in a window. **Tip – slow down and take it all in!
2. WhereTo Stay – Book your stay using AirBNB or Home Away. ( I have not been compensated by AirBNB or Home Away to mention this)  We found wonderful, well appointed apartments in each city that put us in the middle of local neighborhoods.  Quiet at night – for sound sleep and perfect for saturating ourselves in each city.  We found local restaurants and cafes, parks and community gardens to explore that we might have never seen had we been right in the center of the tourist areas.  All of these apartments were close to local transportation and only minutes from all the sites.  Each apartment came with comfy beds, coffee and tea, travel info, hairdryers, and electrical adaptors for all our battery chargers, etc.  One aspect we thoroughly enjoyed were big windows to open up and watch the daily goings on in each city. The photo below was part of our view from the Gent apartment. **Tip – dealing with the owners of these dwellings is easy and each offered tons of info on their respective cities.
3. Traveling Between Countries  – Now that you've decided which cities to visit and found your accommodations in each let's talk about how to travel from city to city.  We find train travel best for long distances or when traveling between countries.   We booked all of our train travel ahead of time and had our tickets in hand before ever stepping foot into the station.  You will need to wait until about 2 months prior to your trip dates to book online.  We found that if you book travel between countries, say Amsterdam Netherlands and Gent, Belgium, the main ticket from Amsterdam to Antwerp also allowed for any inner-city train travel.  Meaning, once we arrived in Antwerp we had our choice of trains to take us to Gent.  This not only allows flexibility but if your train for some reason was delayed you'd still be able to reach your final destination, providing you travel before too late at night!  **Tip – the trains in the cities we visited were never late!  In Italy this may be a different story.
So you've mastered the art of traveling between countries or cities by booking some train tickets.  By the way – the fast trains like Thalys get you from point A to point B in an amazingly short amount of time!  Traveling from the airport by train or tram into your destination city is also trouble-free and straightforward.  No need to take a taxi where you will be gouged on cost.  We found that simply walking along the concourse through the airport would bring one into the train station.  **Tip –information booths are readily available to guide you in the right direction.
4. Getting Around Town – Now you need to know the best way to get around once you've reached one of your destination cities.  Well first of all, walking!  I love to walk, stroll, actually through neighborhoods, parks, the local grocery store, really I do, but getting across the city from one site to the next can be a longer distance than I'd care to walk.  This is when the local trams, metros, or city buses come in handy, are affordable and comprehensive.  Take a few minutes to acclimate yourself to the local transportation systems.  Maps are readily available at tourist info spots and we found them in all the apartments we stayed in.  They are color coordinated, using numbers, letters or names of stops.  These stops are also always visible on signage inside the tram or metro.  In Amsterdam for instance, we could hop on the tram, pay for our ticket at the counter inside the tram and off we went. Tickets are available for one time, 24 hour or even week long passes.  Choose what is best for you based on how often you'll be traversing the city.**Tip – in Amsterdam you must scan your ticket when exiting the tram as well as getting on!
We even took two side trips on one day in the Netherlands to visit Haarlem and the beach at the North Sea.  All because jumping on and off of the trains is so easy.  And let me mention you see things you'd otherwise miss – like the country side, an industrial area, livestock, farms and other villages or towns.  And if you just can't bring yourself to travel like a local, Uber works perfectly in Europe!
5. Using Credit/Debit Cards – If you plan on using a credit or debit cards while traveling in Europe be sure to contact your bank or credit card company to advise them of your travel dates as well as the countries you'll be visiting.  They will flag your account so when you use your card there shouldn't be any issues with the charge being denied!  **Tip – do this about one month before you leave and confirm it about one week before you leave the U.S.
6. Public Restrooms – Finding a toilette – this is important.  I'm a firm believer in acting like I know what I am doing and usually accomplish the task at hand.  Finding public restrooms – toilets, in Europe can be challenging.  Often times you'll find pay toilets, usually with a line of wiggly kids and impatient adults waiting to use the facility.  Here is my trick – there are sidewalk cafes everywhere you look – find a busy one and just walk in.  The waitstaff does not know if you're sitting outside or are about to sit down at their cafe, so chances are they won't question you.  If you're spoken to politely respond with a cheerful "hello" or "bonjour" and move on as if you know exactly what you're doing.  You do know because I am sharing this with you!
You'll find that frequently the toilets are unisex with a common sink for washing up.  Often  – actually almost always the toilets are downstairs.  Just look for the stairs headed down and off you go.  I found this worked every time I needed a potty but didn't need to stop and have a drink or eat at a cafe.  I even talked my man, Dan into trying it once and he pulled it off without a hitch – if you know my quiet and non-confrontational Dan you know this was a major accomplishment!  If you decide to use the public pay toilets be sure to have some coins, tissues and hand sanitizer with you!  You may also encounter an attendant who would like for you to toss a few coins in her tip bowl before departing the toilet.  Another location where I found I could walk in with confidence and find the toilet with no questions asked were in larger hotels. **Tip – Take a potty break when a toilet shows itself – don't pass up using one just because you don't think you need to go!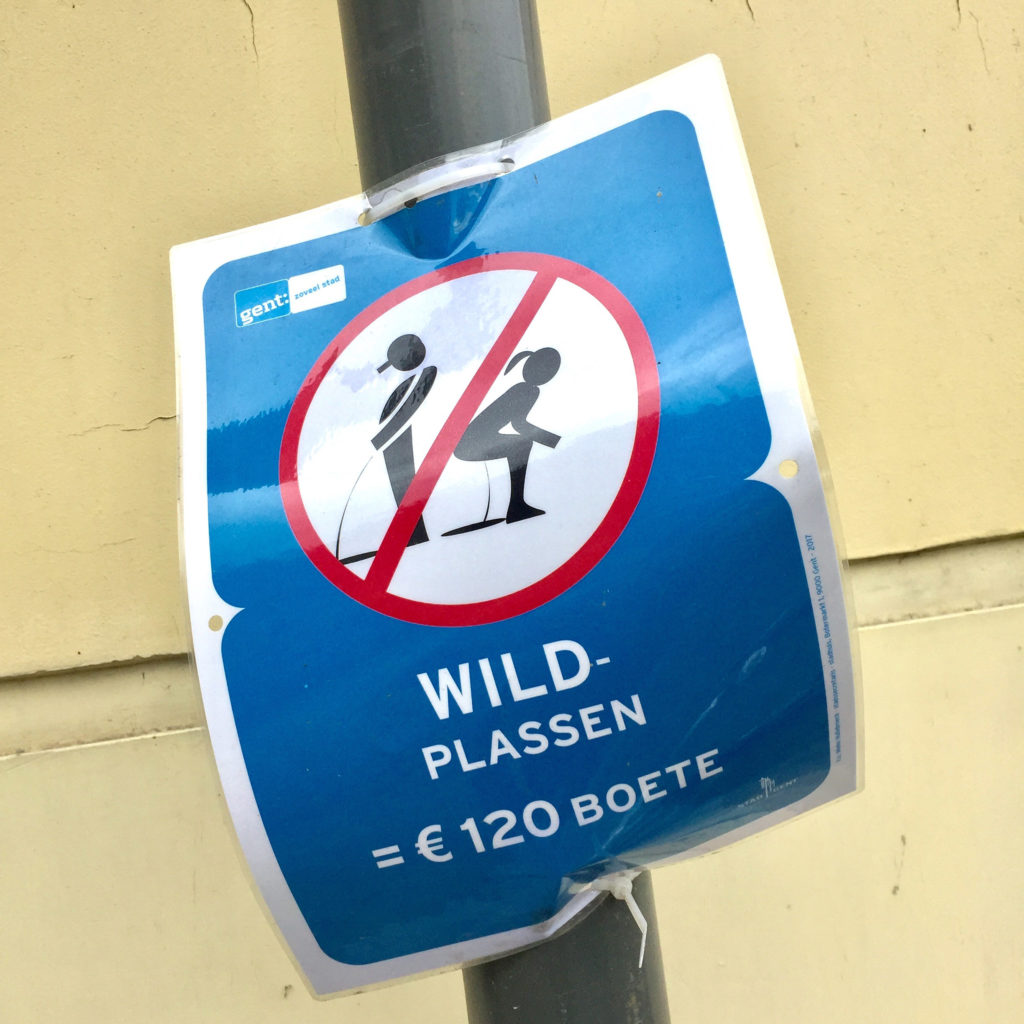 7.  Smoking – This is a rather random note but if you are a smoker, I am not, be ready for some completely disgusting and nauseating packaging on the cigarette cartons.  If I were a smoker there is no way I could get past the horrific photos on the box!  **Tip – smoking may be hazardous to your health!  These photos gross me out so much I can't bring myself to give you a full size version – you'll get the idea.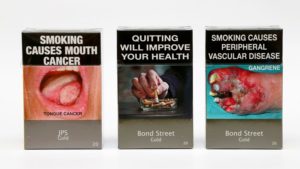 8. Ordering Water – In America we are accustomed to ice in everything.  Not so in Europe.  When traveling to Europe be prepared to have your cold beverages served in a glass without ice.  If you do ask for ice, you may get a roll of the eyes and your wait person will come with a few cubes in a small glass not a mega sized cup full of crushed or cubed frozen water.  Typically water is not brought to your table without requesting it.  When you do ask for water you need to clarify if you want tap, fizzy (with gas) or flat.  (Only one place told us they do not have "tap" water.)  Be prepared to pay for any bottled water you order and it will be brought to the table chilled.  I found on this trip to Europe asking for tap water didn't conjure up dirty looks from the person waiting on our table – especially if we also ordered a beer or another beverage.  When in Europe do as the Europeans do and you'll be fine – plus it's part of the experience of being a traveler!  It's the part I like most!  **Tip – drink lots of water when at your hotel or apartment and order beer, wine or coffee when out!
9. Dinner Time – We ate out 3 meals a day.  Walking thousands of steps makes one hungry and we took advantage of our appetites.  You'll notice Europeans have a small breakfast, usually a pastry and a cafe or coffee.  We fell right in and ordered croissants or other flaky pastries with our coffee every morning.  Lunch was a variety of sidewalk cafes but the evening meal is what the Europeans do most different from Americans.
Tourists are the ones ready to sit down for dinner early – you know 6 o'clockish – the Europeans or locals don't head out for dinner until at least 7:30- 8:00 p.m.  In Paris the restaurants that open for dinner only or open for lunch but close between lunch and dinner don't even think about reopening until 7 at the earliest.  If you keep this thought in mind you can pace yourself so that you aren't starving at 6:00 and can have your evening meal a bit later.  Europe is so beautiful and having a later dinner followed by an evening stroll is a perfect way to enjoy your surroundings, do a little window shopping or find a spot for an after dinner drink and a bit of people watching.  **Tip – Have lunch well after the noon hour and join the Europeans for dinner at 8!
10. Tipping – My final tip for your European trip pertains to tipping in restaurants.  You may be surprised to discover that tipping is typically not necessary.  Check the menu to see if service is included.  If it isn't, a 5-10% tip is considered generous in most European countries.  If you feel that you were served by an exceptionally great waitperson handing them a extra Euro or two will be appreciated but remember it isn't necessary.  **Tip – Please trust me — tipping 15 or 20 percent in Europe is unnecessary, if not culturally ignorant.
Travel is one of my greatest pleasures.  My wish is for these tips to help you in your travels in Europe.  Questions – don't hesitate to leave a comment and I'll do my best to give a knowledgeable answer.  I am already dreaming of my next destination and all it holds. If you too are a traveler where is your favorite country, city or area to journey?  I'm all ears!