I'm at it again – food touring!  Recently I took a trip to Miami and signed up for the Little Havana Food Tour with Miami Culinary Tours.  This is my second time to tour with this company and they do it up right!  The guides are knowledgeable and personable and the food….well I'll tell you more about that as we go.  My first tour with Miami Culinary was in South Beach  – you can read about it here – but this time I wanted to venture away from this overcrowded touristy area, so I headed for Little Havana – and some delicious Cuban food!
I tend to gravitate to Latin culture foods so I knew I'd enjoy the Little Havana Food Tour! My younger daughter Miss T was joining me on this trip to Miami and on the food tour, her first.  We met at Augustin Gainza Arts and Tavern, a delightful art gallery/tavern full of gorgeous, colorful art!  The artist/owner Augustin was on hand to greet us and tell us about his art.  His air of sophistication with a touch of hip clearly stated, "artist".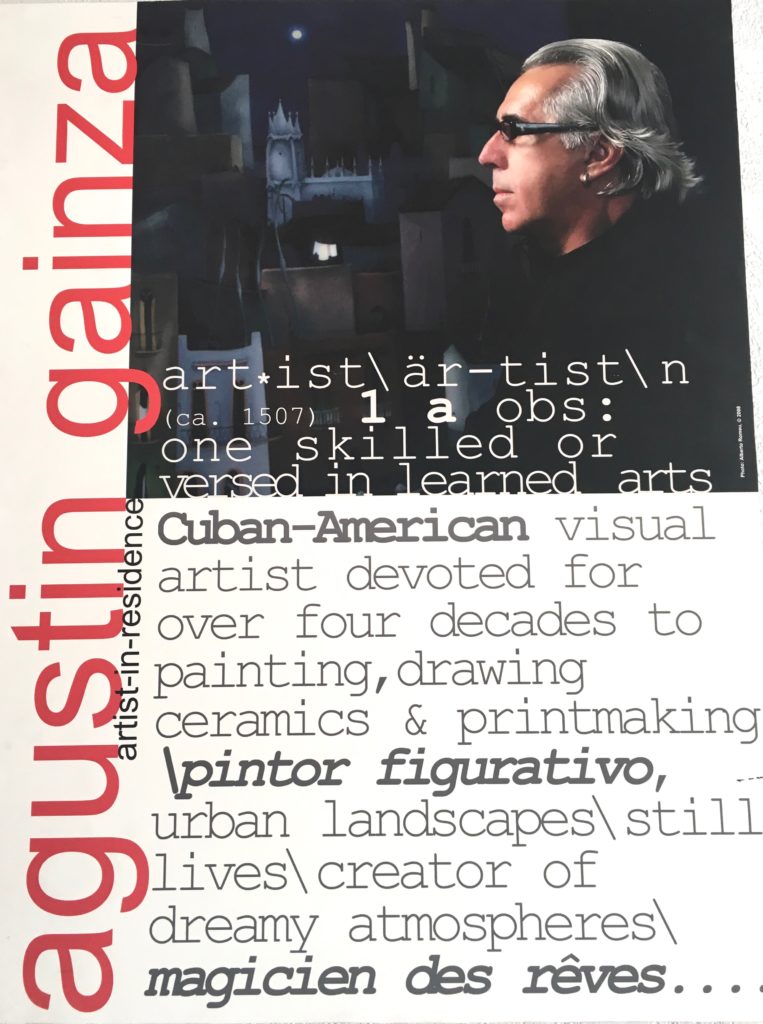 It was a perfect starting spot for Miss T as she is an artist working in a gallery in Texas.  Observing Augustin's vibrant paintings brought a smile to our faces and we knew we were about to embark on a delightful excursion.  Had I had more time in Miami I would have certainly come back to visit with the artist and enjoy a glass of wine – next time!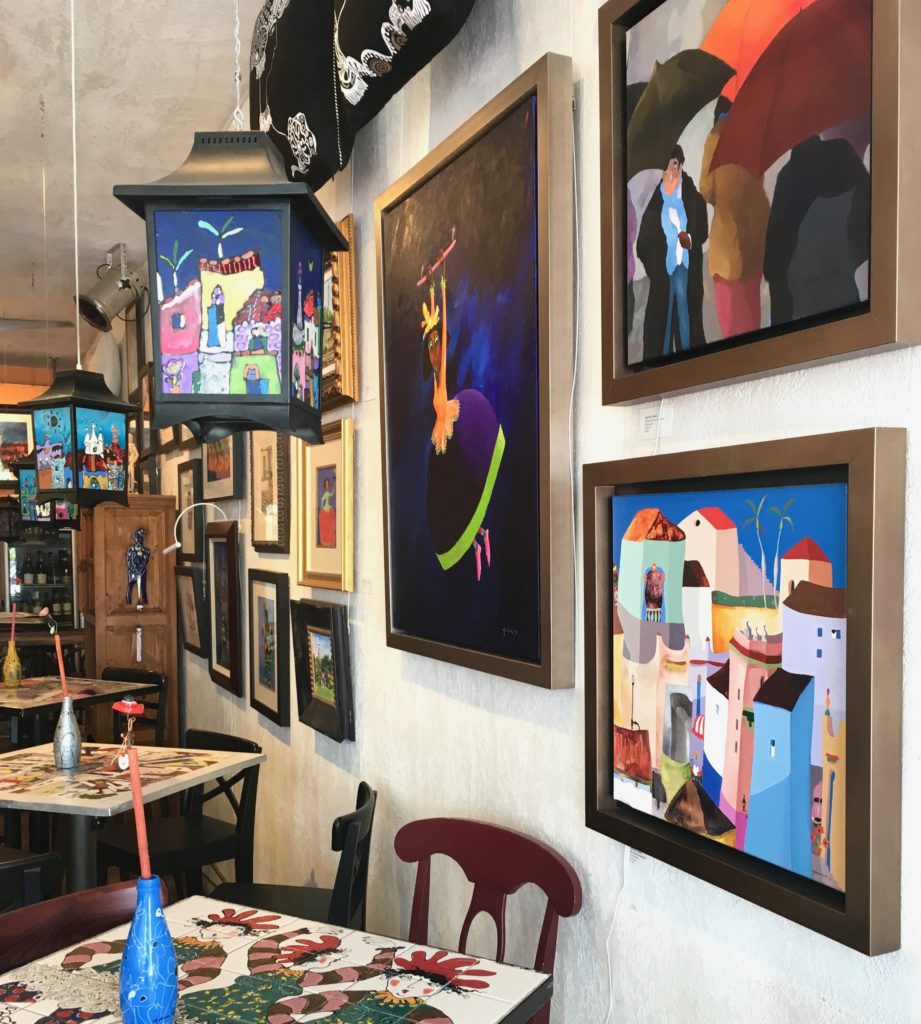 After spending a short time in the gallery, Mirka our delightful and informative tour guide knew we were all hungry.  Starving to be exact.  Our first stop El Pub, "Where Yesterday's Cuba… is Lived Today", a family run restaurant for over 20 years, in the heart of Little Havana.  Brightly colored statues of roosters becon visitors to step inside and try authentic Cuban food.  We were treated to beef empanadas, crispy outside with a tender, juicy filling of beef, onions and peppers.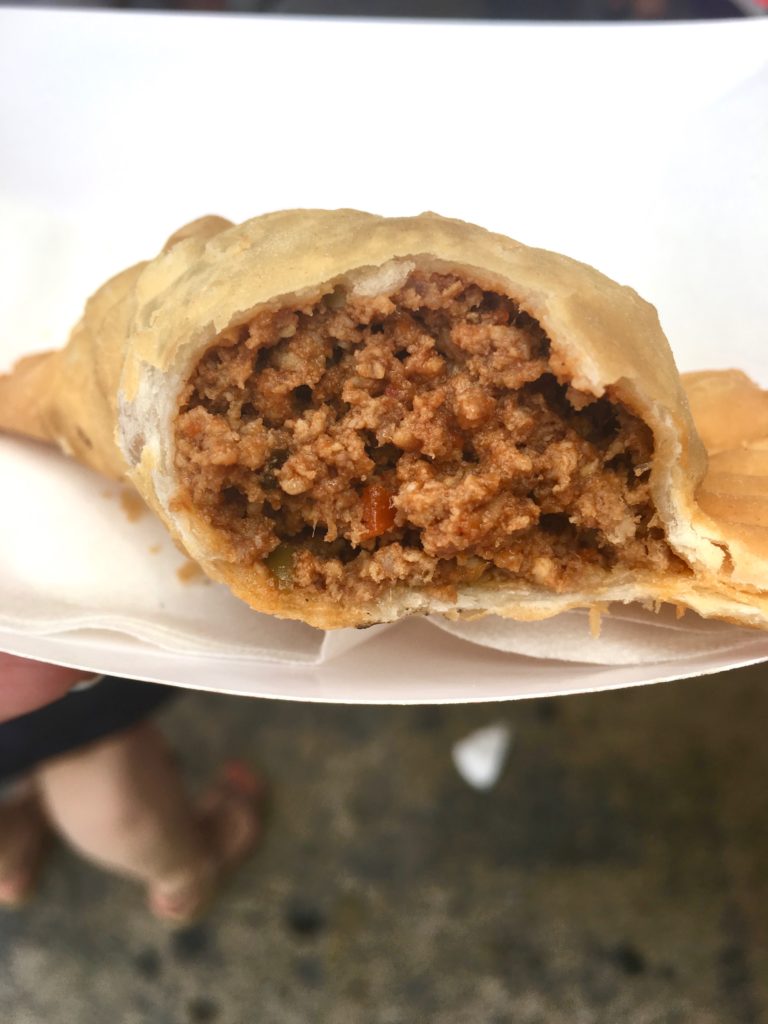 The empanadas stirred up a thirst and to our surprise we next sampled a Colada or Cafe Cubano.  A Colada is 3–6 shots of Cuban-style espresso served in a styrofoam cup along with small, plastic demitasse cups. It is a takeaway form, meant to be shared. This is customary of workplace breaks in Cuban communities.  It was strong, creamy and delicious.  Just a sip or two but that is all we needed to kick start the rest of our food tour.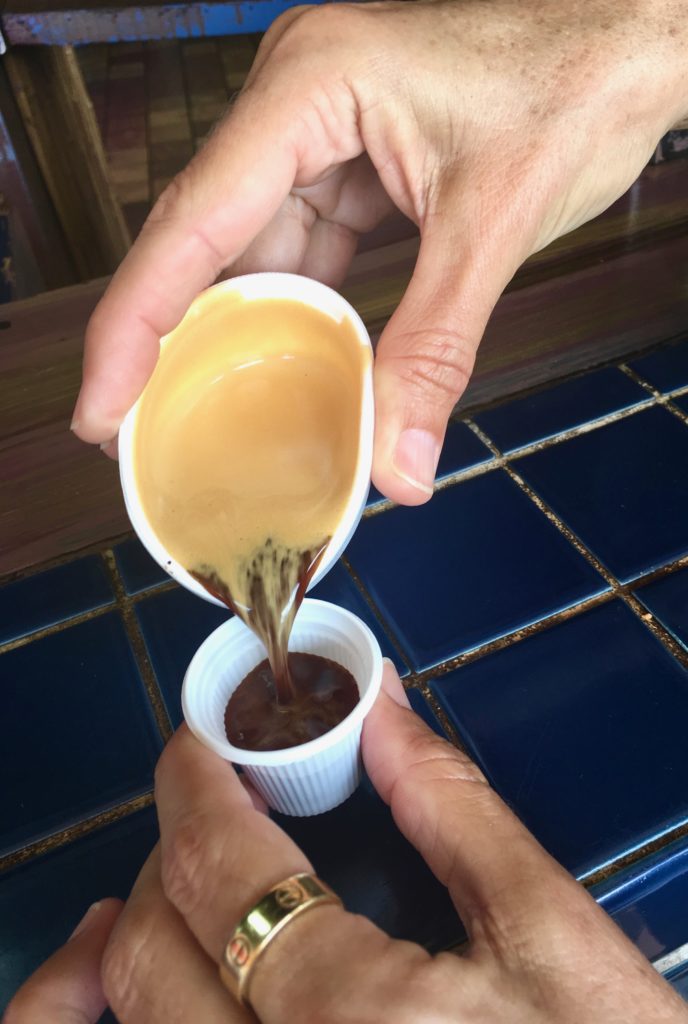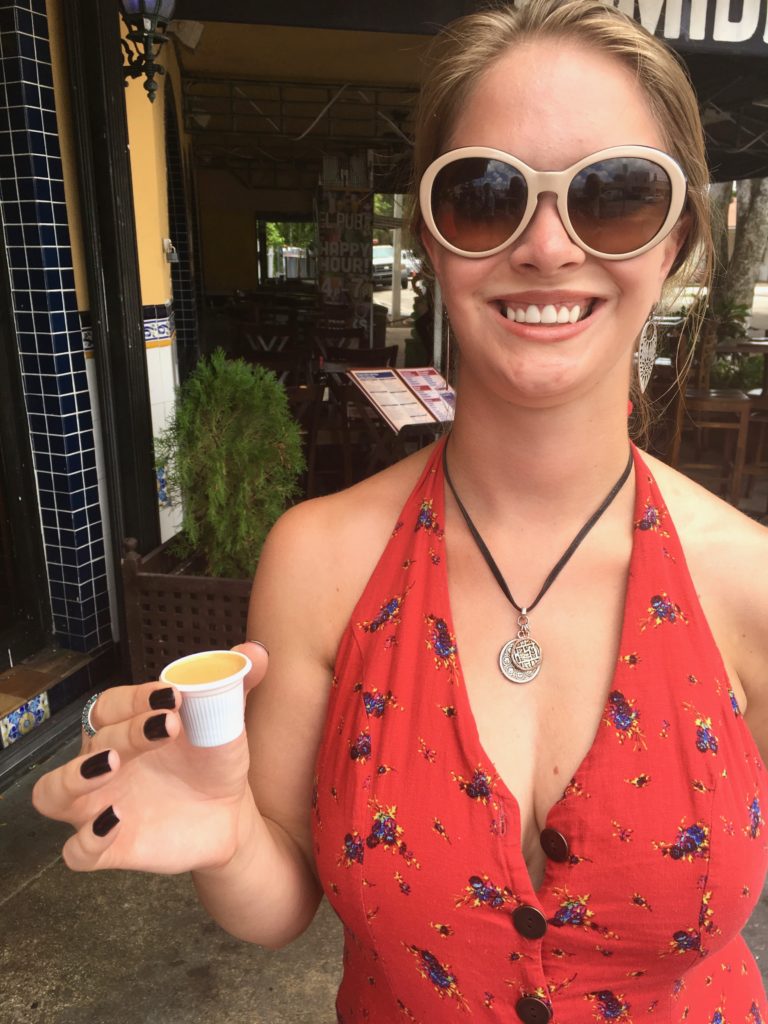 Next we popped into a cigar shop – now this was something my man Dan would've thoroughly enjoyed!  It is always entertaining to watch cigars being handrolled and Bello Cigars offers this service.  One of the oldest Cuban cigar families in the tobacco industry, father and son possess immense knowledge and experience when it comes to the art of cigars!  Bello remains a family owned and family run business with cigar factories in Little Havana, Miami, USA and Danli, Honduras, and Central America. Bello family, now up to it's 5th generation, is staying true to their old standards using their knowledge and experience to produce some of the finest cigars in the world today.  As we departed the cigar shop I couldn't help but shoot a photo of the father, Don Pedro Bello as he observed the traffic coming and going from his shop.  Outside sat Pedro or Peter his son watching the world go by and enjoying his morning cigar.  Do you think he could be the "world's most interesting man"?  He certainly has the look!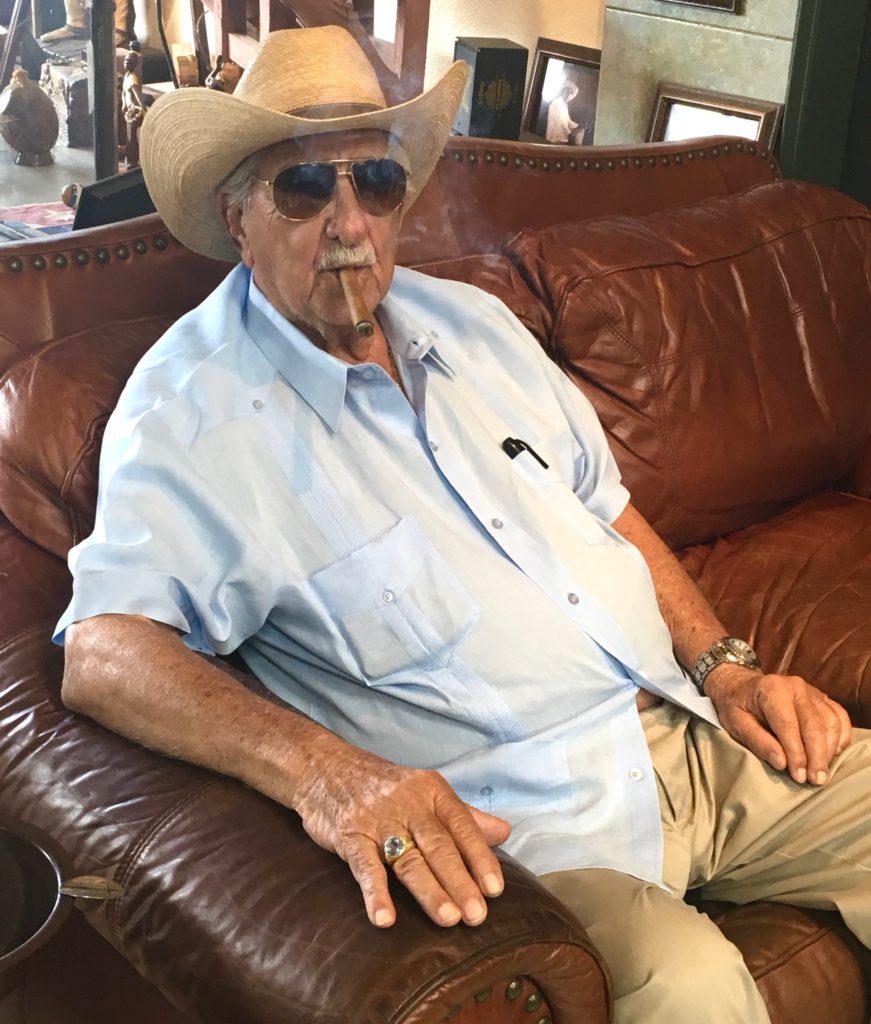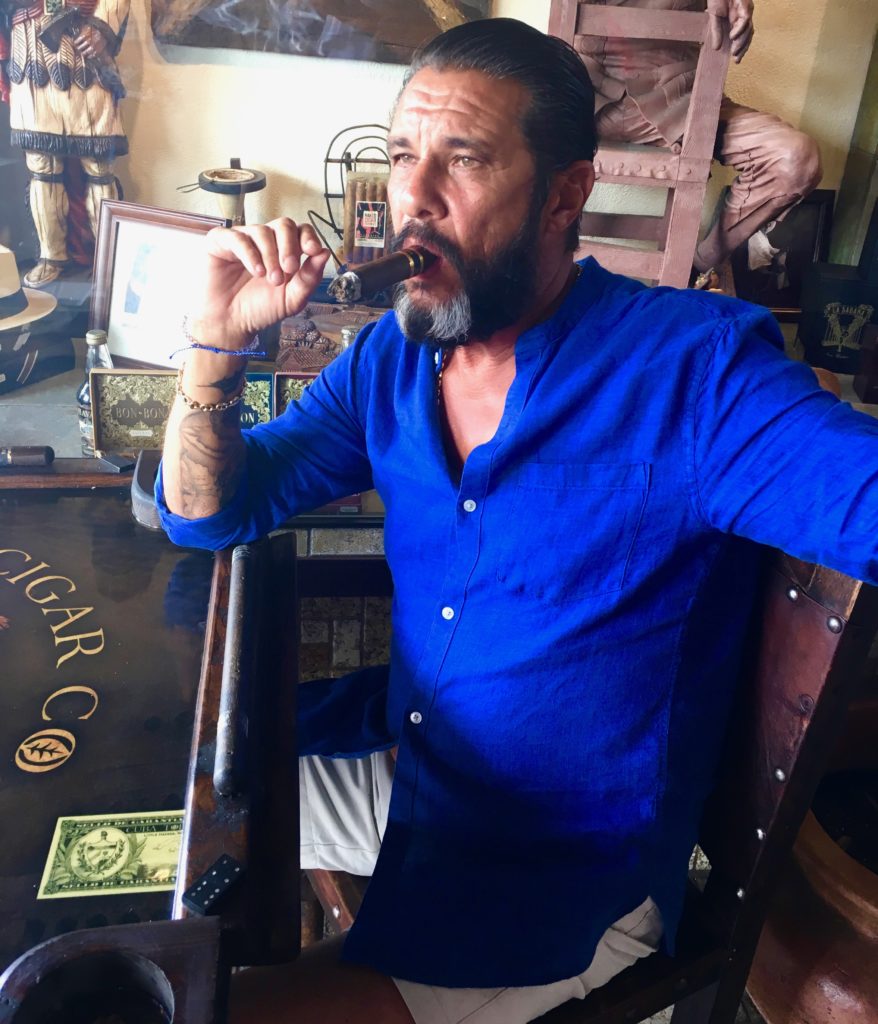 This is what I like so much about food tours.  A little food, a little art, history, cigar shops, people from all over the world and on this day some intense Miami heat.  It was a steamy hot day and we were all ready for some cool refreshment.  Mirka had the perfect set up for our next stop.  Ball and Chain for Miami's BEST Mojitos!  We all took a seat in the shady back patio where we indulged in icy cold, fresh made Mojitos – you know, I think it was the best one I've ever had!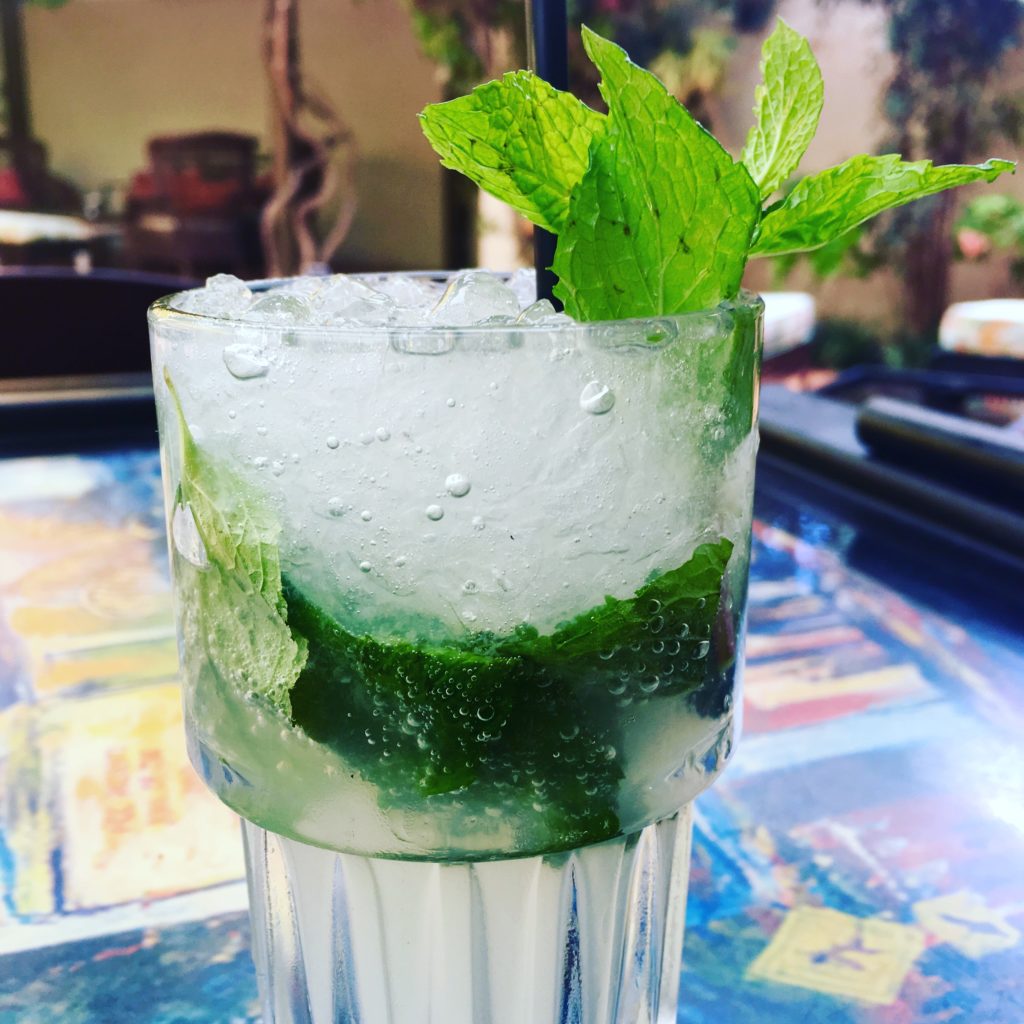 Refreshed and a bit cooler we began our walk to Old's Havana Restaurant for what would be the tours most filling taste!  Croquetta and a Cubano Sandwich.  First we were served revitalizing glasses of cool water followed by platters of chicken Croqueta with lime and a bottlet of Tabasco.  Croquetas are traditionally finger food and made the perfect appetizer before our Cubano's were served. The Cubano came with a pile of show string potatoes served up crisp and crunchy. This was a traditional Cubano full of ham, sliced, smoked roasted pork, swiss cheese, pickle and yellow mustard on a pressed Cuban sweet roll.  I couldn't have asked for more!  The bread was fresh and tender, the pork marinated in mojo is totally juicy and flavorful  – I may have just been spoiled to what a true Cubano should taste like!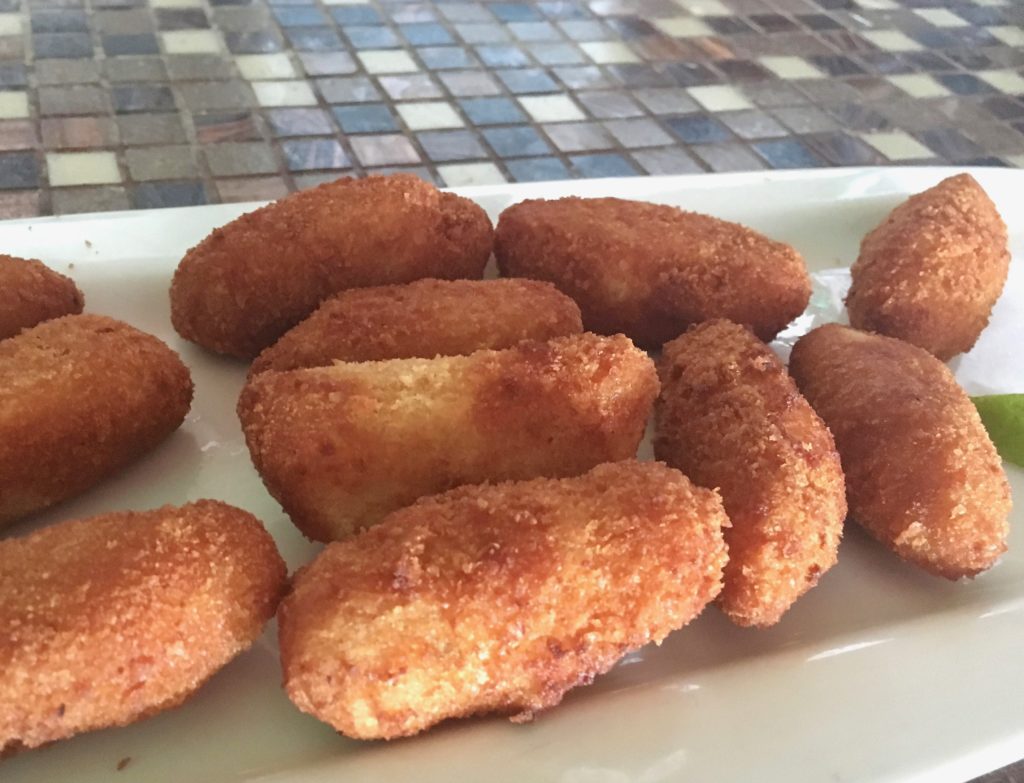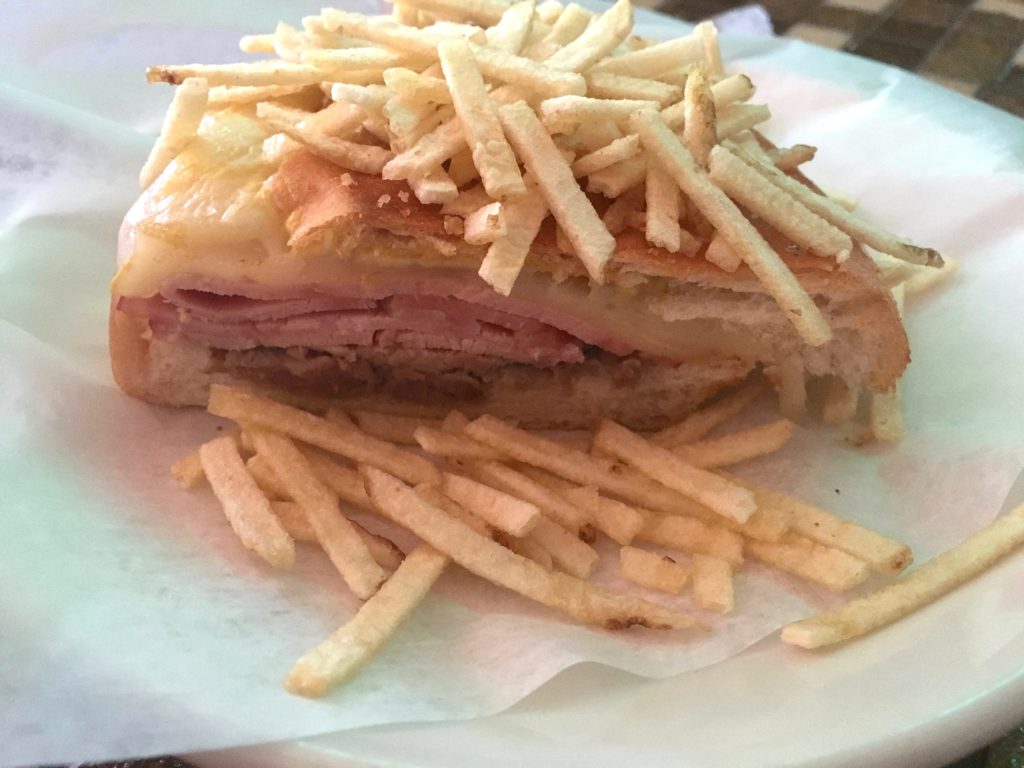 Time for dessert…I admit by  now my tummy was pretty full but I always have room for something sweet.  We made our way to Yisell Bakery for a Pastelito.  A flaky sweet pastry filled with just the right amount of tropical guava puree.  Sadly Yisell does not have a website but Yelp can show you where it is!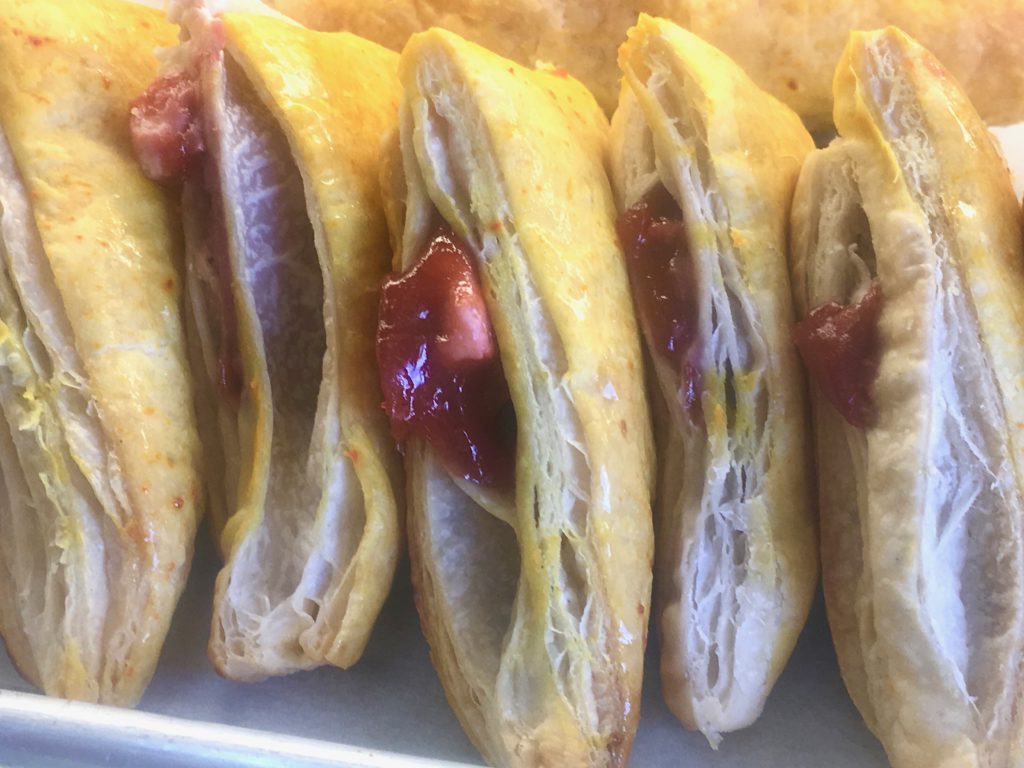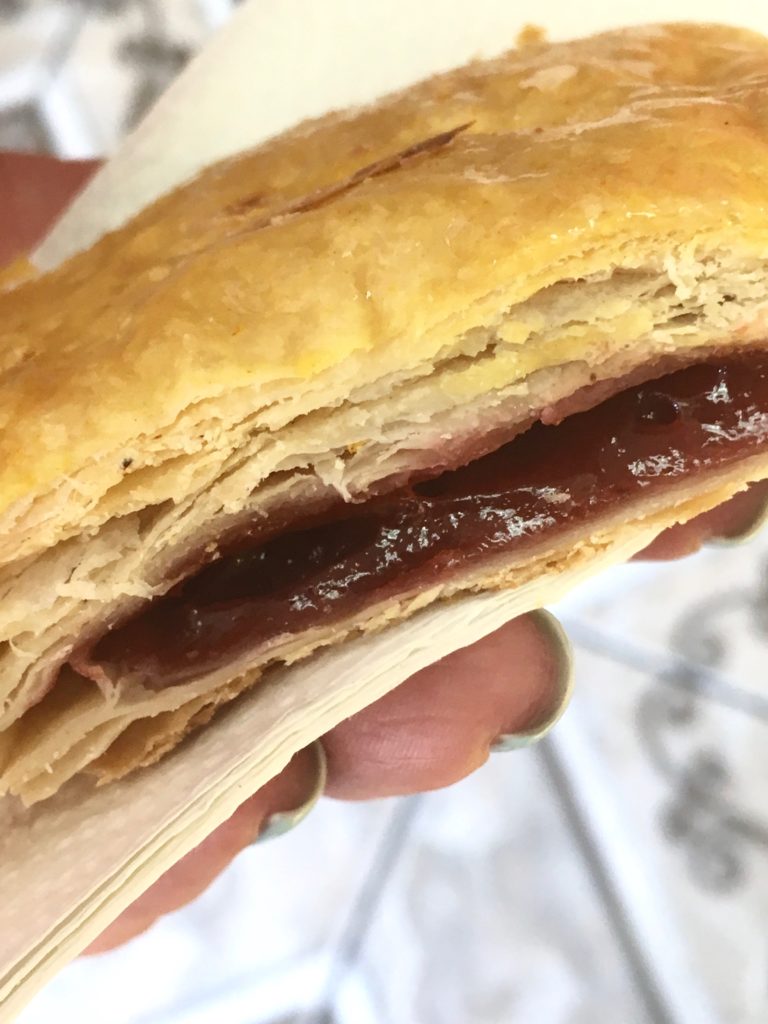 In need of a bit of a pick me up our next stop gave us just that. Los Pinaerenos Fruteria a colorful market full of tropical fruits, coconuts and a little hidden corner of jewelry and Cuban souvenirs plus a lovely shaded patio.  We enjoyed cups of Guarapo – which is extracted sugar cane juice from stalks of pressed sugar cane.  Just pure liquid sugar – different yet tasty. I do NOT want to know what the sugar gram count is in one of these!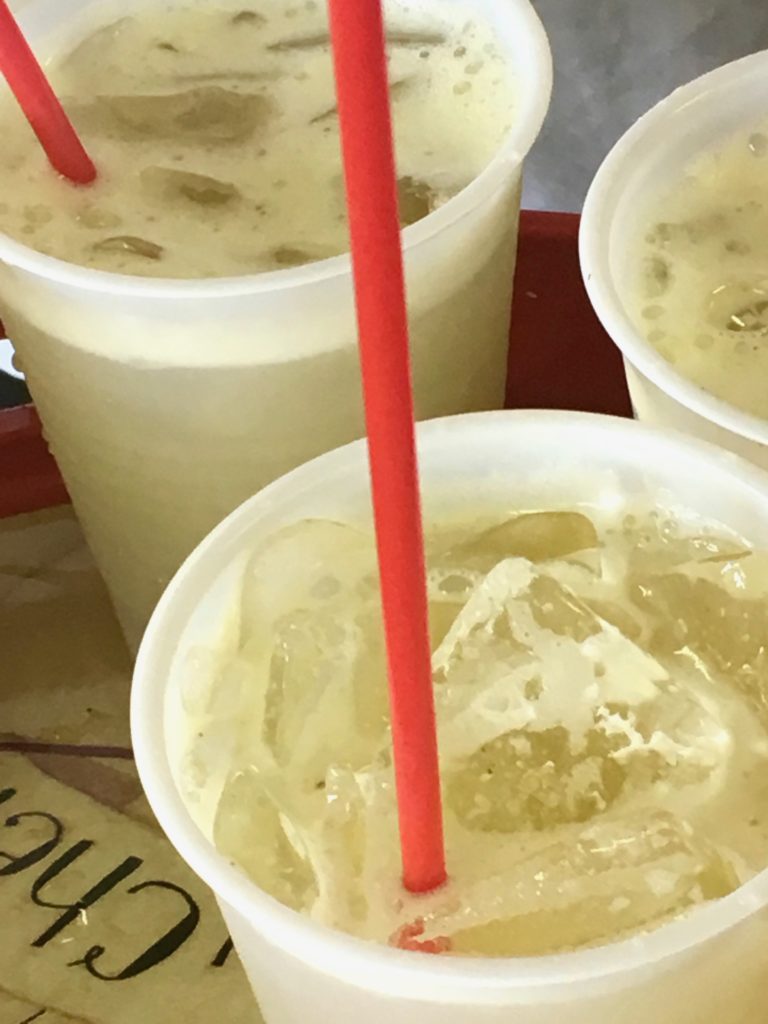 In preparation for the end of our delightful food tour we needed to walk a couple of blocks in the sweltering Miami heat.  You can only imagine how happy we were to find out that Azucar Ice Cream Co. would be our final stop!  This popular shop had a long line out the door so we all voted to allow Mirka to choose a flavor for us.  We were able to finally make our way into the cool of the shop and I didn't see anyone turn down her choice of cups of premium store made vanilla mixed with bright jewels of guava puree, rich cream cheese and topped with chunks of Maria cookies.  A Cuban classic!  Owner Suzanne Batlle pays homage to her Abuelo's homemade ice creams and sorbets, tantalizing to the palate and continuing a Cuban tradition.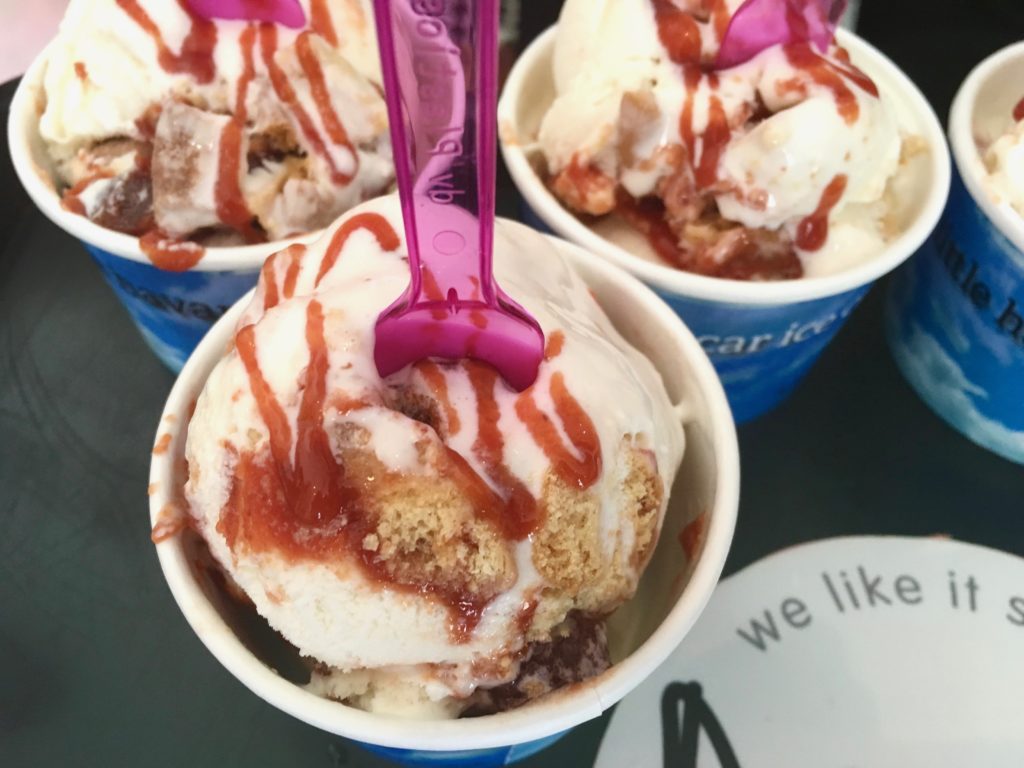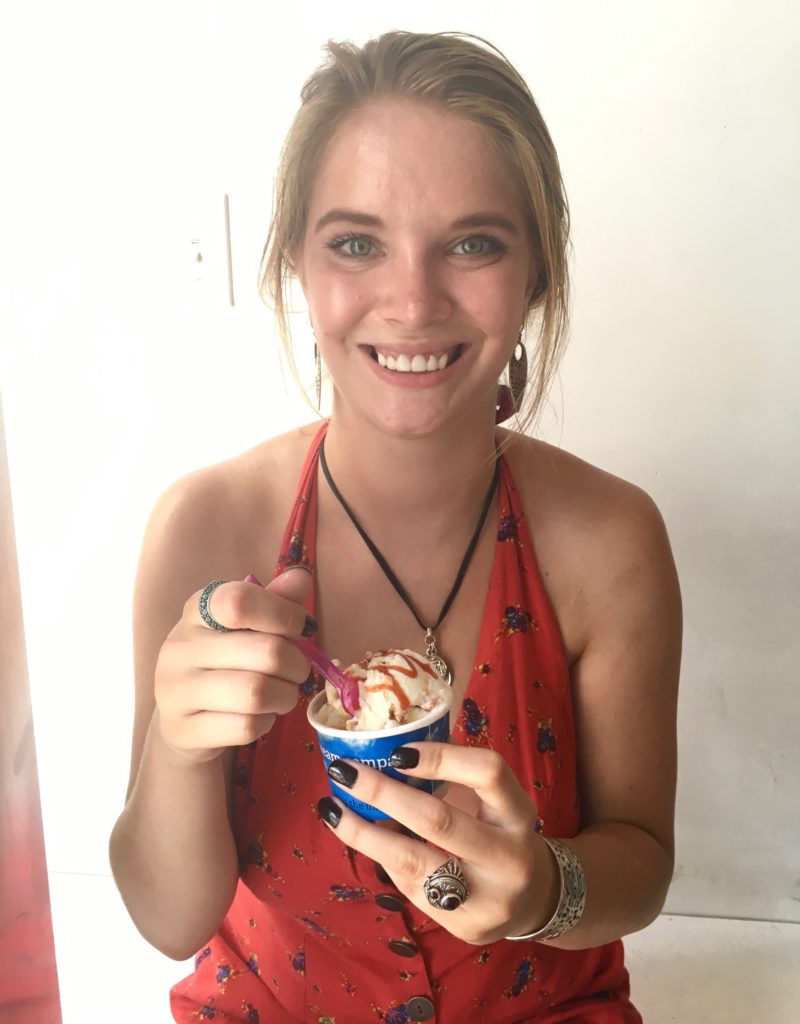 See that smile on her face?  Happy happy not only to have a dish of homemade ice cream but because this food tour is fantastic.  If you find yourself in Miami – take a break from the beach and travel to Little Havana not only for the food, but the art and culture evident around every corner.  Again Miami Culinary Tours – Little Havana Food Tour can be found by clicking here!