This post was sponsored by LaFarm Bakery in collaboration with NC Blogger Network.  As always, all opinions are mine and mine alone.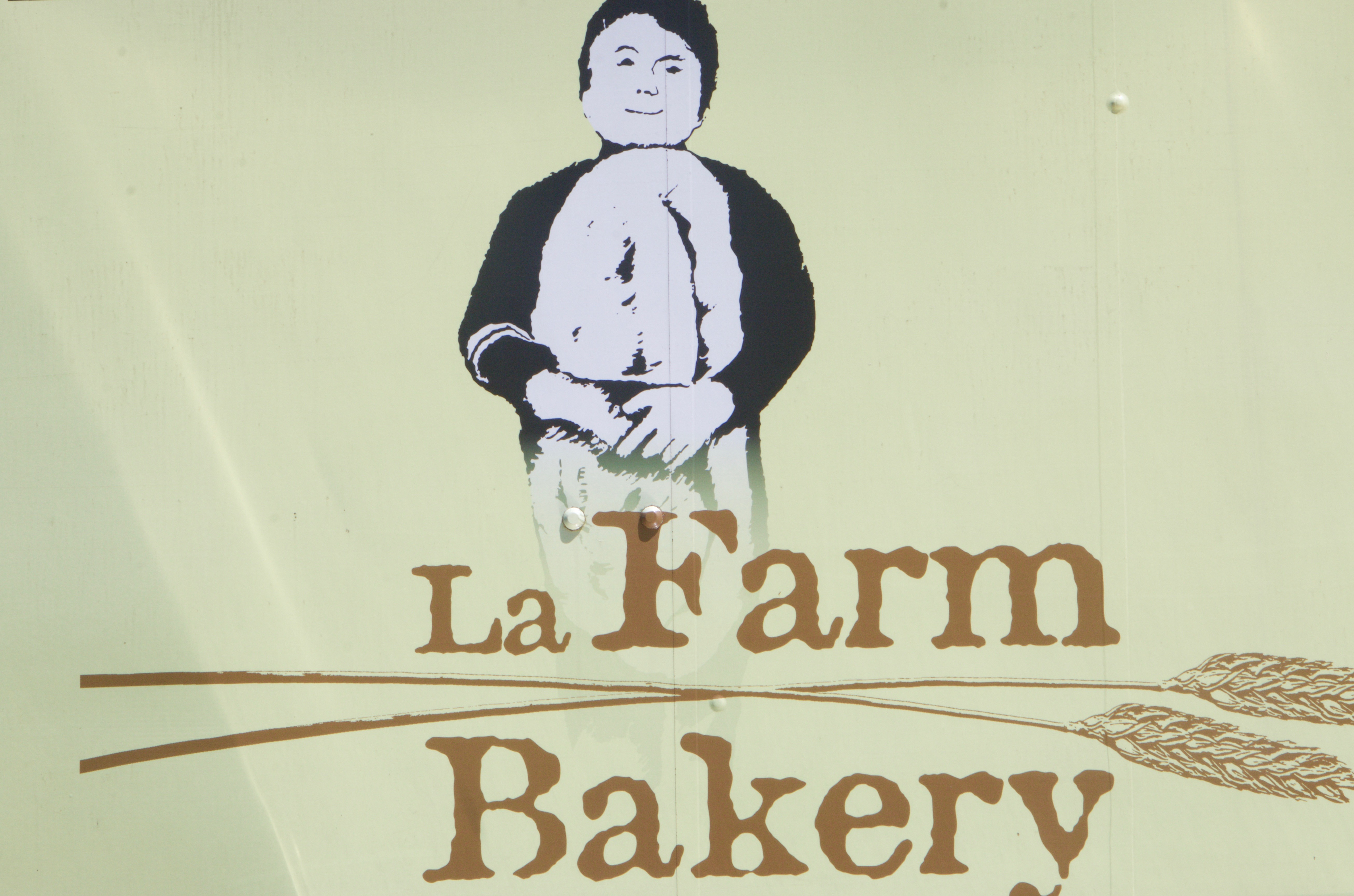 LaFarm bakery and master baker Lionel Vatinet caused me to consider becoming a baker, only with his tutelage however!  But when I heard that the bakery begins to put loaves of shaped dough into the ovens at around 2 a.m., I reconsidered.  This incredible bakery production house is located in Cary, North Carolina, a little over an hour from Greensboro – probably not a welcome commute.  I will be making the trek occasionally just to bring home fresh bread, granola and cookies for starters.  A chance to visit with Lionel would always be welcome as well.  Led by master baker, Lionel, the tour was fascinating and educational with lots of laughter!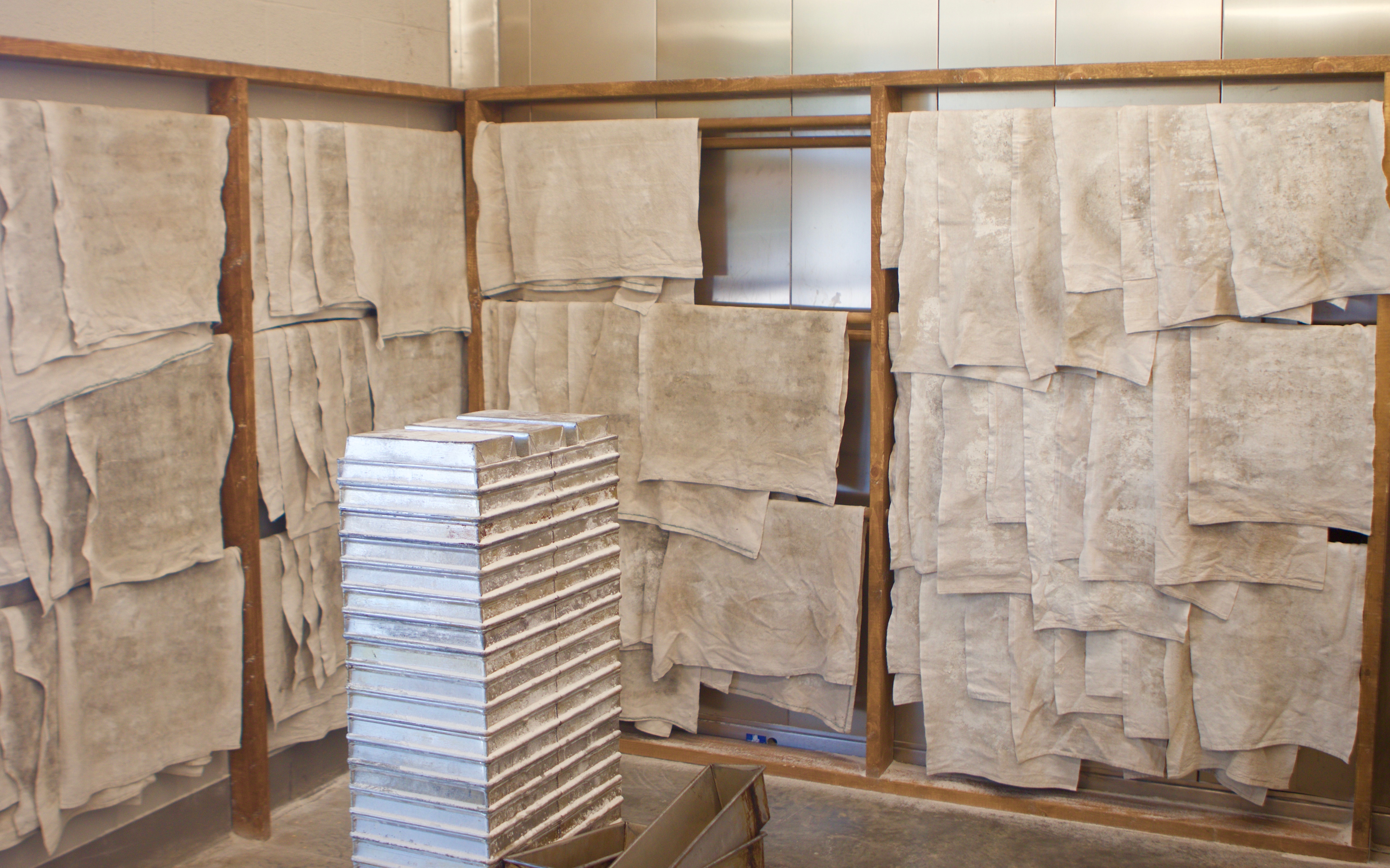 Lionel proudly presented his newest production facility to the media and local bloggers alike a couple weeks ago.  I feel certain I am safe in saying, we were all impressed with the space and the baked goods coming out of the ovens"!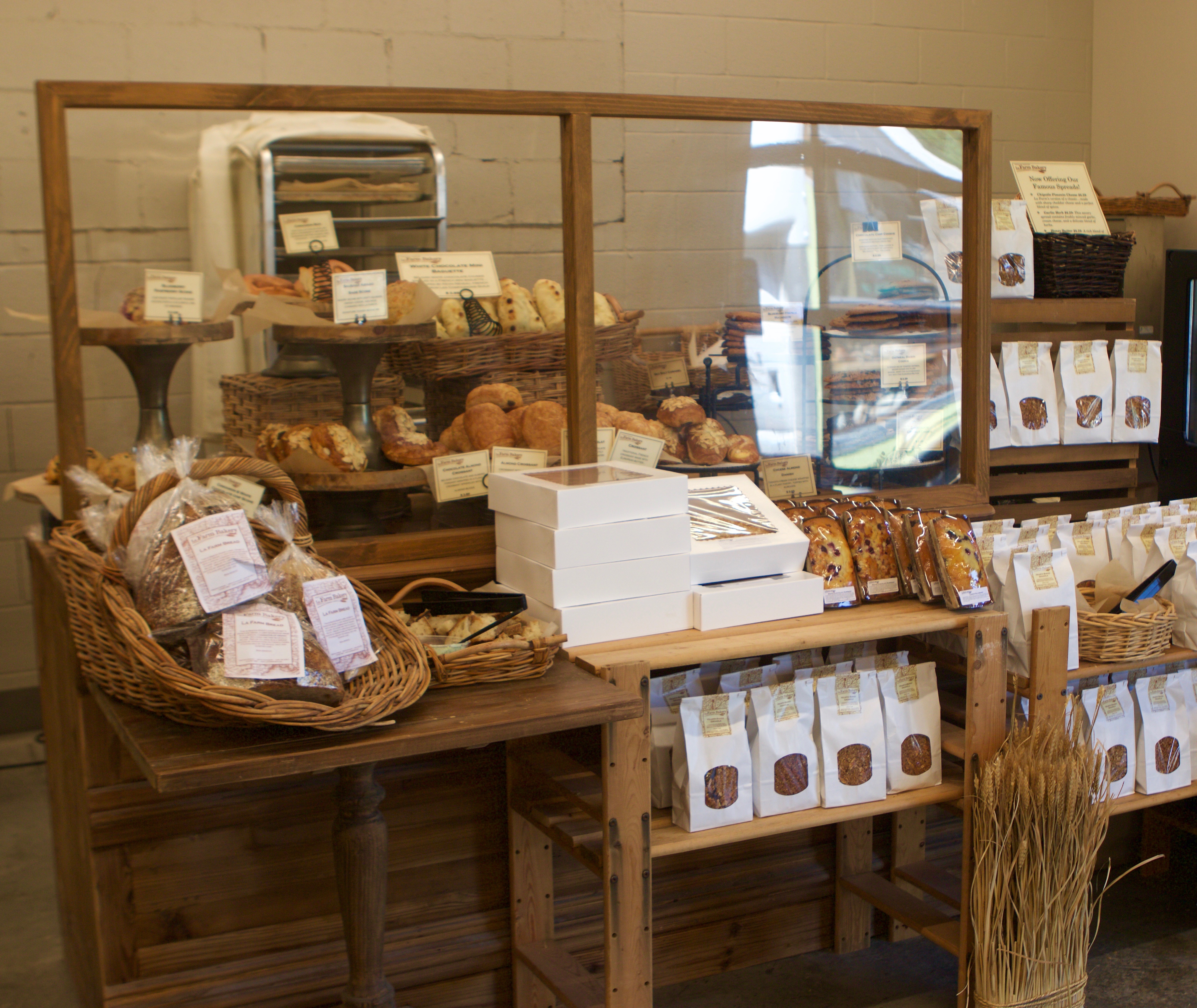 Upon entering the bakery one is met with a wide array of baked goods from bread, to cookies, to granola, pastries and more.  LaFarm Bakery opened in 1999 with 9 handmade European breads and cinnamon buns.  Word of mouth fueled their early growth and in 2009 Lionel and his wife Missy expanded with a cafe and a bread truck.  They also began to sell breads to all 5 Triangle area Whole Foods markets.  Sadly this doesn't include the WF is Greensboro.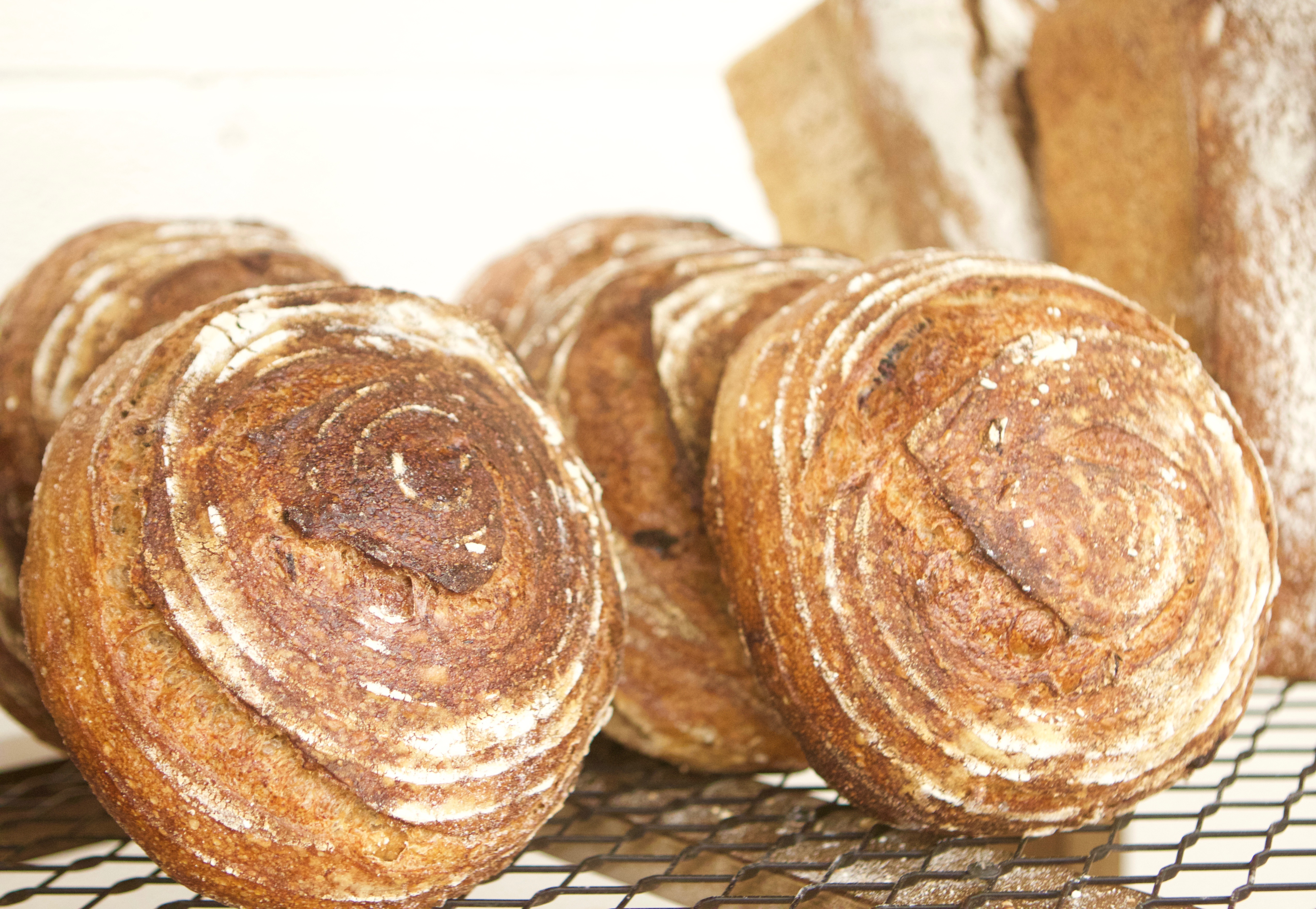 The new Chatham Street location is designed to give full view to the bakers in action – mixing, shaping, and baking the wide variety of loaves.  Every single loaf is shaped by hand and now the bakers have room to explore new ideas and produce new breads.  Ancient, local and heirloom are but a few types of grains the bakers work with.  Yet amongst the ancient and heirloom grains lie state-of-the-art air circulating systems, ovens, and coolers.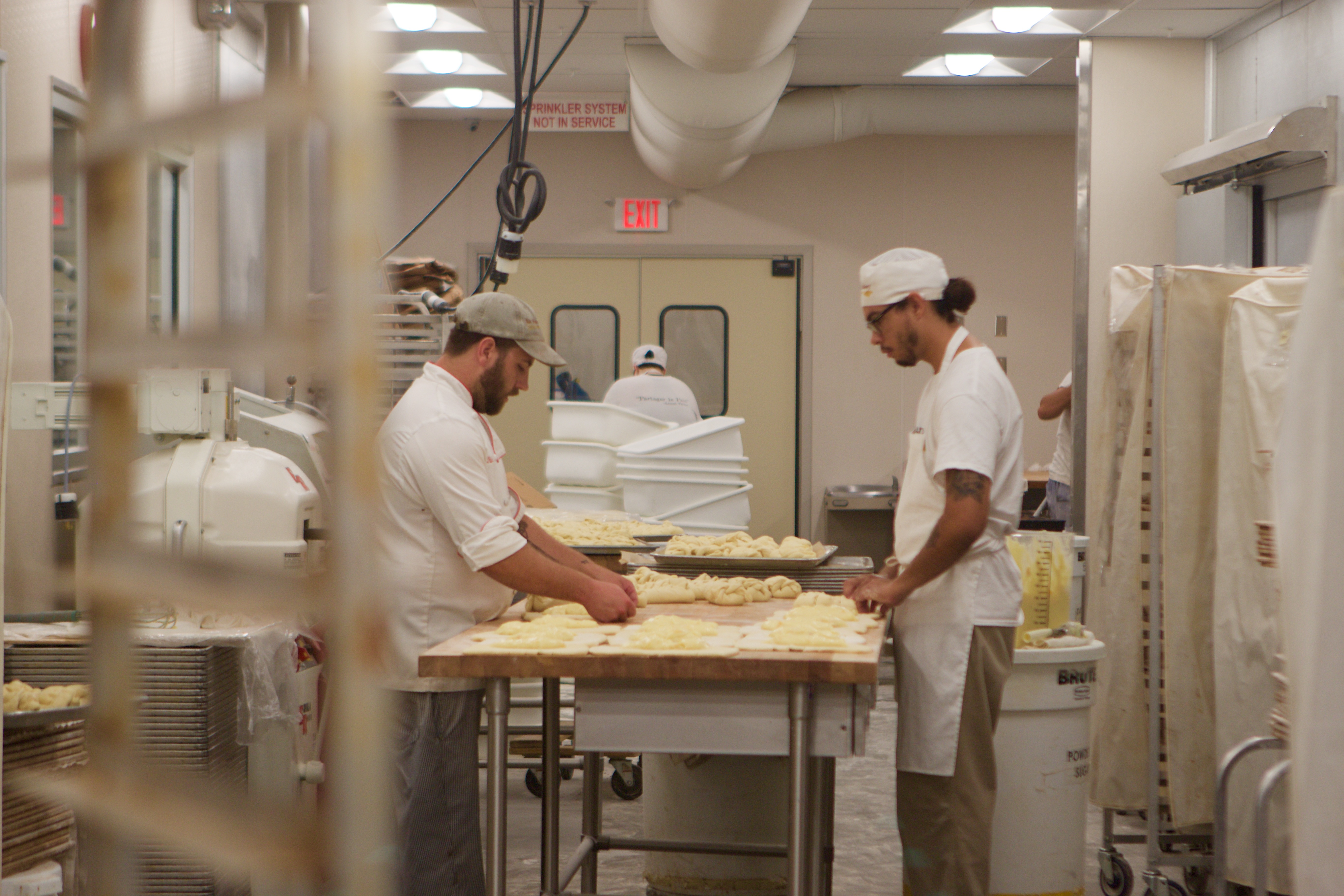 The tip I most enjoyed learning while at LaFarm is the correct way to slice bread.  I thought I knew how but turns out according to Lionel, a three-time James Beard Foundation "Outstanding Baker" semifinalist, I've been doing it wrong all these years!  As he demonstrated the precise way to slice the bread you can bet I took notes and have now amended my ways.  He shared with us that to fully appreciate a freshly sliced loaf one must squeeze and smell the bread before taking a bite.  Squeezing releases the aromas of the grains – somewhat like swirling wine before allowing your nose a whif or taking a sip.  He promised us that if he were at our home for dinner he would surely do this before eating the bread!  No pressure there!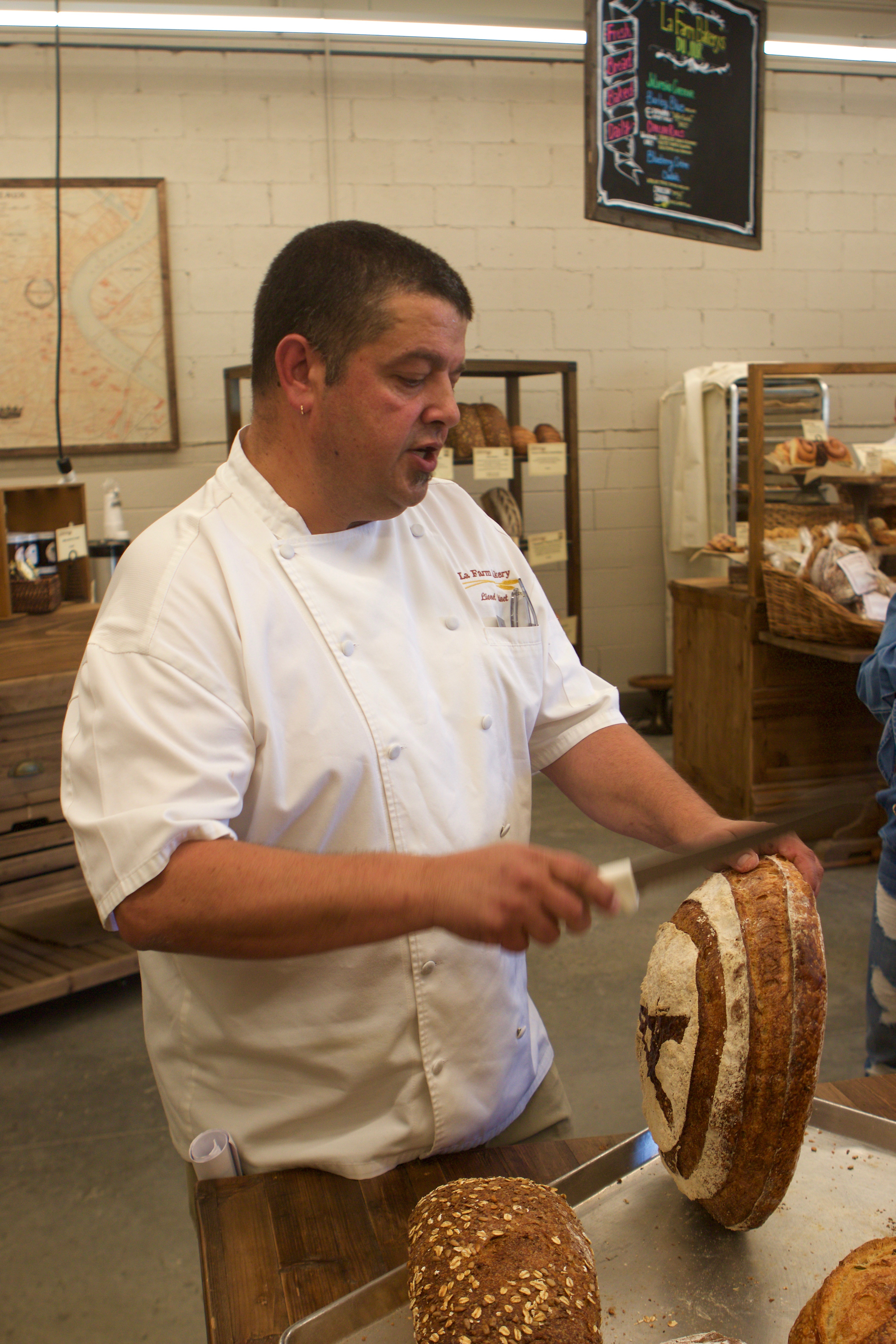 Above he demonstrates the proper way to slice a loaf of bread…turn it on it's side and slice.  No hacking!  Love the Eiffel tower on this loaf – Lionel's signature design.  As he sliced he told us how in the french countryside , a long time ago there was only one baker in a village.  Each family had a "family stamp" that was pressed into their loaves so as the baker baked he could keep count of what he was baking and for who.  When a member of each family arrived to pick up their bread they knew exactly which loaves were theirs and which belonged to their neighbor.  Ahhh the good old days!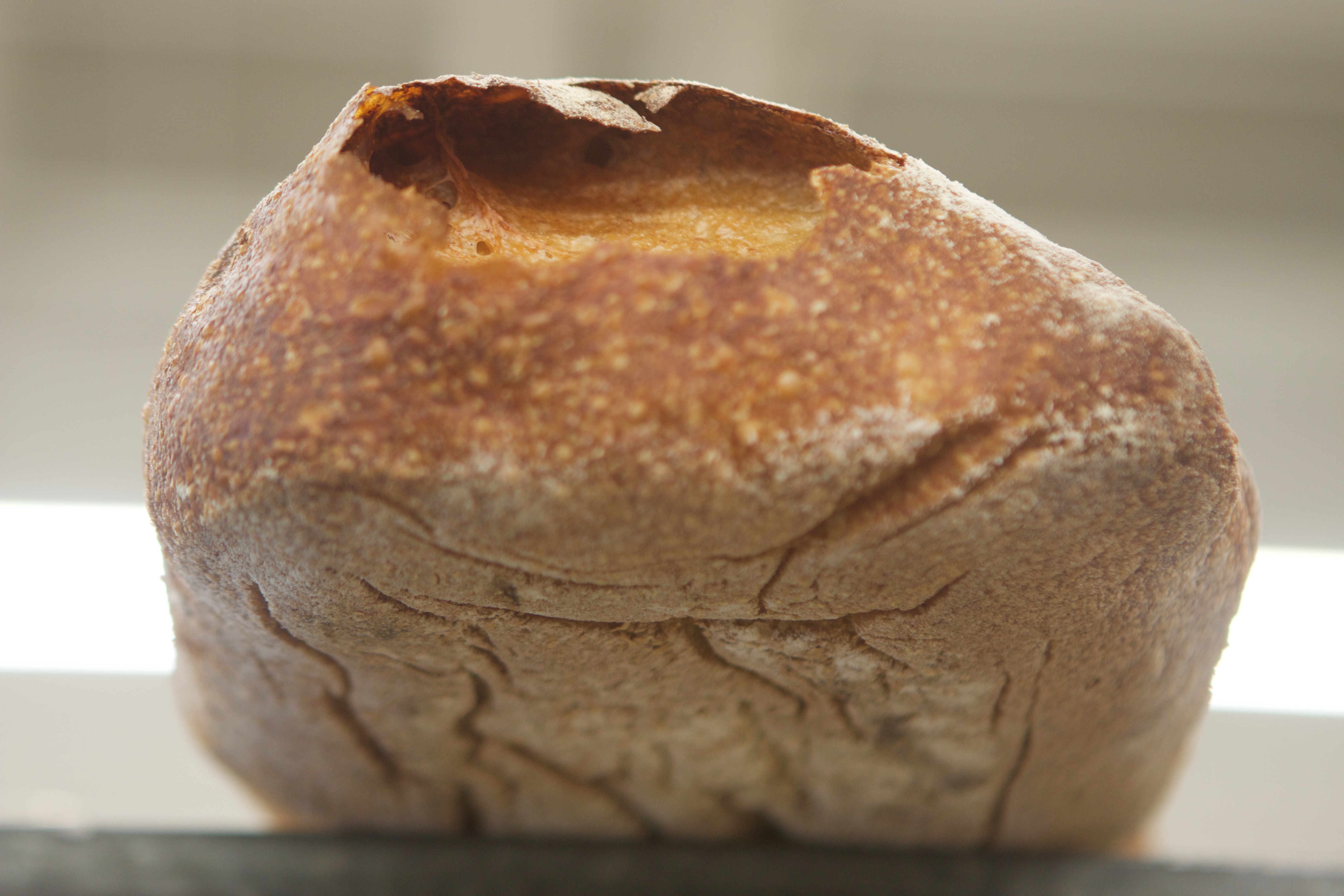 After a full demonstration on slicing, squeezing and smelling bread we were given the opportunity to taste several varieties of freshly baked bread. Spelt, rye and buckwheat to name a few.  I admit the spelt was my favorite with a hint of sweetness from local honey.  There are no frozen starters, no shortcuts. No preservatives or artificial ingredients. Just old world artisan bread baking and a passion and commitment to tradition and quality.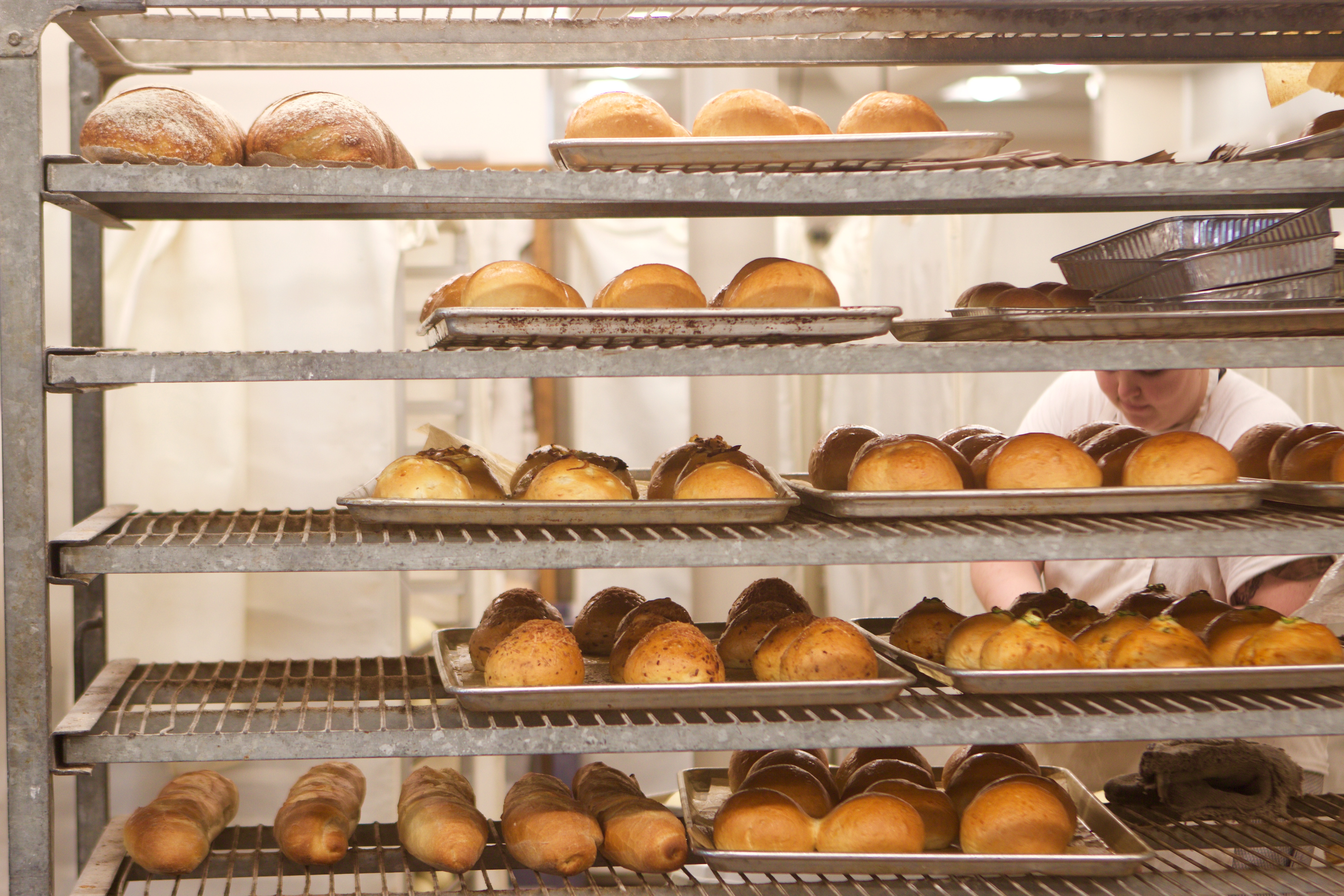 After a tour of the production area, ovens and pastry kitchen we were treated to a variety of sandwiches from the cafe.  Platters mounded with Le Parisien, LeGrande BLT, Mediterraneo, and Chicken Salad on what else but a croissant.  Followed by a variety of pastries for dessert.  The sandwiches were all delicious and the bread?  Well it's the best bread in town!  You all know desserts are my favorite and I had to control how many I put on my plate.  I only took two small ones.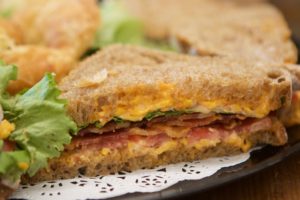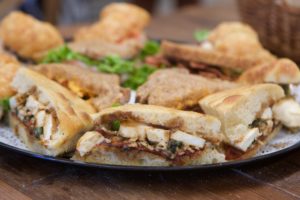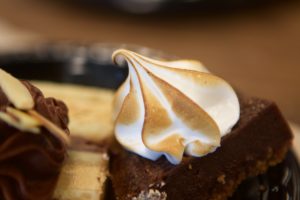 A gracious, entertaining and knowledgeable host, Lionel spent a great amount of time sharing his love of baking bread with us.  It was my pleasure to be a part of this day and it won't be long before I return to bring home a loaf of bread or two.  We were treated to "goody bags" as we departed.  A fresh baked boule, a bag of the most amazing hearth baked granola, and a fun LaFarm Bakery apron. Really, I wish I lived close enough to frequent LaFarm but, possibly I can make the journey once a month for the special treats found there.
I leave you with a few more photos of the bakery.  You can and should visit their website here.  The newest LaFarm Bakery is located at 220 West Chatham Street in Cary, N.C.  I urge you to go and treat yourself to everything that strikes your fancy.  If you're interested Lionel also gives classes on the art of baking.  There is something for everyone.  The next class – Sourdough Bread 1 & 2 – September 5 & 6.  If I weren't traveling at that time you might just see me there.