Grilled zucchini salad is now on my favorites list for ways to use the abundance of zucchini we brought back from the coast a couple weekends ago.  I grill our dinners most evenings and love it when I can throw everything on the grill and not heat up my kitchen.  I admit I really don't like to mess up my stove either – I guess I'm a little anal that way.  Honestly, I am not happy with the photo I am showing you today but the food disappeared off our plates before I even thought of photographing it.  A hazard of food blogging to be sure.  This is a cell phone photo and not a great one at that.  You'll get the idea and if you try the recipe you won't care about the lack of professionalism in this picture!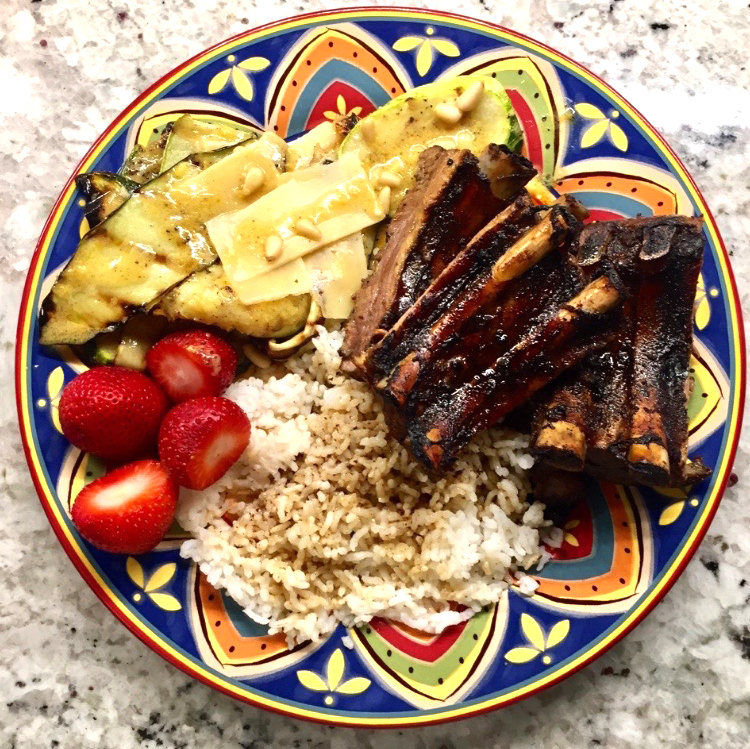 My man, Dan had been bugging me to make some baby back ribs, one of his favorites.  We don't often eat pork or red meat so it's a real treat for him when I make ribs.  This grilled zucchini salad was the perfect side dish and balanced out the heaviness of ribs.  You can see I made a side of rice drizzled with juice from the ribs and a few bright red strawberries.  This whole plate says summer!
I didn't create this recipe for grilled zucchini salad but rather it is Bobby Flay's recipe.  It is easy, healthy and full of flavor.  If you don't have zucchini in your frig I suggest you run to the nearest farmers market and grab some to make this zucchini salad for your next summer meal.
When I made this salad I still had several huge zucchinis in my refrigerator.  They are so big it takes one or less for most recipes.  I've made 2 loaves of traditional zucchini bread, zucchini quiche, and black-onyx orange zucchini cake. You won't want to miss any of these fabulous recipes!  Even after making all of that plus this recipe and the one for Stuffed Zucchini I have 2 extra large zucchinis left.  Tonight I am going to use the grilled zucchini salad idea with a twist on the dressing – my own creation this time!  I'll be posting the remainder of these fab zucchini recipes over the next few weeks  – again you won't want to miss them!
Ingredients
2 medium zucchini, sliced lengthwise into thin strips
Canola oil
Salt and freshly ground black pepper
1 tablespoon Dijon mustard
1/4 cup freshly squeezed lemon juice
1 teaspoon finely grated lemon zest
Honey
2 tablespoons finely chopped fresh flat-leaf parsley, plus leaves for garnish
1/2 cup extra-virgin olive oil
Wedge Pecorino Romano, for shaving
2 tablespoons toasted pine nuts
Instructions
Heat the grill to high heat.
Brush the zucchini on both sides with canola oil and season with salt and pepper, to taste.
Grill for just about 1 minute per side (until slightly charred and wilted), then remove them to a platter.
Whisk together the Dijon mustard, lemon juice, lemon zest, honey, to taste, and salt and pepper, to taste, and parsley in a small bowl.
Slowly, whisk in the olive oil until emulsified.
Drizzle the vinaigrette over the zucchini and let it marinate for 15 minutes at room temperature.
Top with shaved cheese, pine nuts, parsley
http://www.theorangebee.com/2017/07/17/grilled-zucchini-salad/