Healthy Summer Stuffed Zucchini
This stuffed zucchini recipe is simple and delicious – do you have zucchini coming out your ears this summer?
Over July 4th my man Dan and I spent the weekend on a 100 acre farm that was close to the Outer Banks in our beautiful state of North Carolina.  Coast and agriculture all within an hour of each other. Perfect way to spend the long weekend!  The farm itself is growing cotton this summer but the owners have a personal garden full of vegetables.  As we headed out to the 1920's front porch and comfy rockers for our final morning coffee we were greeted by large bags full of zucchini, cucumbers, and potatoes.  I'm talking zucchini the size of my forearm, purple potatoes and tender Japanese cucumbers.  Later the owners invited us to pick as many orange and red cherry tomatoes as we wanted.  In hindsight I wish we'd picked three times as many.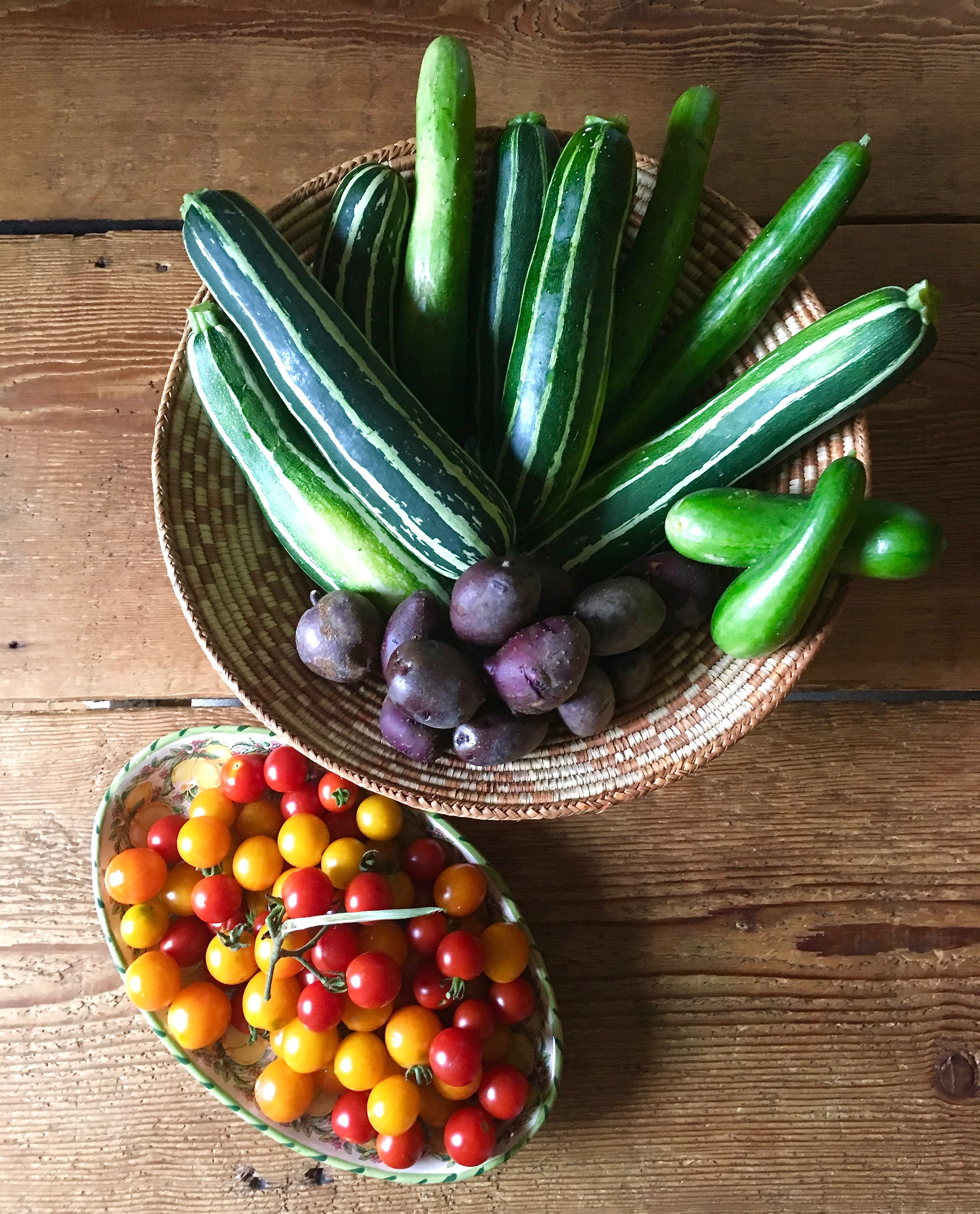 I've been roasting the little tomatoes every evening and let me tell you, those little maters are like popping a candy bomb in your mouth.  They burst with more sweetness than I could imagine – we are hooked!  Seriously sweet and juicy- I've been saving a couple for the end of my meal because after enjoying those little babies I don't even need dessert.  My sweet tooth has been more than satisfied.
What do you do when you are greeted with an abundance of zucchini?  The usual suspects – zucchini bread, grilled zucchini, throw it in a pot of veggie soup (too hot for that), fry it, toss it in a salad or stuff it.  The first night I decided to cook with it I chose to make stuffed zucchini.  Splitting one in half and serving one half to each of us was perfect with roasted tomatoes on the side.  This is so easy and feels healthy – well it IS healthy!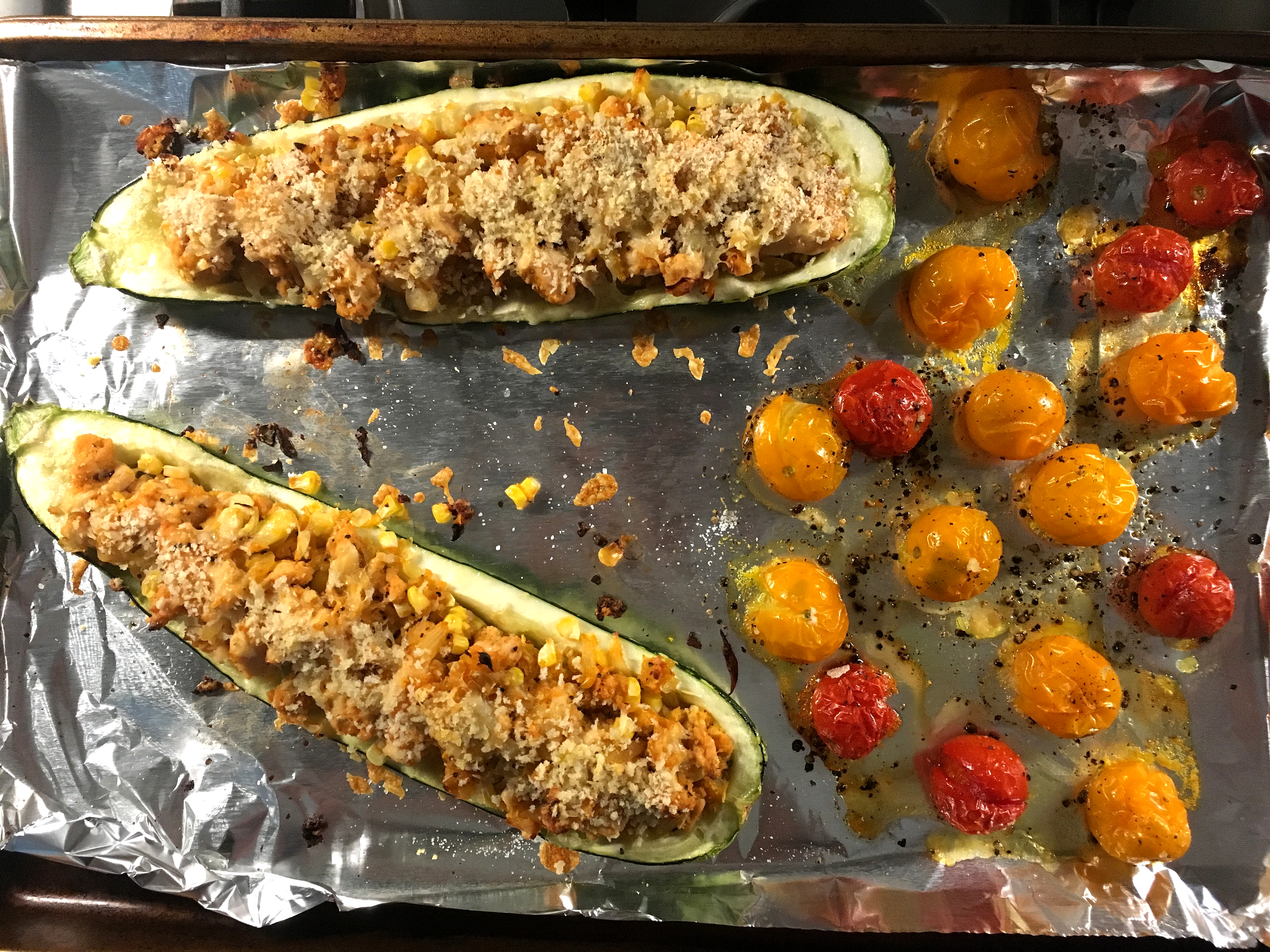 What do you think I'll do with the remainder of the zucchini?  You'll have to check back – cooking with zucchini has taken over my kitchen in so many delicious ways I can't wait to share them with you! I invite you to comment below and tell me your favorite way to cook with zucchini!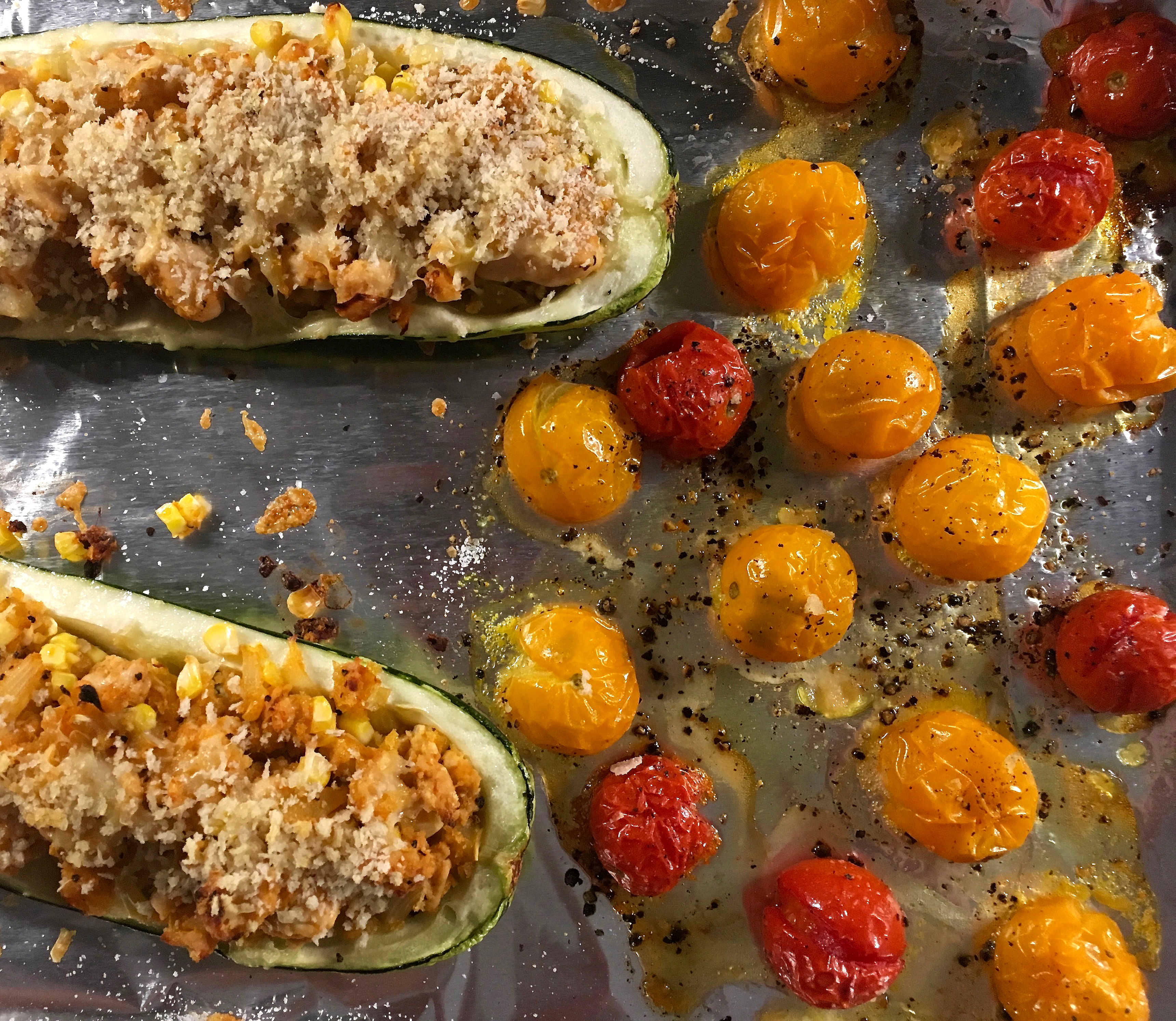 Healthy Stuffed Summer Zucchini
Ingredients
1/2 cup Panko bread crumbs
4 zucchini or 1 very large zucchini
3 tbsp. canola oil
1 tsp. kosher salt
1pound ground organic chicken
1/2 cup chopped yellow onion
2 tbsp. chopped garlic
1 tsp. sweet smoked paprika
1/2 tsp. fresh ground black pepper
1/2 cup fresh corn (cut off the cob)
3/4 cup sharp white cheddar cheese
Instructions
Preheat oven to 375*F.
Cut zucchini in half lengthwise.
Scoop out pulp leaving 1/2 inch shell intact.
Coarsely chop pulp.
Brush zucchini shells with 2 tablespoons oil.
Place shells on baking sheet and sprinkle with 1/4 teaspoon salt.
Bake for 8-10 minutes until beginning to soften.
Reduce oven temperature to 350*F.
Heat 1 tablespoon oil in a large skillet over medium-high heat.
Add ground chicken to skillet; cook, stirring to crumble, until browned, about 5-6 minutes.
Add onion, paprika, garlic, pepper, remaining salt and zucchini pulp and cook stirring occasionally until onion is tender, about 3 minutes.
Transfer mixture to a large bowl and mix in corn.
Divide mixture evenly into shells and top with cheese and bread crumbs.
Place stuffed zucchini shells on baking sheet and bake at 350*F until filling is lightly browned, cheese has melted and zucchini is tender.
20-25 minutes.
http://www.theorangebee.com/2017/07/12/healthy-stuffed-summer-zucchini/