Southern Living's Classic Southern Pound Cake
I can't remember the last time I made a pound cake.  It's not something I've done many times before.  Maybe once or twice.  I'm not sure why because they sure are delicious.  Buttery vanilla flavors, the perfect dessert to serve with a scoop of ice cream, whipped cream, or summer berries.
I always look forward to reading each month's edition of Southern Living, mainly for the recipes.  I am a southern girl after all.  One of the recipes that caught my eye in the May issue was for Classic Southern Pound Cake.  Using all the usual suspects, butter, eggs, sugar, vanilla and an addition I wouldn't usually think of – cream cheese.
I followed the directions – including the TIP at the top of the page.  Here's the TIP:
Leave the eggs, butter and cream cheese out at room temperature for about an hour before mixing.  This is important because adding cold eggs to softened butter and cream cheese will create a lumpy batter.
Okay so I did that.  Throwing this cake together is not difficult.  My problem was it took way longer to bake than the recipe called for.  I picked a poor time to bake the cake as I was working at the spice shop that afternoon and had it timed to bake the cake, give it time to cool and turn it out before I left for work.  Not a good idea!  I ended up calling my boss and explaining that I had this cake in the oven that would not bake and I'd be late for work.  Lucky for me he is easy going and told me it wasn't a problem.  I'm blessed to work for such a man!
I baked the cake for another 15 minutes, waited the allotted 15 minutes for cool-down and to tell you the truth when it came out I thought it was baked.  I learned later when I sliced a piece for myself and my man that it wasn't.  It was still a bit doughy in spots.  Kitchen disaster?  Not really.  The outside was nice and crunchy and for the most part it was baked enough to eat.
I covered up my flawed baking job by adding a scoop of vanilla bean or chocolate ice cream to every slice I served.  This cake was eaten by me and my hubby.  I didn't share it at all – I'm not a good sharer to begin with because I love food, but I'd planned on giving away a slice or two.
Well, so I'm sharing the recipe with you because I can see the possibilities of getting it right.  You probably will.  All I can tell you is to be sure and use a cake tester or toothpick before you sit it on the counter to cool.  I did do this, but somehow it still wasn't right.  It tasted good and we ate most of it so all was not lost.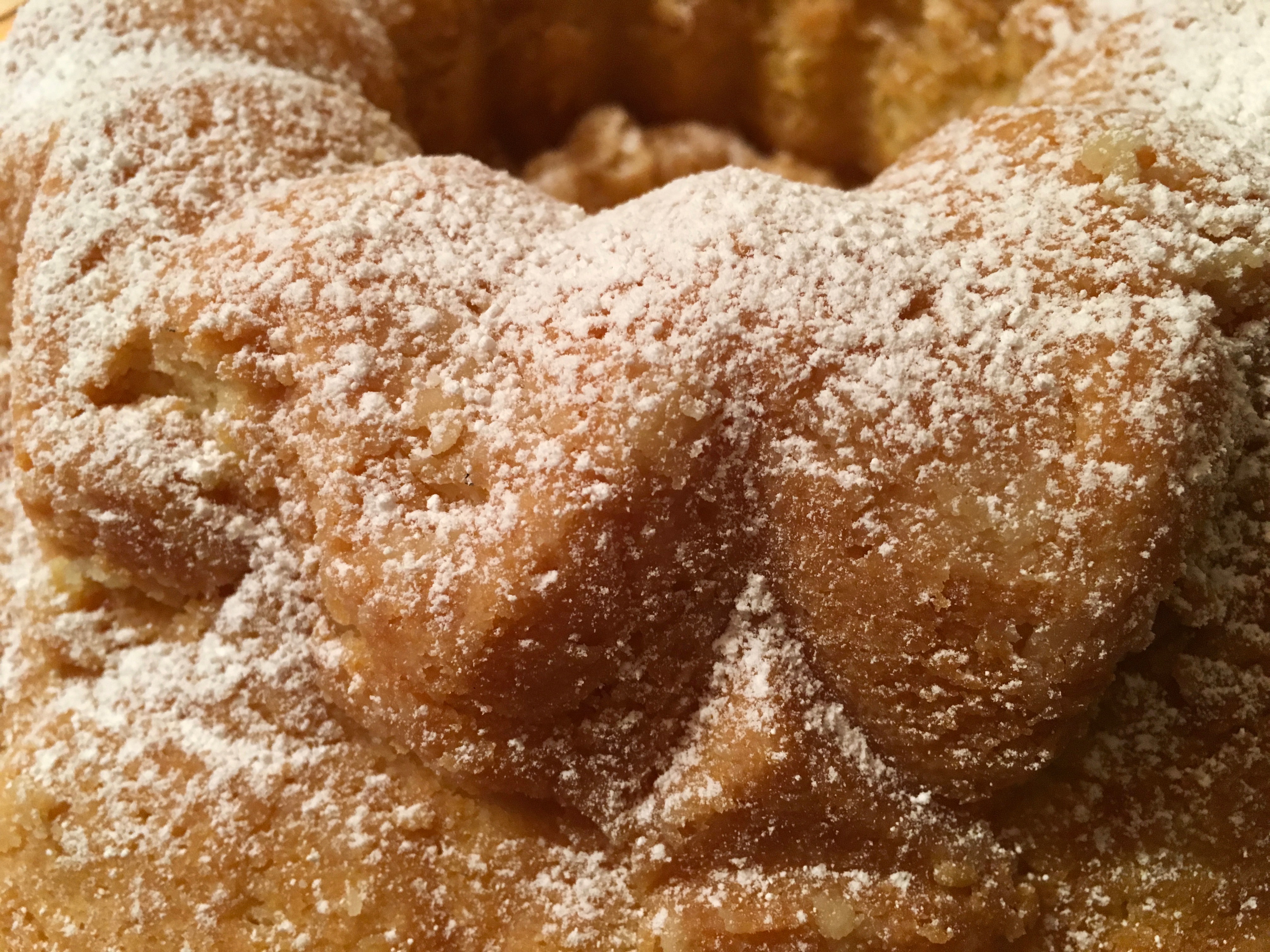 I will try this recipe again because I kinda dig the challenges that come with baking and I am determined to get this one right!  I'd love to hear any comments you have about this recipe…if you try it – does it come out perfectly at 1 hour and 20 minutes or 1 hour and 30 minutes or what? Please share your pound cake adventures or recipes with me – I'm on a mission now!
Southern Living's Classic Southern Pound Cake
Ingredients
3 cups superfine or granulated sugar
1 1/2 cups unsalted butter, at room temperature
6 ounces cream cheese, at room temperature
4 large eggs, at room temperature
2 large egg yolks, at room temperature
1/4 cup half-and-half
2 teaspoons vanilla extract
3 cups all-purpose flour
1 teaspoon salt
Instructions
Preheat oven to 300ºF with oven rack in center of oven.
Grease and flour a 10-inch (14-cup) Bundt pan.
Beat sugar, butter, and cream cheese with a heavy-duty electric stand mixer fitted with paddle attachment on medium-high speed until very fluffy and pale in color, 5 to 7 minutes.
Add eggs,1 at a time, beating on low speed just until yellow disappears after each addition.
Add egg yolks, half-and-half, and vanilla, and beat on low speed just until blended.
Stir together flour and salt in medium bowl; gradually add to butter mixture in 3 batches, beating on low speed just until blended after each addition, stopping to scrape down sides of bowl as needed. Remove bowl from stand, and scrape batter from paddle.
Using a spatula, stir batter once by hand, scraping sides and bottom to incorporate any unmixed batter.
Spoon batter into prepared pan, and gently tap pan on counter to release any large air bubbles.
Bake in preheated oven until cake is golden and a long wooden pick inserted in center comes out clean, 1 hour and 20 minutes to 1 hour and 30 minutes.
Cool cake in pan on a wire rack 15 minutes; remove cake from pan, and cool completely on wire rack before slicing and serving, about 2 hours.
http://www.theorangebee.com/2017/06/27/southern-livings-classic-southern-pound-cake/