Making Kombucha In My Own Kitchen
I'm on a roll when it comes to learning how to make new provisions in my very own kitchen.  I like the challenge, it keeps me on my toes and not slack in the kitchen.  On a recent visit to my daughter's home in California we made a sweep through the Kombucha section at her local grocery store.  We brought home several different brands and after trying each one agreed that the Health Ade brand was our favorite.  Not too much carbonation, not too much mother floating around in the bottle and delicious flavors like Pomegranate, Pink Lady Apple and Lemon-Ginger.  Considering my main beverage of choice during the day is water, which isn't free per se…but pennies per glass,  I noticed the cost of a bottle of Kombucha is kinda pricey.  The hiccup here is I'd fallen in love with Kombucha.  Refreshing and flavorful it makes a nice diversion from my usual glass of water.
Not long after I returned home I saw an advertisement for a Kombucha class at a local tea shop.  I couldn't make the class but was lucky enough to set up a private class.  I arranged to meet Brittany at her tiny house (yep she for real lives in a tiny house) one morning for a personal Kombucha making class.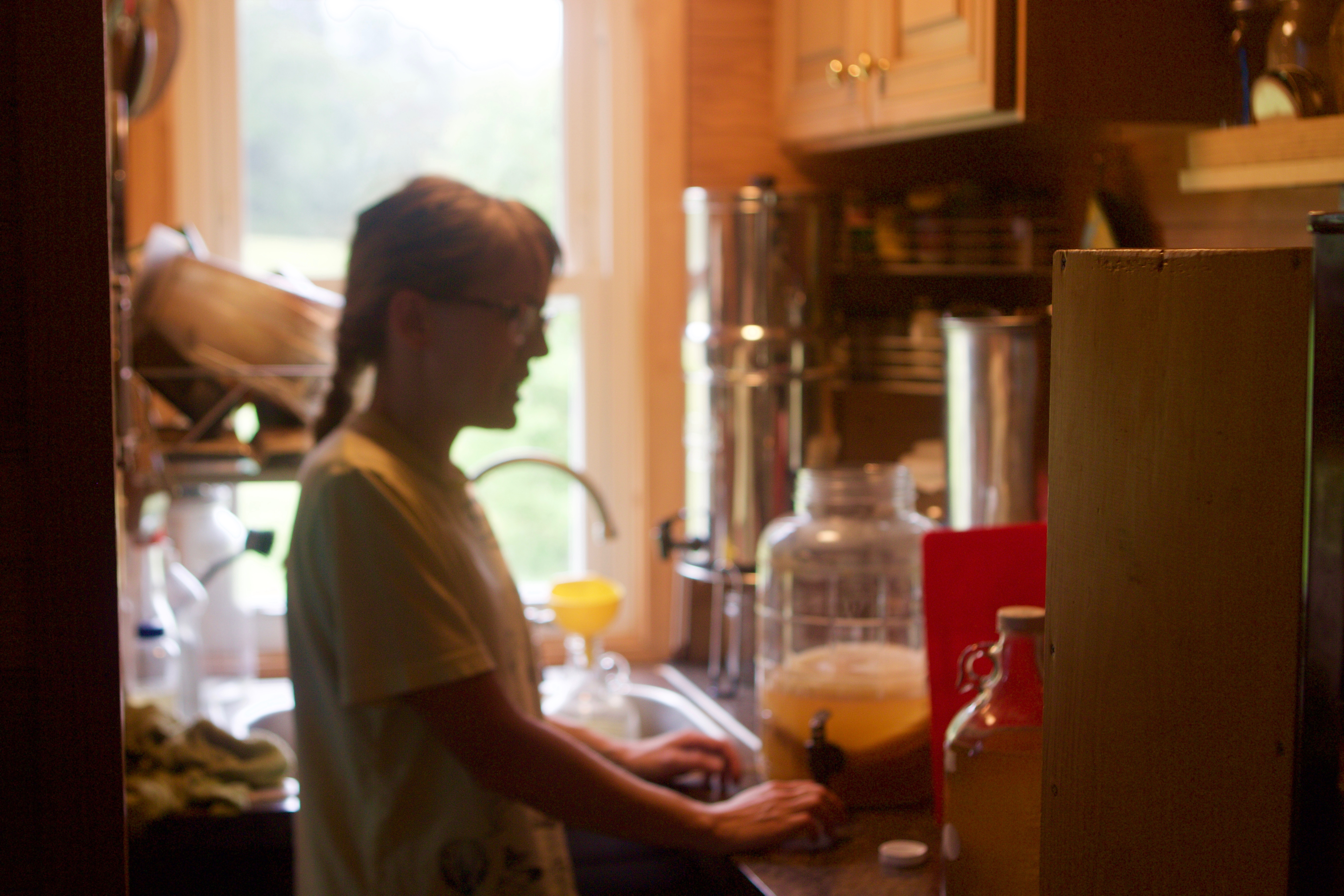 Brittany~ young, tiny, smart, energetic, and growing her own food and brewing Kombucha.  Living in a tiny house with her hubby and a black cat, my favorite color of feline, living off of the land, happily.  She speaks of local, fresh, sustainable, healthy, plant based, etc… all those catch words that truly are valuable to our well being.
Do you know the benefits of drinking Kombucha?  Here's a few…detoxifying, anti inflammatory, aids digestion and gut health and provides some natural energy.  I'm always looking for natural solutions for arthritis, aka inflammation in my joints and between drinking Kombucha and using my essential oils I'm definitely noticing a big difference.  The swelling and joint pain has decreased remarkably since consistently using both the oils and drinking the Kombucha!
So here's the deal to make your own Kombucha you have to have a batch of starter tea with a Scoby.  Brittany provides this combo with her class – so I came home with a quart size jar of starter tea complete with it's own Scoby. SCOBY stands for symbiotic culture of bacteria and yeast.  Without this mother lode you cannot brew Kombucha!  Other foods and beverages which require a similar "symbiotic culture" in their production include:
Ginger beer
Kefir, both milk kefir and water kefir (tibicos), whose required cultures differ
Jun; a drink similar to kombucha that grows on honey-sweetened green tea;
Vinegar; the production of which requires a mother of vinegar; and
Sourdough; derived from a sourdough "starter," flour-water mixture exhibiting growth after advantitious contamination with wild yeasts.
I am pretty proud of my Scoby and how lovely it is…I know it's a little weird looking but it's working it's magic on my home-brew Kombucha. Making your own Kombucha requires black, green, white, kukicha, pu-erh or rooibos tea, Cane Sugar, jars and bottles.  The process doesn't take much time but it requires consistent taste testing and making second fermentations.
Second fermentations can be flavored with fruits, herbs, spices or veggies.  I began by flavoring my second fermentation with a Lemon-Ginger combo, a Lemon-Blueberry Combo and Strawberry.  My favorites were the two with lemon infusion.  On my second go-round I flavored with Lemon -Blueberry again, Cucumber-Lime and Pineapple.  The pineapple was very good but the cucumber lime a little too heavy on the cuke flavor.  I am now on my third second-fermentation and I am trying two new flavors – Lemon-Apple and Apple as well as Lemon-Blueberry again.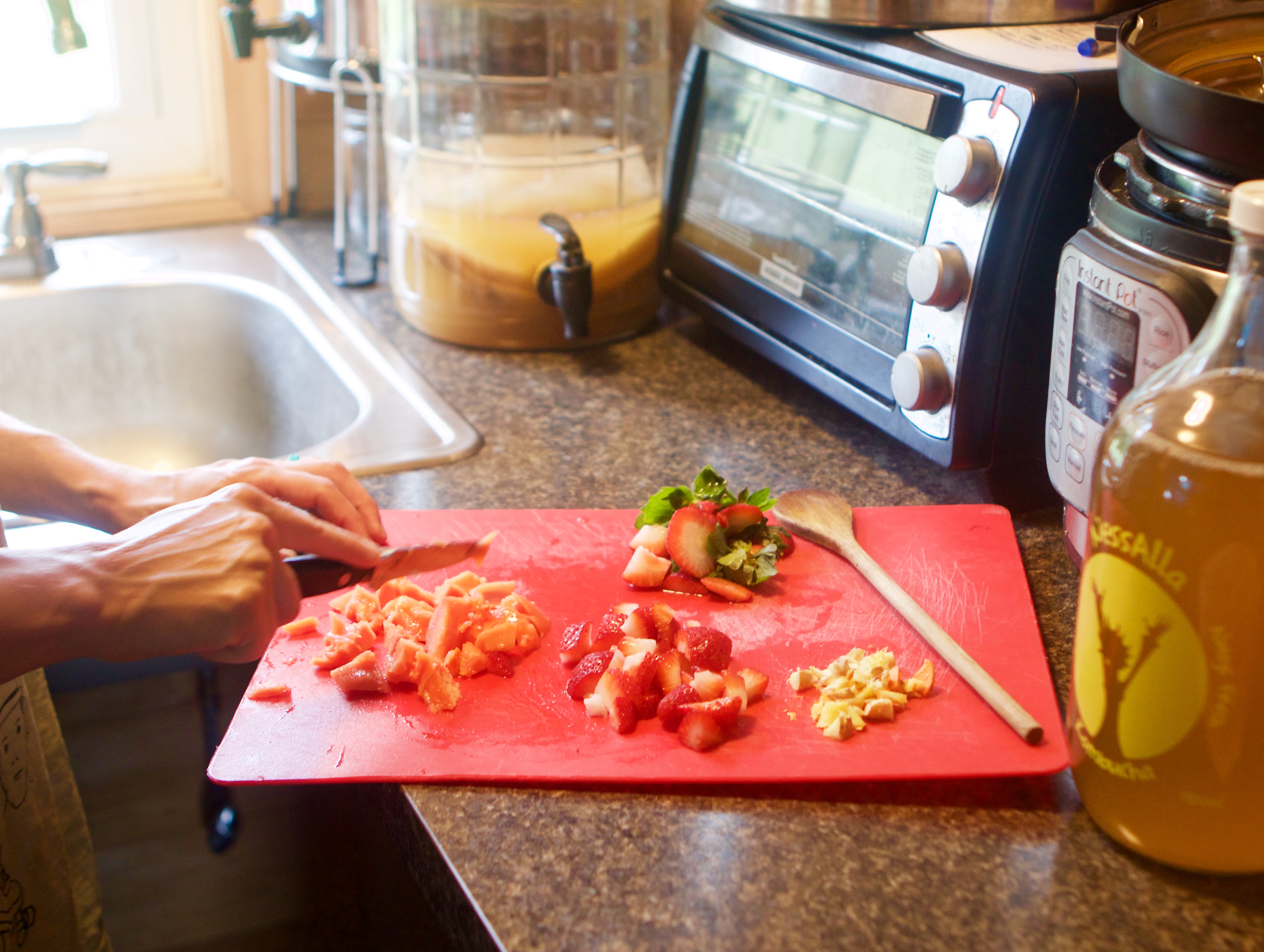 Brittany prepared mango, strawberry and ginger for her flavor infusions to show me how it's done.  Finding your favorite infusions is part of the fun.  I'll be experimenting with spices and herbs on my next go round.  Any great flavor combinations you can suggest for me would be much appreciated!  The possibilities seem endless.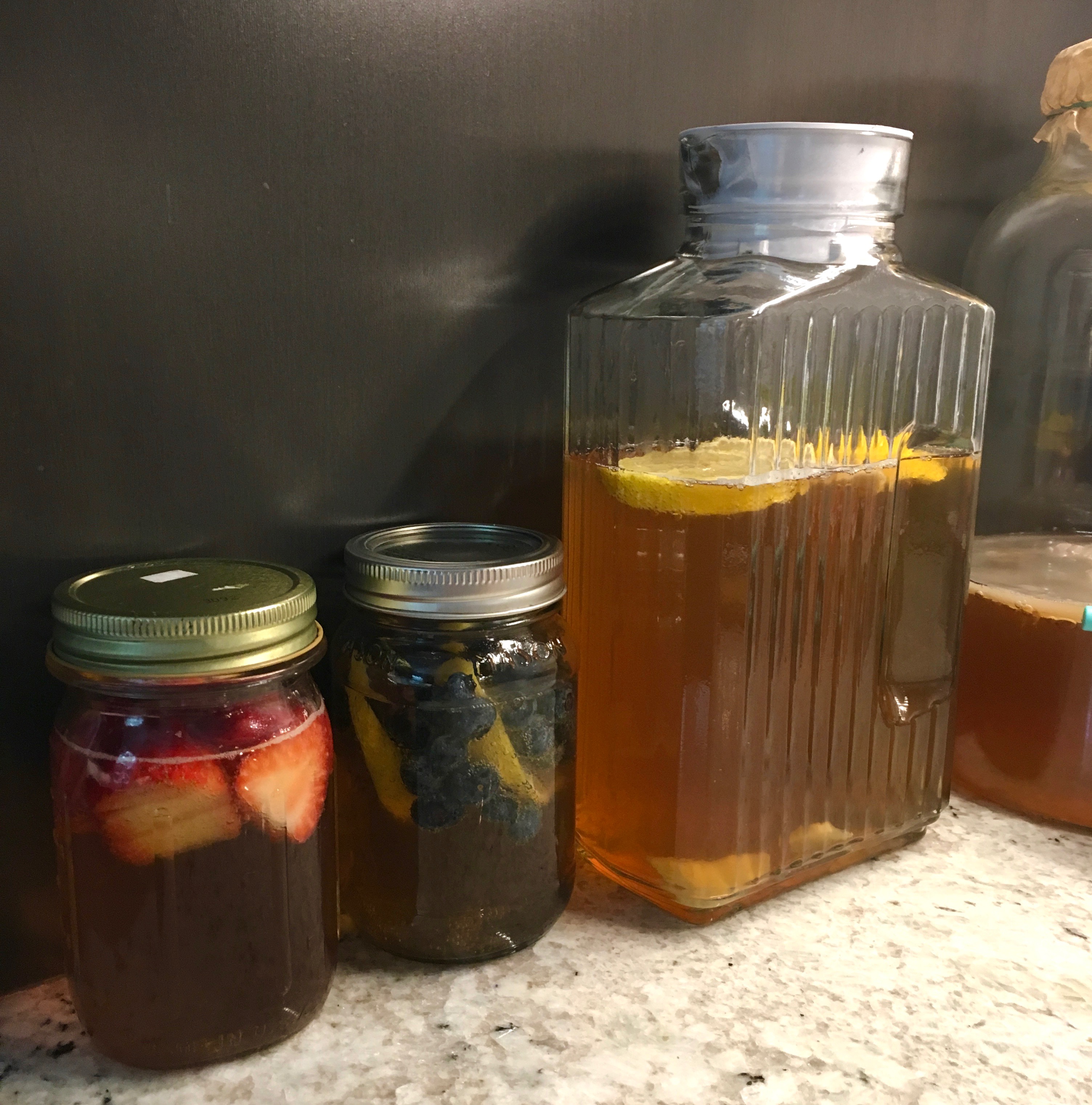 I am thoroughly enjoying the experience of brewing my own Kombucha.  So far I've been successful with keeping my Scoby alive and happy.  I do still pick up the occasional bottle of Health Ade at the grocery.  My plan is to begin to bottle in larger jars after I finalize all my flavor taste tests. New flavors are able to be made about every two weeks.  Are you going to try your hand at home-brew Kombucha?  If you do I can't wait to hear what your fav flavors are and how it's going for you.  Please share your experiences if you find yourself in the brew business!
Interested in learning to brew your own Kombucha? If you live in Greensboro or the Triad area of N.C. you can set up your own class with Brittany Peters or catch her at her next public class. For more info visit her website at purslanegardens.com or email her at purslanegardens@gmail.com.