Learning To Make Maneesh – Middle Eastern Flatbread
Recently I learned to make Maneesh, a Middle Eastern Flatbread that makes a perfect edible spoon for dips such as hummus, baba ganoush, tabouleh or for soaking up juices from meats and sauces. I've long been intrigued with the spice blend called Za'Atar. Now I know precisely how I like it best!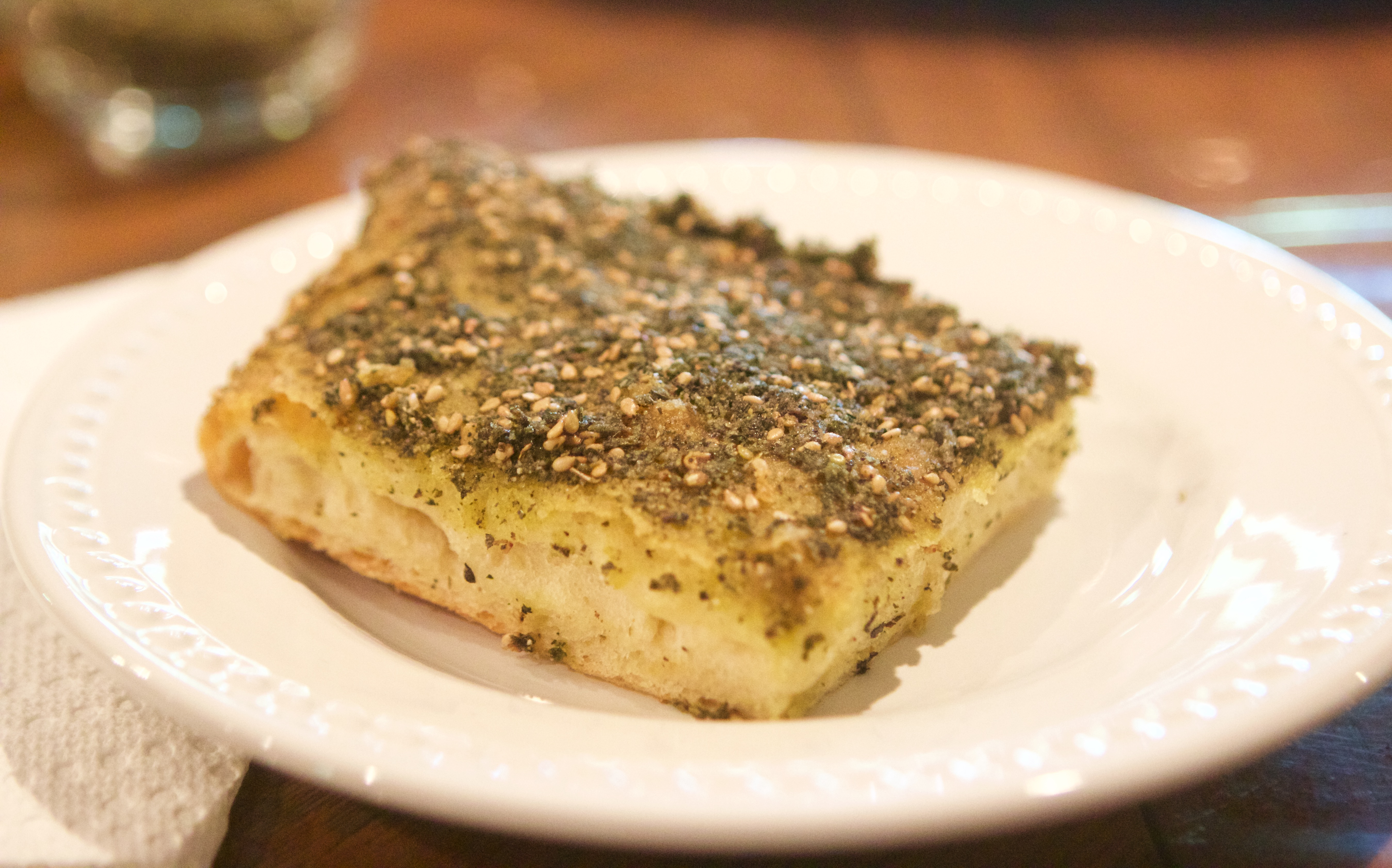 One bonus of working at the spice shop is meeting wonderful cooks from all walks of life and cultures. Recently I had the pleasure of waiting on a couple of lovely ladies from Jordan and when they stopped to smell the Za'Atar we sell I asked about how they use it in their own kitchens. One of the women replied, "I make this bread and we dip in the Za'Atar with olive oil".  Jokingly I said, "wow I should come to your house and learn about that" and she invited me on the spot.  Talk about super cool!
About a week later I went to the beautiful home of Rya for a lesson in bread making. Knowing that it takes the bread quite some time to rise, Rya had prepared a batch of dough before I arrived.  This way she was able to show me the steps of making her delicious flatbread and still bake one for us to share.  But first, Turkish coffee!  I admit, this was the highlight of my morning.
Rya served the strong cardamom flavored coffee steaming hot in demitasse cups on sweet little saucers.  On the table she placed a tin of Baklava, a perfect accompaniment to the rich, dark coffee.  If I wasn't awake yet the jolt from this scrumptious coffee sure did the trick.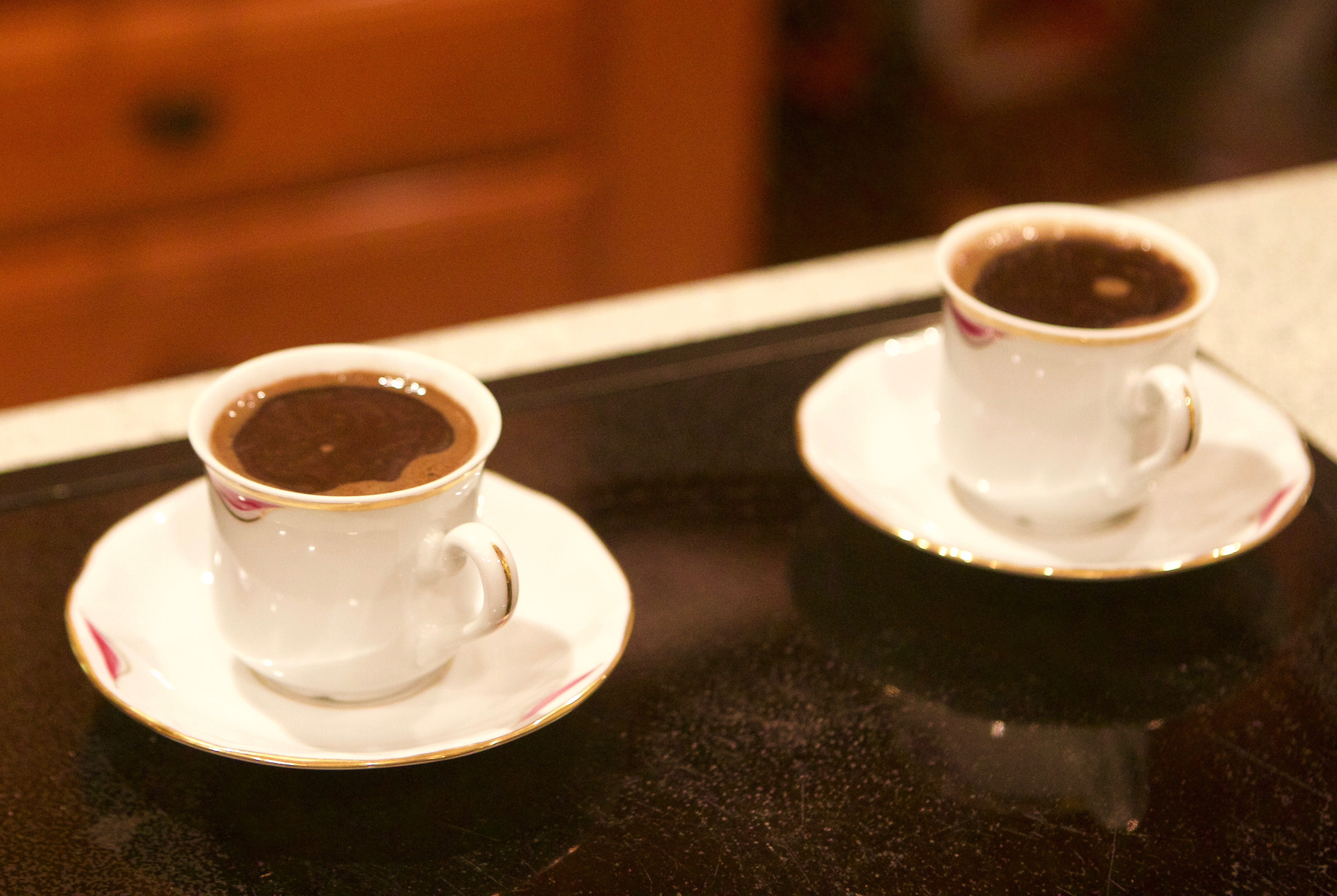 Fully awake now and ready to learn the in's and out's of making Maneesh I stood back and watched as Rya, gracefully and confidently moved about her kitchen blending flour, salt, yeast and sugar in a big bowl.  Next she placed the dry mixture into her stand mixer and added oil and warm milk as the blender stirred the ingredients for Maneesh.  Adding a little warm water until the dough came together, she explained how in colder weather more yeast is needed.
Once the dough comes together it rests for 30 minutes and is then kneaded in the mixer one more time.  After the second kneading it is allowed to rest 2-3 hours in a bowl rubbed with oil.  The dough she had prepared earlier was at this stage and ready to be turned out to a baking stone.  First a bit of kneading by hand before forming the dough into a ball and placing on a greased stone, then more resting.
Next Rya mixed olive oil and Za'Atar into a thick consistency in order to spread it on the dough before baking.  This mixture spread on a dough base and baked as a bread, produces manakeesh, the formal word for this food.  Finally, patting out the dough on the stone and poking dents in the dough, as if making focaccia.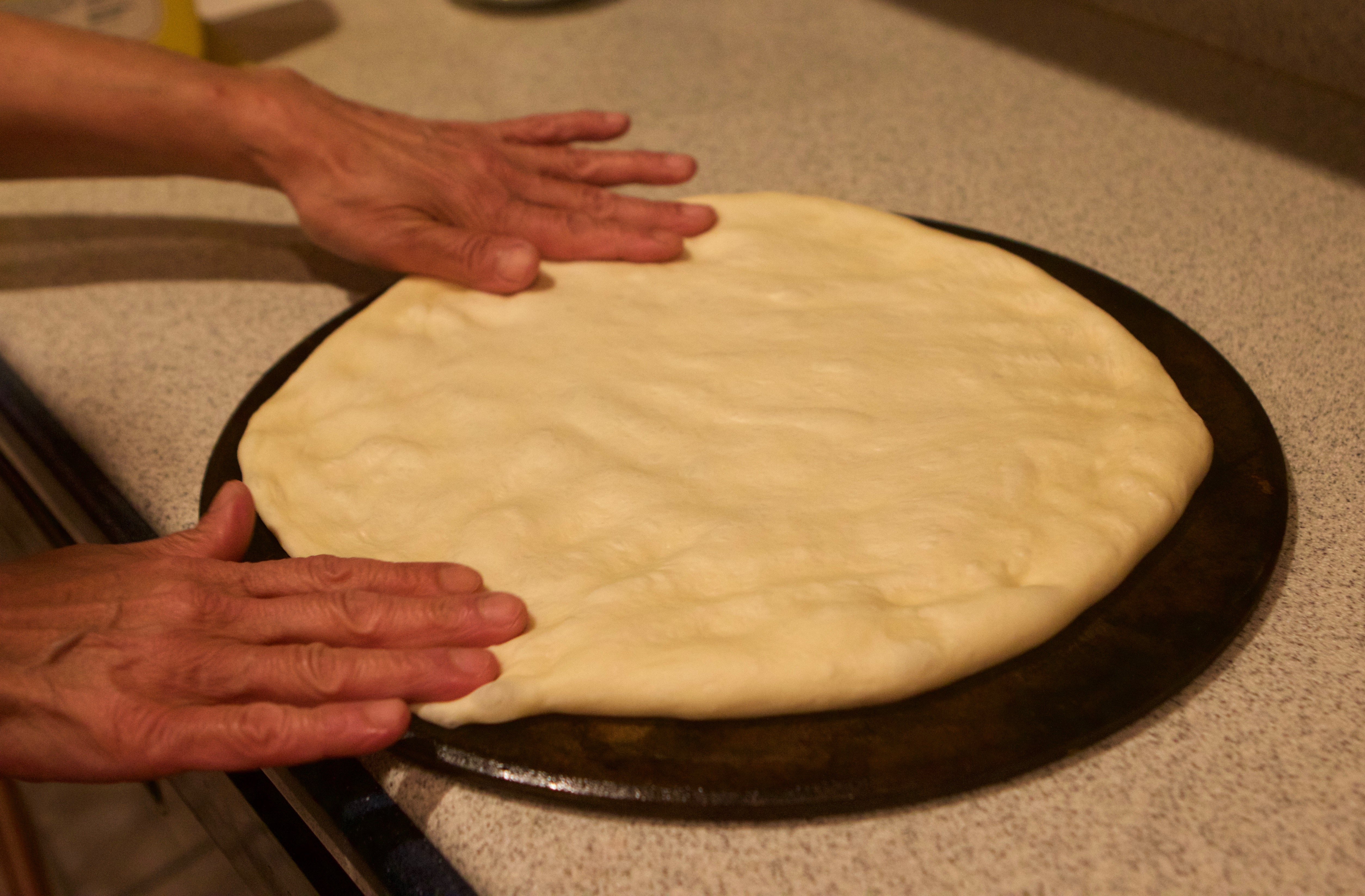 The experienced hands of Rya lovingly spreads the dough to the edges of the well used baking stone in preparation for the final touch of – Za'Atar topping.  After the Za'Atar is slathered all over the dough it is put into a 400* oven for about 20 minutes.  Her instructions are to check it before 20 minutes has passed so as not to over bake.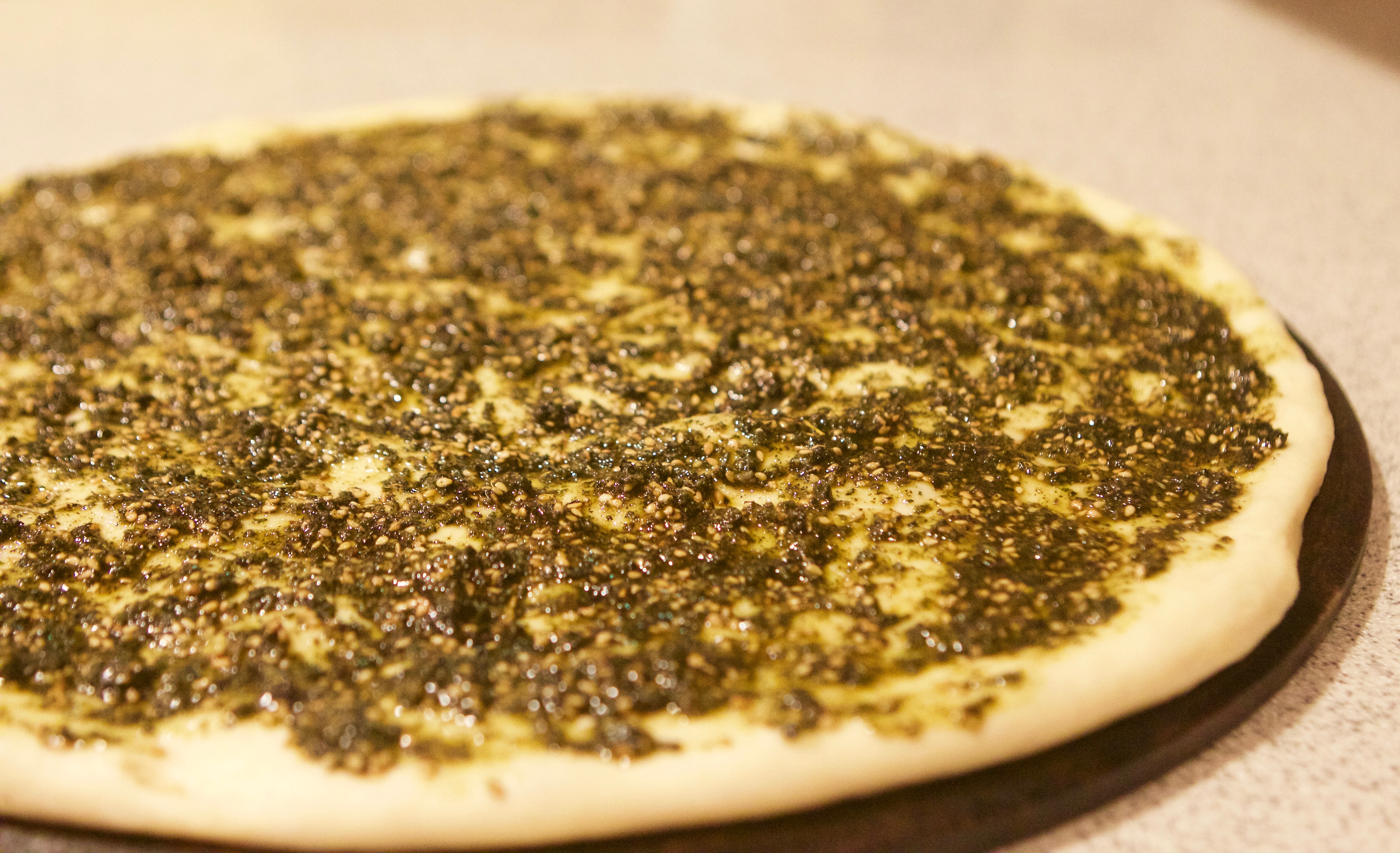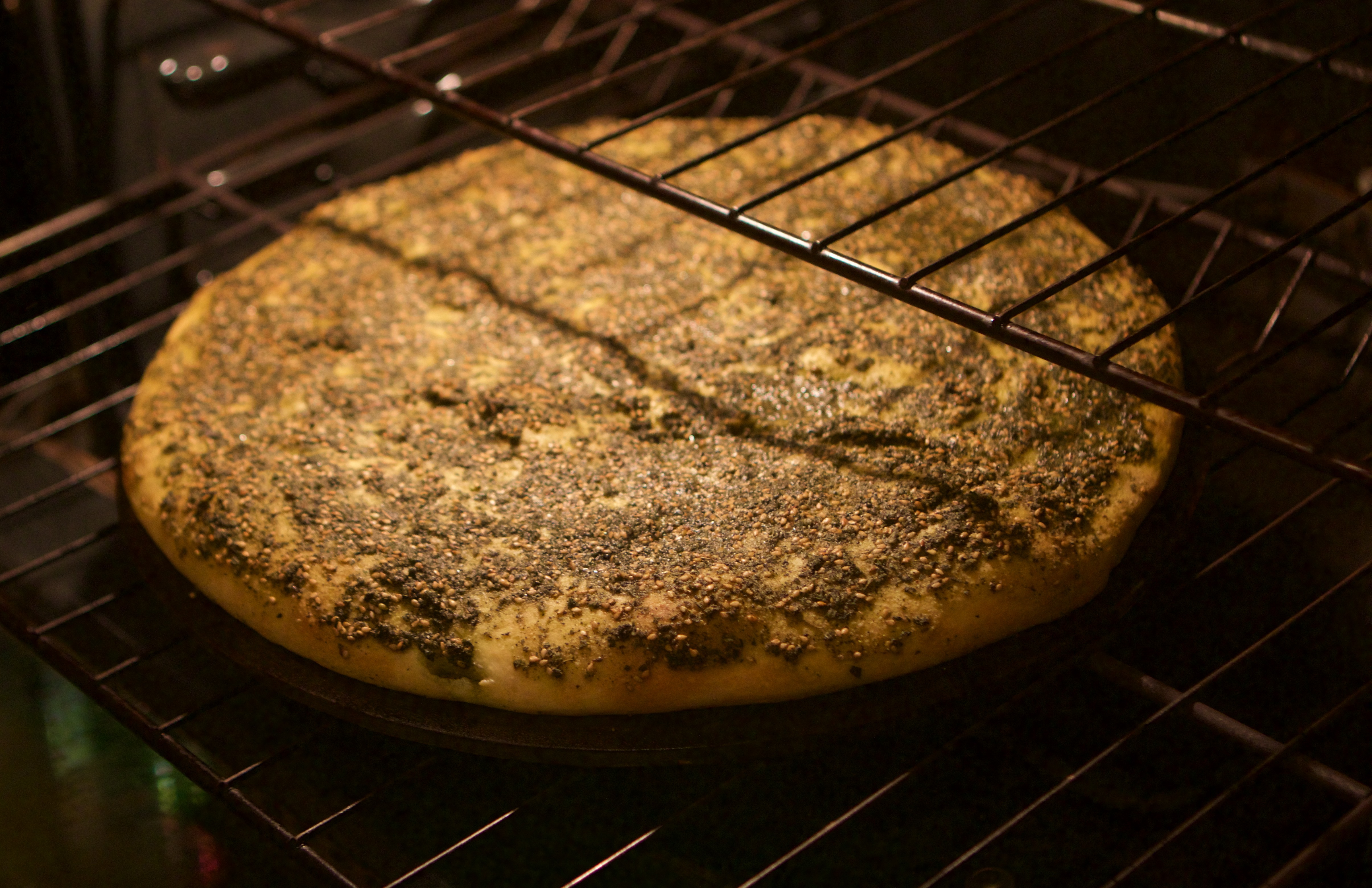 Before slicing and serving the Maneesh, Rya fills small glass bowls with olive oil and a second set of bowls with Za'Atar, straight from Jordan. The Za'Atar we enjoyed on this day is different from what we sell at the spice shop.  More herbs less sumac!  The extra oil and spice is for bread dipping .  I discovered whether dipping in the additional oil and seasoning or eating it warm from the oven, as is, this bread is divine.  I admit I probably did dip more times than not, I can't get enough of that Za'Atar!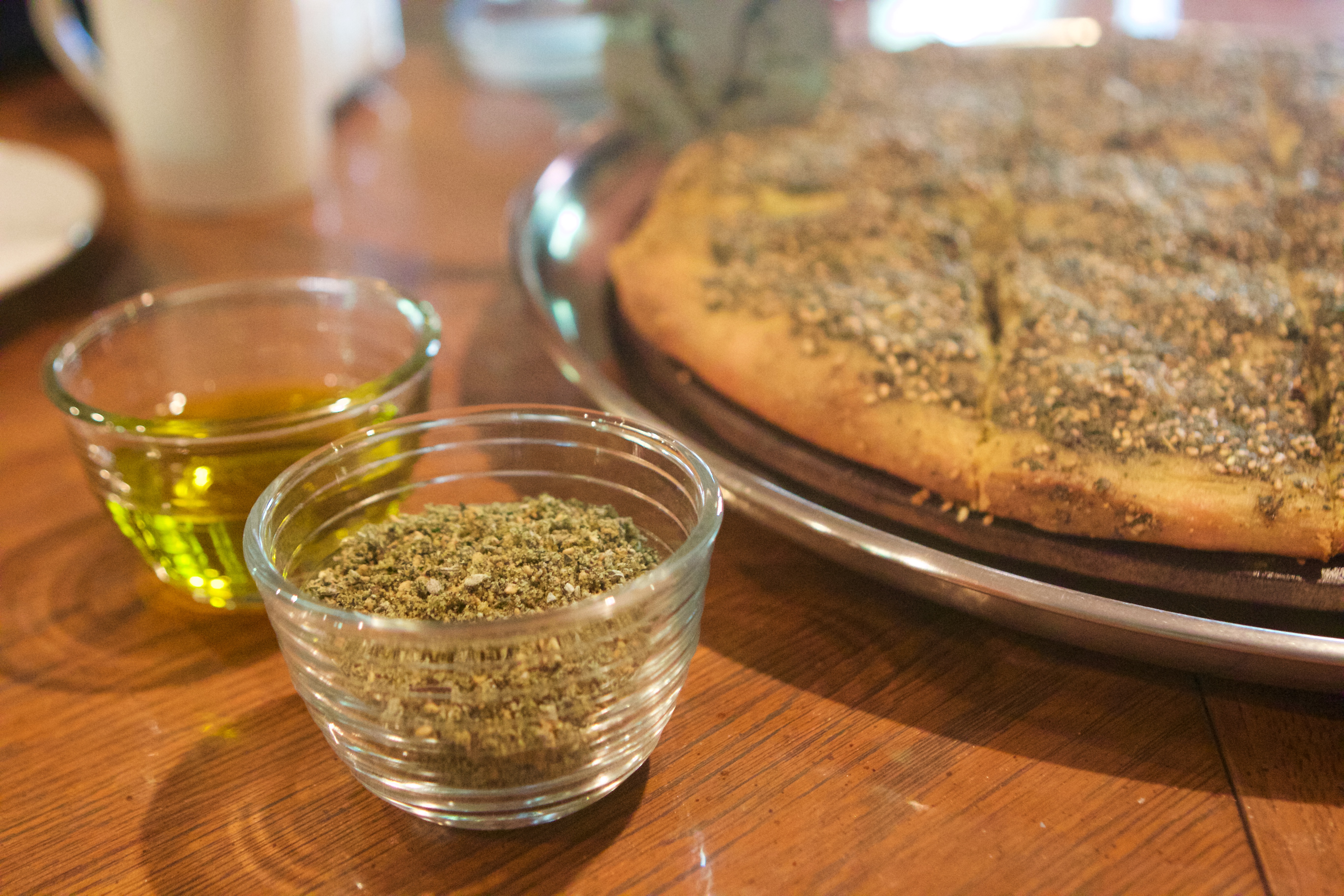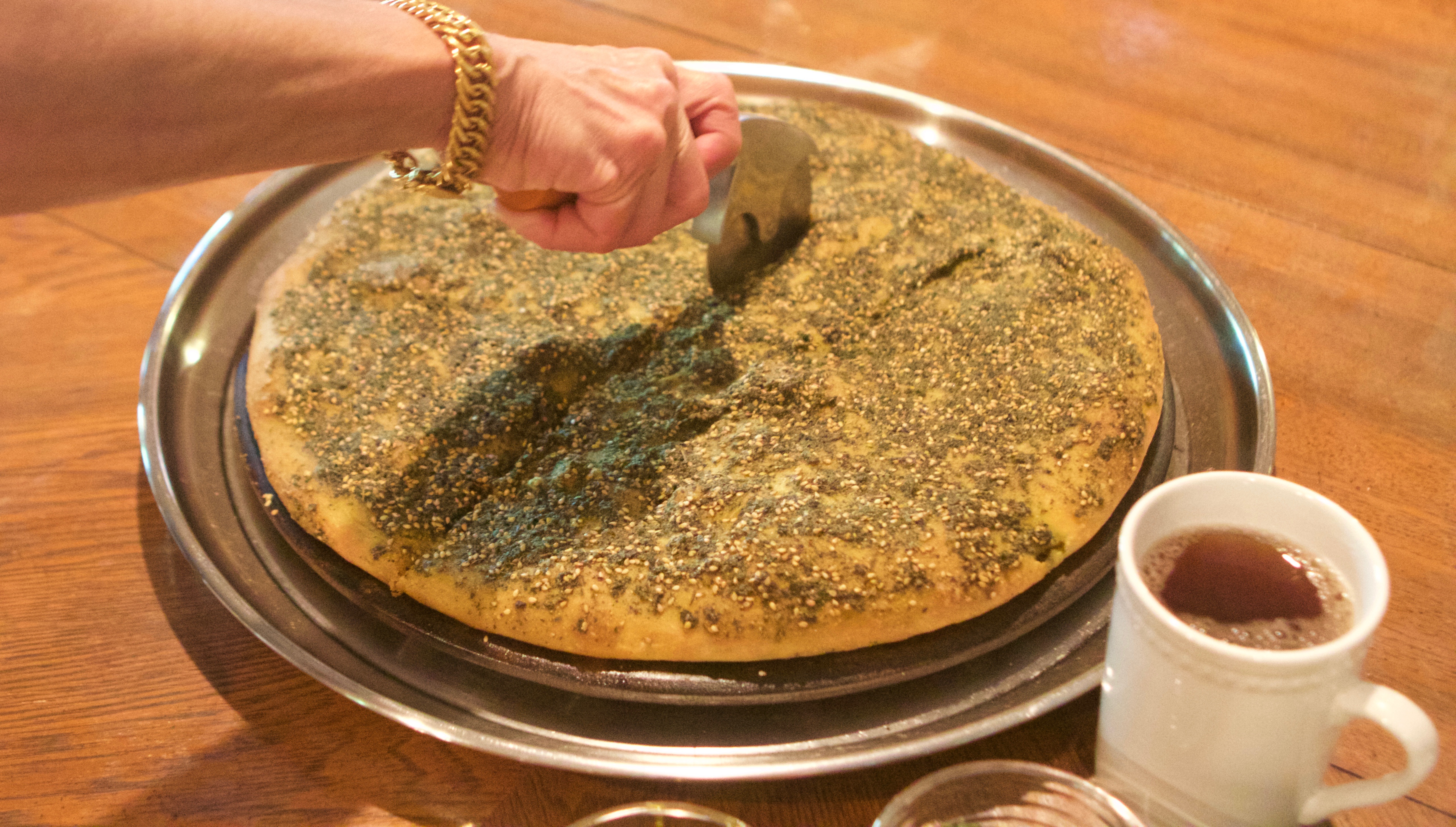 Rya also made fresh cups of Sage Tea for us to drink while chowing down on the Maneesh.  Once again she pulled out a bag from her native country of dried sage , added the stalks to hot water with a touch of sugar and steeped it until it the delicate bouquet of sage filled the room.  Then she poured it into simple white cups and we sat down to share stories, laughs and Maneesh.  A new friendship was formed and I learned quite a bit about Middle Eastern culture, foods and best of all how to make Maneesh.  Now if I can recreate it as masterfully as Rya did I am sure to add a new favorite food to my stash of recipes.
Maneesh may be enjoyed as breakfast, or as a delightful snack or appetizer.  I came out ahead on this day with a full belly and a blossoming friendship. Thank you Rya, for your friendliness, graciousness and for welcoming me into your beautiful home.
On a subsequent afternoon Rya took me to a Middle Eastern market here in our community and showed me which Turkish coffee to buy and helped me select a little pot ( like the one in the photo above) for brewing my own Turkish coffee.  I've made the coffee several times and my man, Dan and I have both fallen in love with our tiny cups and the big bolt of caffeine and strong flavor they offer.  Next I will try my hand at making my own Maneesh – stay tuned!

Learning To Make Maneesh - Middle Eastern Flatbread
Ingredients
1# all-purpose flour
½ tsp. salt
1½ tsp. sugar
½ tsp. yeast
½ cup oil
1 cup warm milk
½ cup warm water
Za'Atar
Olive Oil
These measurements are approximate as Rya measured with her fingers not a measuring spoon!
Instructions
Mix all dry ingredients together.
Pour dry mixture into bowl of a stand mixer.
Add oil and milk and blend.
Add warm water a little at a time until dough comes together.
Set aside, cover with a towel and allow to rest., 30 minutes.
Knead dough once again for a couple minutes and transfer to a bowl coated in oil and rest 2-3 hours.
Knead dough by hand just a little and form into a ball.
Place dough on a baking stone that has been sprayed with oil, allow to rest again.
(let it rest for a few minutes - maybe 10-15)
Pat dough out on stone to edges and using fingertips. make small dents into top of dough - careful not to poke holes in the dough.
Mix ½ cup olive oil with Za'Atar until a thick paste is formed.
Spread Za'Atar mixture over dough by hand - spreading to near the edges of the dough.
Bake for about 20 minutes in a 400* oven - checking for doneness before 20 minutes is up.
Serve warm from the oven or room temperature.
The recipe above is as clear as I can make it – Rya didn't measure anything precisely except for the flour.  After I try my hand at this I'll repost and make any changes necessary – if needed.