The Most Effective Golden Milk Recipe
Oil & Honey Edition – Golden milk is all the rage! Apparently it is has been for quite some time but seems to be making a resurgence in the natural health world.  Have you tried it yet? I decided to give it a whirl but put a new spin on the ingredients. Considering it calls for both ginger and cinnamon, I added those two elements in both the powdered and the essential oil form. Totally elevates the flavor and the benefits!  Are you ready?

The Most Effective Golden Milk Recipe
Ingredients
½ cup water
¼ cup Turmeric
2 cups coconut, almond or milk of your choice
½ tsp. cinnamon
1 tsp. coconut oil
1 tsp - 1 tbsp. Turmeric paste
1 tbsp. honey
1 tsp. chopped ginger or powdered ginger
4-6 whole peppercorns
2-3 drops cinnamon essential oil
2-3 drops ginger essential oil
Instructions
Turmeric Paste:
Stir together turmeric and water in a small saucepan and bring to a simmer until it turns to a paste. Add more water if necessary to get the right consistency.
It should be like paste!
Milk:
Blend all ingredients together in a medium saucepan and whisk together until well blended.
Allow mixture to simmer for about 5 minutes.
Cool and refrigerate.
I found that the golden milk tastes great warm, cool or room temperature.  Drinking a cupful at bed time gives some relaxing benefits and fortifies our bodies as we rest.  Golden Milk or Turmeric Tea, as it is often times described  has wide-ranging anti-inflammatory effects.  There is extensive evidence that turmeric reduces inflammation and supports brain and joint health.  It's the curcumin in turmeric that is believed to halt an enzyme that may be responsible for turning environmental toxins into carcinogens in the body.
Using ginger in two forms gives an added boost to it's benefits. A natural anti-inflammatory that can help relieve symptoms of arthritis, bursitis and other musculoskeletal ailments.  The black peppercorns enhance the absorption of the turmeric and interesting enough are calming to our digestive systems!
Cinnamon, besides tasting so delicious also gives us the following benefits. Antioxidant, anti-inflammatory, anti-diabetic, anti-microbial, immunity-boosting, cancer and heart disease-protection all from this spice we think of when it comes to baking! Again, using cinnamon in both the powdered and essential oil form up the flavor and health rewards.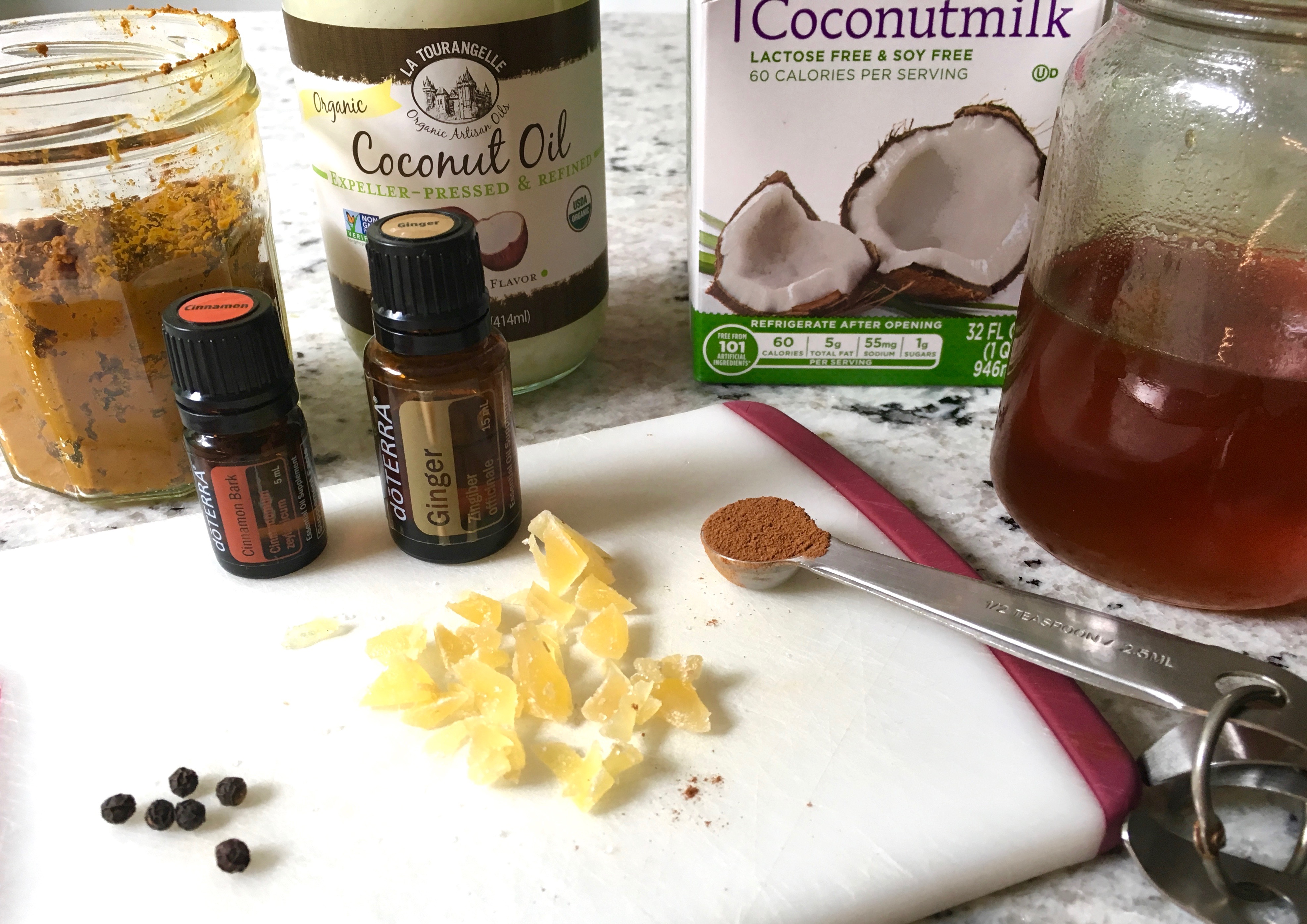 If you are pregnant or nursing please check with your doctor or mid-wife before beginning a Golden Milk regimen.  The biggest drawback to using turmeric is that it stains – terribly.  I use gloves when working with turmeric as I prefer my nails to look natural not yellow!  Over time it will fade but be careful not to get it on your counters or let it sit in a light colored sink.  Store the paste in a glass container for best results.
Got a different recipe for Golden Milk?  Please share it!  I'm curious to know if you've tried it and what results you've seen, if any!  I'm definitely noticing a decrease in the inflammation in my arthritic fingers.  This is a good thing – I'm all in on this one – how about you?
Here is a link to Dr. Axe's Turmeric Latte recipe if you'd like to further explore the benefits and different ways in which to make it!  Drink up!