The Yountville Food Tour took me to an establishment I've fancied going to for quite some time.  Ever been to the French Laundry?  I have a great story about the wine from Thomas Keller's 3*** Michelin restaurant in Yountville, California.  It's about that time when someone stole 76 bottles of wine – valued at around 3-5 hundred thousand dollars and it turned up in a private wine cellar in Greensboro N.C. – where I reside!  Not in the location where the wine was discovered, but Greensboro….Crazy!  I'd sure like to know who that wine collector is!
In the past I have driven by and walked by, but I have never graced the threshold until I went on my latest food tour – hosted by Gourmet Food and Wine Tours.  You know, recently Thomas Keller executed a killer 10 million dollar renovation on the famed French Laundry. He created a new kitchen, a 16,000-bottle wine cellar (I'm guessing under heavy duty lock and key), installed extensive solar paneling, a new office annex and 9,000 square feet of new landscape design. The renovation took more than two years and was not stress-free. One can only imagine!  Below is a photo of the complete on the inside, but not yet on the outside – new kitchen and some of the landscaping!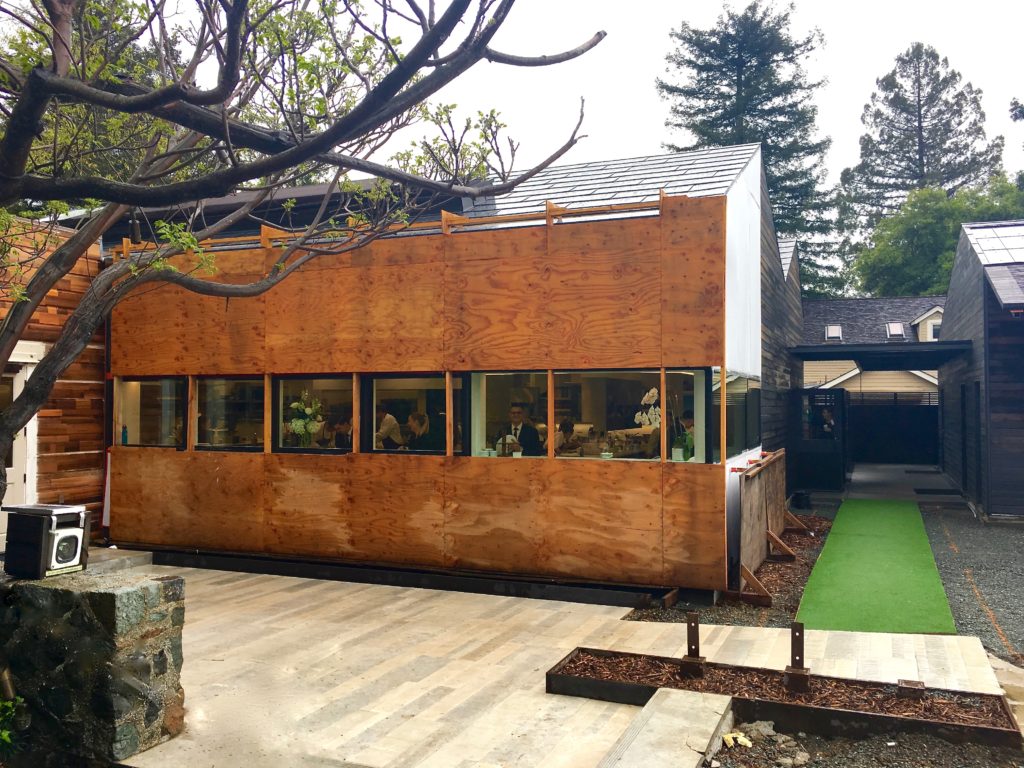 We did peek our heads inside the lobby and visited the gardens – which I'll tell you about later in this post.  Sadly at this time, that is as close as I've come to more than a drive by.  One day…one day…
It was a rainy – like a pouring down rain kind of day in NoCal, but it didn't wreck the delightful time I had on the Yountville food tour.  I have never been happier to have my rain boots, rain parka and umbrella, as this was a walking food tour.  It was arranged for the 4 of us on tour to meet Vivian, our knowledgeable and frisky tour guide at Hurley's restaurant in the center of Yountville.  A white table cloth establishment in a sleek yet warm and inviting setting.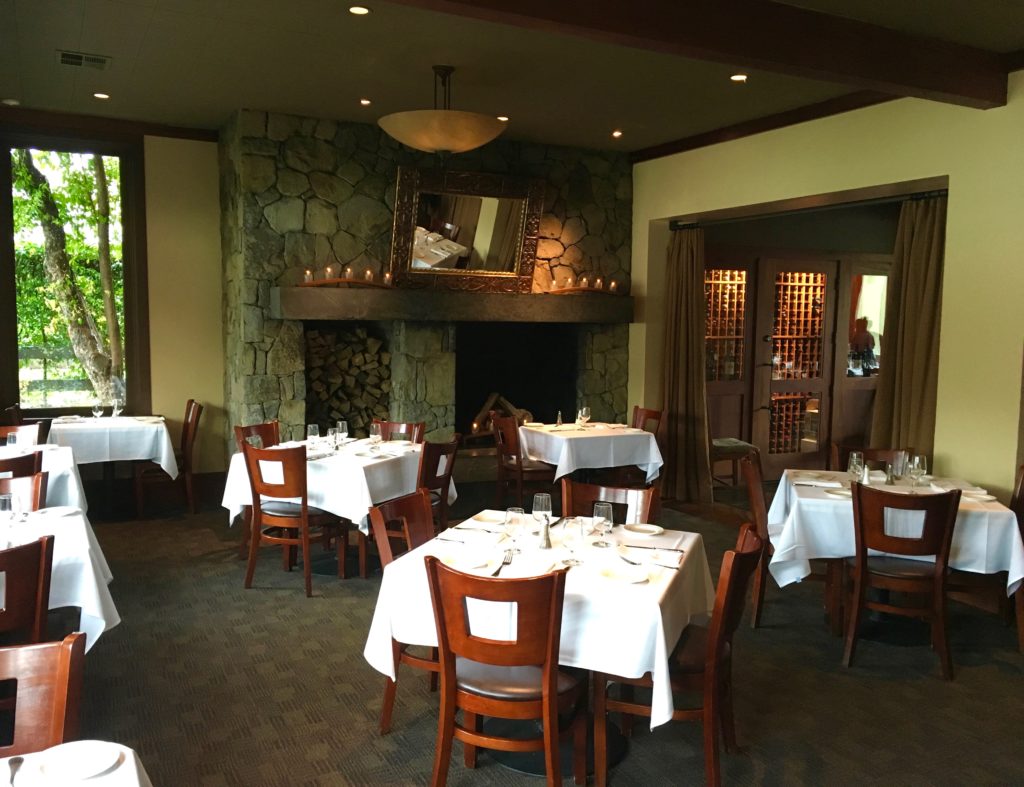 Meet owner and chef Bob Hurley (pictured below), who joined us for a short time to see how were were enjoying our fresh baked ciabatta served with, of course, oil and vinegar for dipping.  We nibbled on this delicious bread as we awaited our Eastern Rock Crab Cake served with grapefruit and orange.  We were served a glass of clean, crisp, lovely JCB No.21 sparkling wine from – not California but France!  What's important to know about Hurley's is that chef Bob offers vegetarian and gluten free meals, all looking equally as delicious as the regular menu. When the tender, sweet crab cake, served alongside a jicama, grapefruit, orange and fresh herb relish arrived the conversation halted. Between bites of the flavorful crab cake and sips of bubbly we were certainly off to a great start.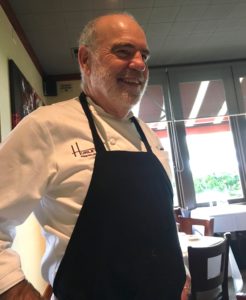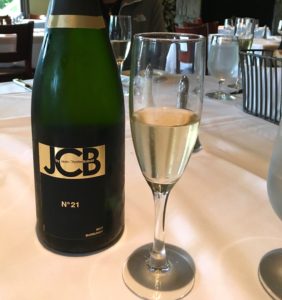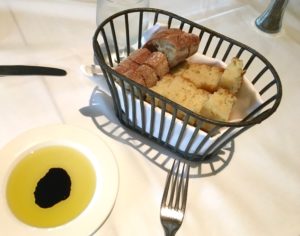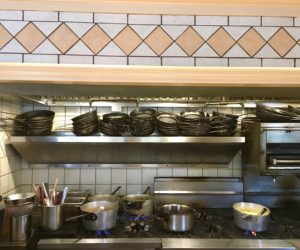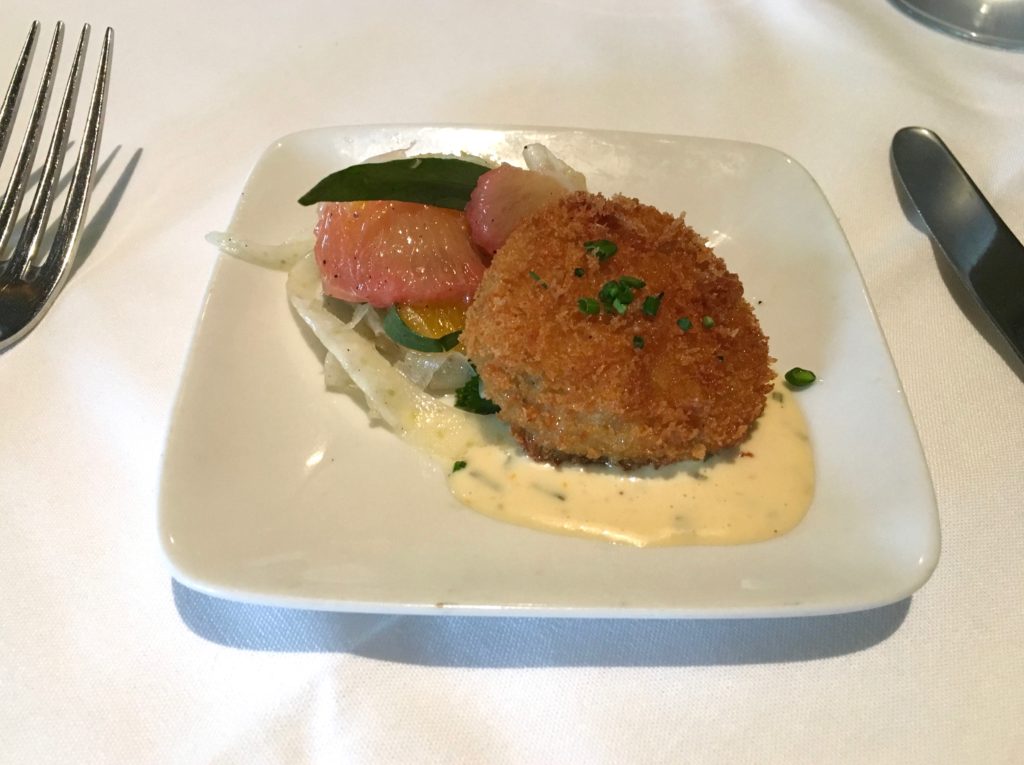 Throwing on our rain jackets and grabbing our umbrellas we trekked over to Bistro Jeanty.  Phillipe Jeanty opened the doors to Bistro Jeanty in 1998 and has a loyal group of patrons from around the world!  After tasting the Crême de Tomate en Croute I too have become a loyal customer.  This tomato soup in puff pastry, to put it in layman's terms, was without a doubt the best tomato soup ever.  Creamy, steamy and bursting with fresh tomato and herb flavor.  The puff pastry is the perfect accompaniment to this soup and no bread basket is needed.  Served with a refreshing Salade Mâraichère, which translates to, green bean salad with warm goat cheese, oven roasted tomatoes, and honey vinaigrette.  On my next visit to Napa Valley rest assured I will visit Bistro Jeanty for a piping hot bowl of tomato soup!  Don't you know it was the perfect dish for this dreary, wet day?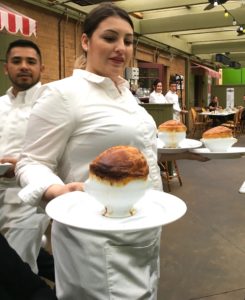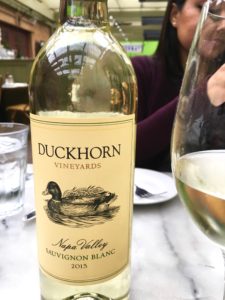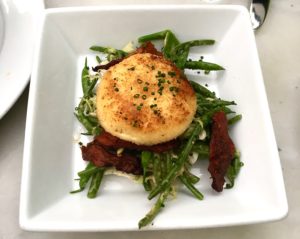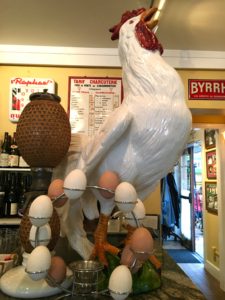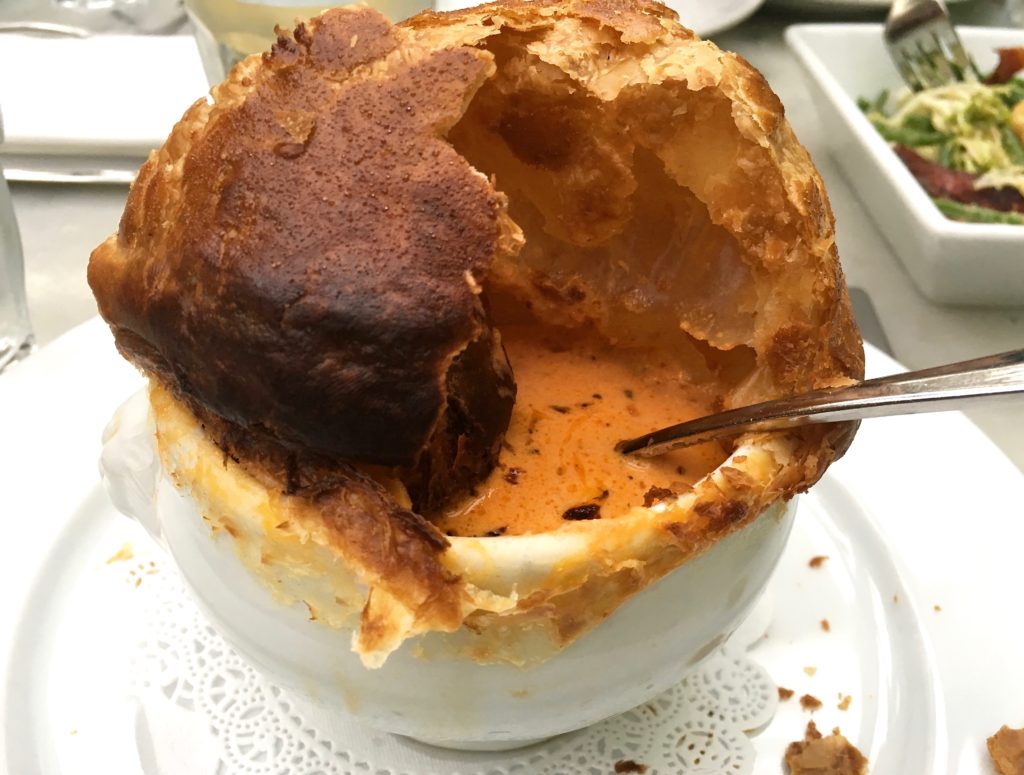 At Bistro Jeanty we sipped on glasses of chilled Duckhorn Sauvignon Blanc much to my delight as Sav Blanc is a favorite of mine. Notes of apricot, grass and citrus gave a clean taste and paired perfectly with the soup.
The relentless rain didn't keep us from our next stop where we peeked into the eccentric, outlandish and beautiful JCB tasting salon.  After enjoying the JCB No.21, Viv told us we simply must see what all the fuss is about.  One foot in the door and it was clear that Jean-Charles Boisset is one flamboyant gentleman who is proprietor of more than 20 prestigious wineries in the world's preeminent terriors.  Gilded mirrors on the ceiling, Baccarat crystal, luxurious animal-print seating and Christofle silver are but a few of the niceties that caught my attention.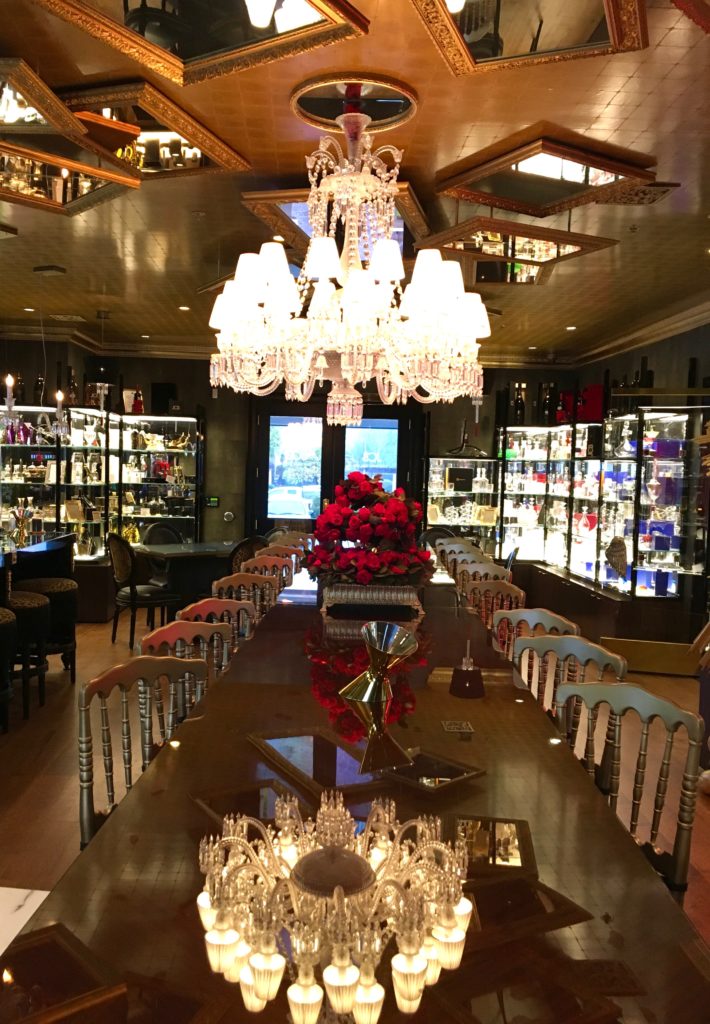 Next door is Atelier Fine Foods, also owned by Mr. Boisset.  An epicurean boutique stocked with salts, peppers, spices, mustards, caviar, anchovies, truffles, foie gras, terrines, prosciutto, local and international cheeses, dry crackers, chips, sparkling waters, juices, and specialty teas, honey, marmalades, dry pastas and a variety of olive oils.  Everything needed for a Napa Valley style picnic!
Now time for a little something sweet. Kollar Chocolate, named one of the top 10 chocolatiers in the U.S.!  I wish I could capture the fragrance coming out of this fine chocolate shop and share it with you because it's indescribable. Chris Kollar, has traveled extensively in Europe studying the technique used for producing classic chocolates.  We were treated to a dark chocolate and Zinfandel truffle that was creamy and delicate and delicious with a hint of Zin.  Each of us were allowed to choose one other piece of chocolate to enjoy at our leisure – can you guess what I picked?  I chose the gold medal winner from the international chocolate salon  – Fennel Pollen with milk chocolate ganache.  I'll just say it was pretty much to die for! Some of his creations like the chocolate sushi pictured below are simply too much fun.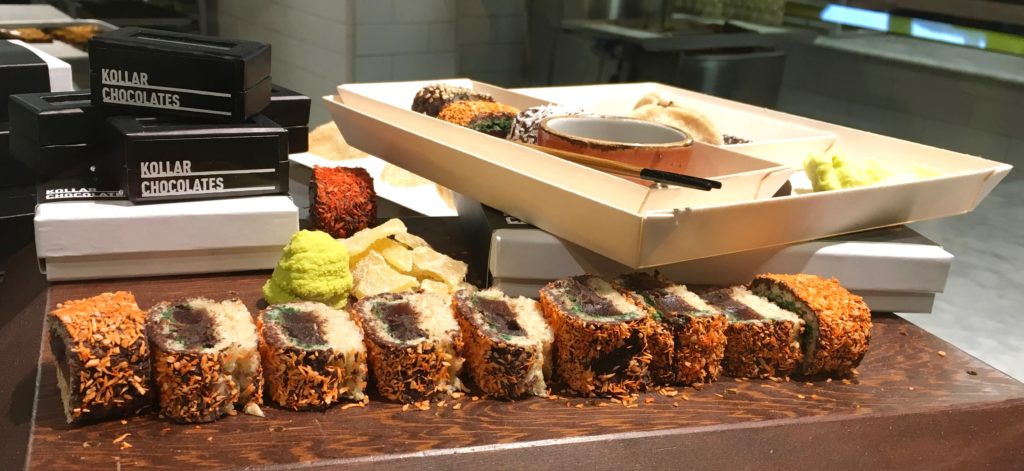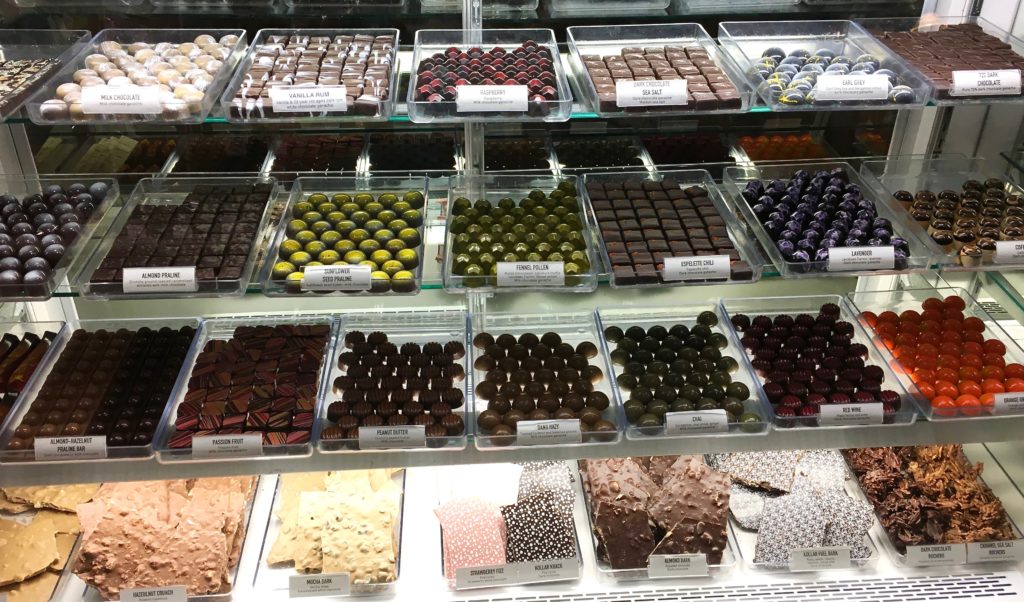 Walking in the rain through Yountville made for a decidedly delightful dreary day as the town is full of art.  Check out this adorable mushroom garden, inviting a pause, unhampered by the continual rain.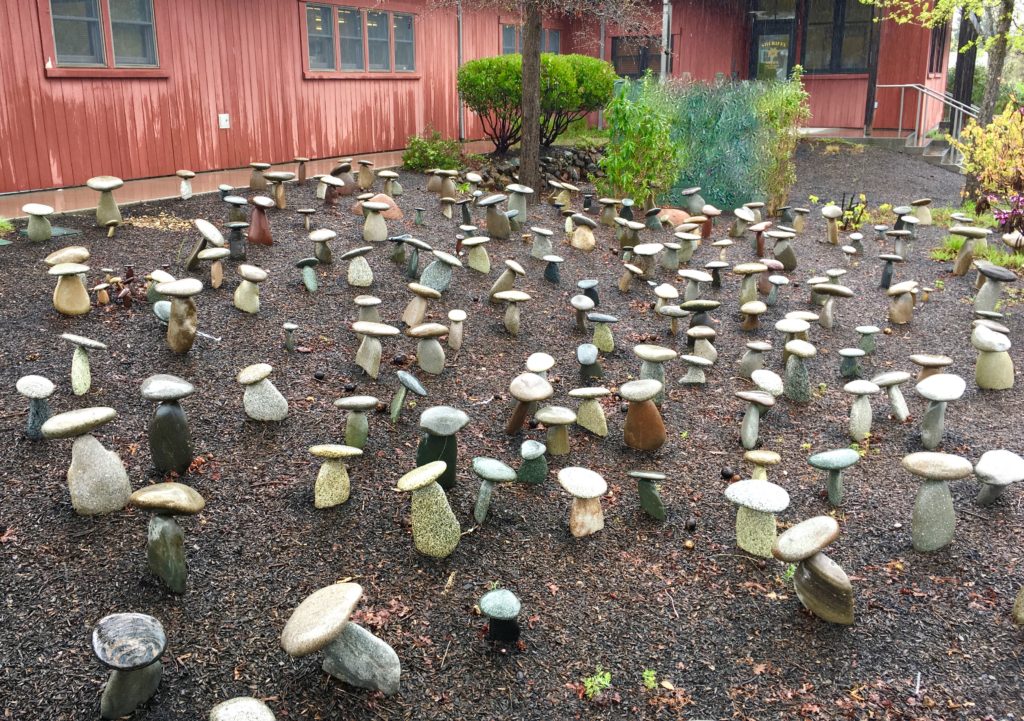 Our next stop you may be familiar with – Bouchon Bakery.  Owned by Thomas Keller (the French Laundry dude), Bouchon Bakery was conceived to provide Keller's one-of-a-kind breads and pastries not only to the French Laundry but Bouchon Bistro, his other well-known eatery as well.  The bakery quickly blossomed into it's own entity and standing in line to get inside is customary.  You'll notice the umbrellas as folks crowded outside in the pouring rain to get their chance at a flaky croissant or one of many macarons offered in the bakery cases. Thanks to Viv's back door pass, we snuck in through the side door and picked up a bag of chocolate macarons "to go" and headed to our next destination – Bardessono Hotel and Spa, home of restaurant Lucy.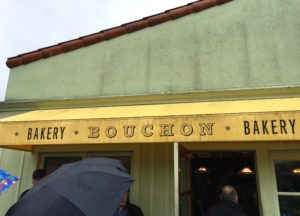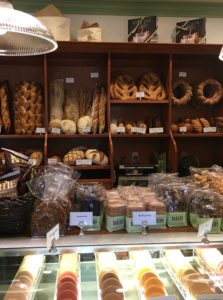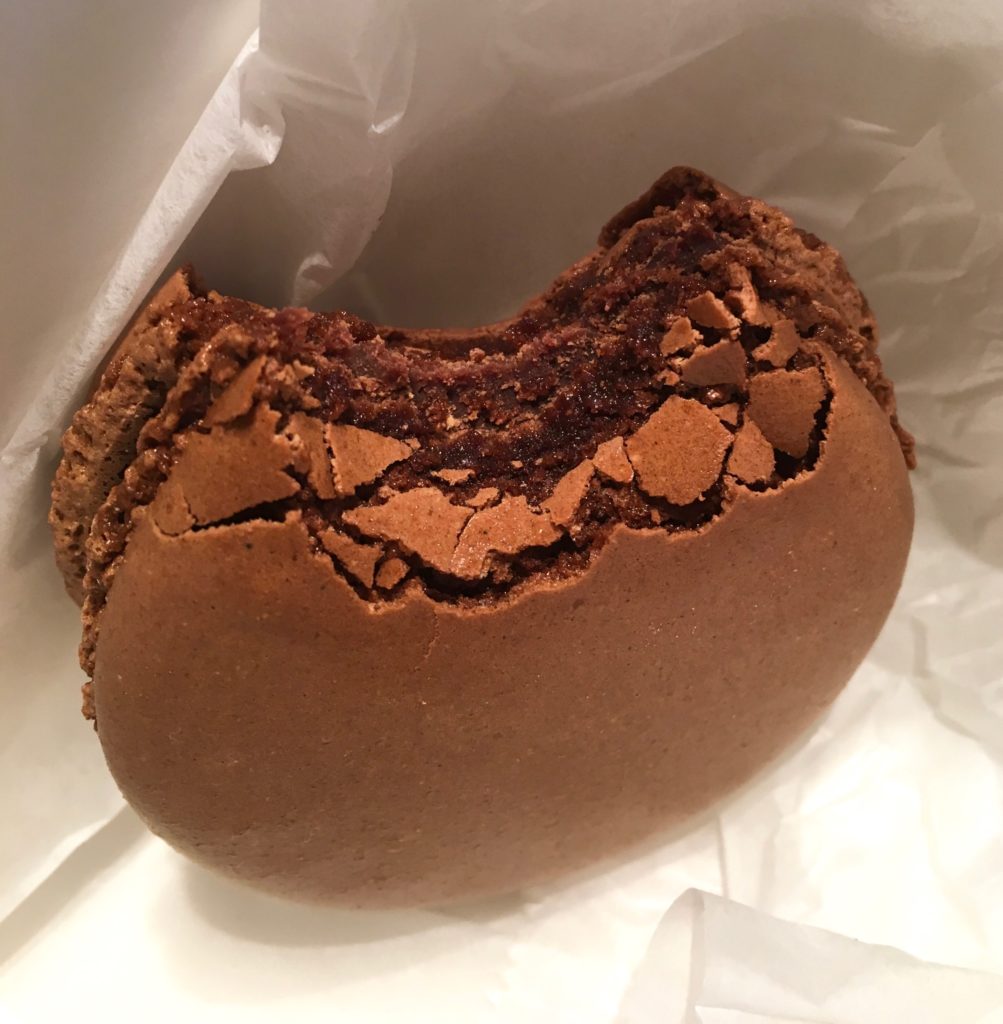 About this chocolate macaron…droolworthy to say the least. Light and meringue like with a rich, dark chocolate cream filling.  I think it is safe to say that Bouchon Bakery nailed the macaron!  Truth be told we saved the little treats until the end of our last stop, where we enjoyed them for dessert. I was only able to eat a couple of bites after the entire food tour as my tummy was full.  I carried the remainder home and thoroughly enjoyed it the next day as I reminisced about my excellent rainy day food tour.
After acquiring our macarons we headed to Bardessono Hotel & Spa.  Now, I could have holed up in these green, luxurious accommodations for a few days but alas, we ventured on to Lucy, Bardessono's signature restaurant.  After checking out the very hip ladies room ( check out the flushing panel in the photo below), we ventured into and were seated in the dining room.  Here we were greeted by executive chef Nate Lindsey, a young and innovative addition to Lucy.  Serving inventive dishes through artful presentations with the use of the highest quality seasonal ingredients, we were treated to Tuscan kale flatbread with prosciutto, roasted garlic and fromage blanc as a starter.  A bit later we were served  a dish of handrolled Gnocchi tossed with Italian tartufata and sun-dried tomatoes and adorable enochi mushrooms.  Both dishes paired perfectly with a glass of Hill Family Cabernet, offering a nose of jam and dark berries as age worthy tannins give structure to the dark juicy finish.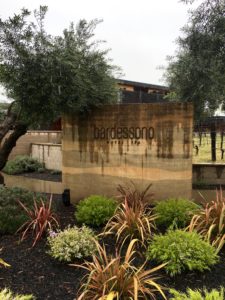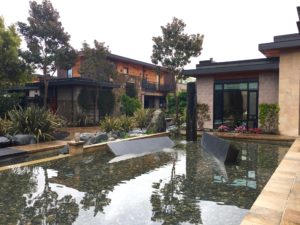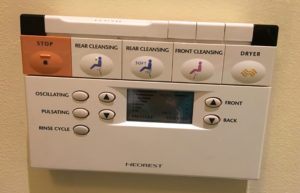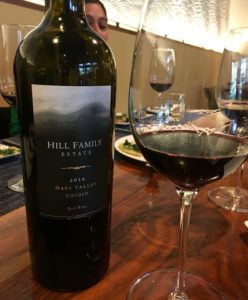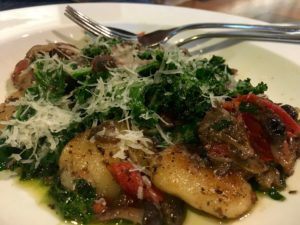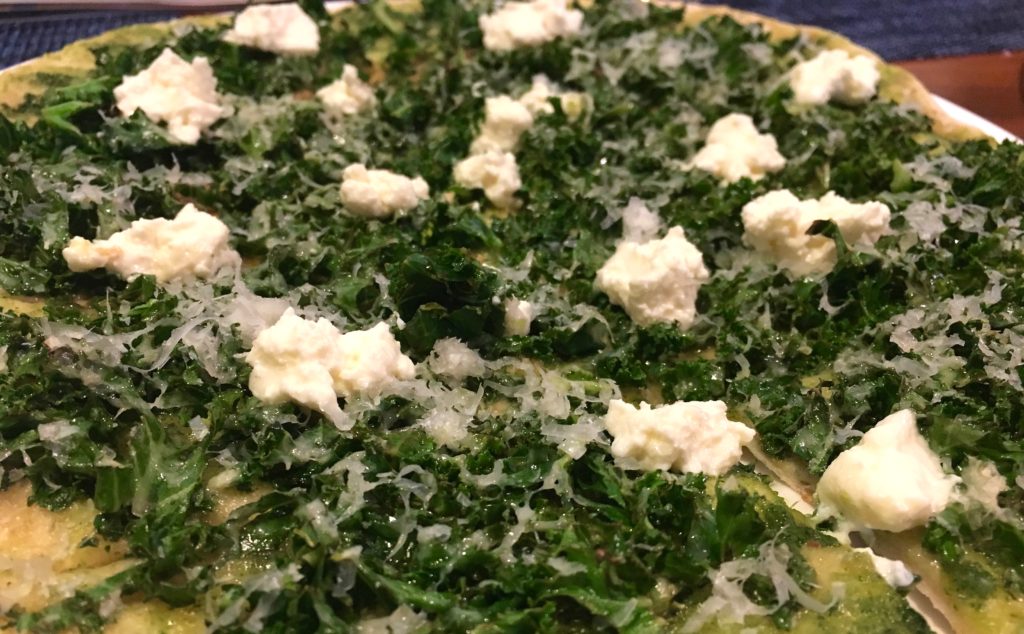 You can imagine by now we were stuffed and needed to walk a bit.  The end of this delightful tour took us on a stroll to the gardens of the French Laundry.  A spectacular vista enhanced by the low lying clouds and green hills, I was thrilled when I discovered the resident bee hive.  Vegetables and herbs beginning to sprout and looking lush and healthy thanks to the recent rains and with their own personal pollinators – it doesn't get any better than that.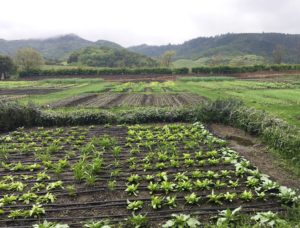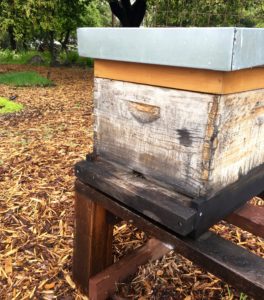 Food tours don't get any better than those offered by Gourmet Food and Wine Tours either. Next time you find yourself in the Napa Valley give them a call and set up your tour. Tours are also offered in Sonoma, Sausalito and Tiburon, of course I recommend the Yountville Food Tour!  You can reach Gourmet Food and Wine tours at 415-250-2273. Renee ReBell the creator and owner of Gourmet Food Tours was a delight to work with as was our knowledgeable tour guide Vivian!  You can read about them here but better yet put it on your calendar and see for yourself – you will NOT be sorry!
Note*** on the website this particular tour is listed as Napa Food and Wine Tour

Yountville Food Tours