Old Fashioned Buttermilk Pie
One of the most simple and delicious pies is an Old Fashioned Buttermilk Pie.  Downright reminiscent of grandma's pie pantry, a diner dessert or a church pot luck. My memories remind me of my Gama – my dad's mother baking these pies in either her old timey etched glass pie plate or in pie plate made of pale yellow pottery. The main reason I love this old fashioned buttermilk pie is it comes together quickly, making it easy to whip up for unexpected company or to satisfy a sweet tooth.  Flaky pastry and creamy, rich, golden filling is the perfect pie to serve with a cup of tea, a cold glass of milk or with a cup o' joe as the final course of a sit down dinner.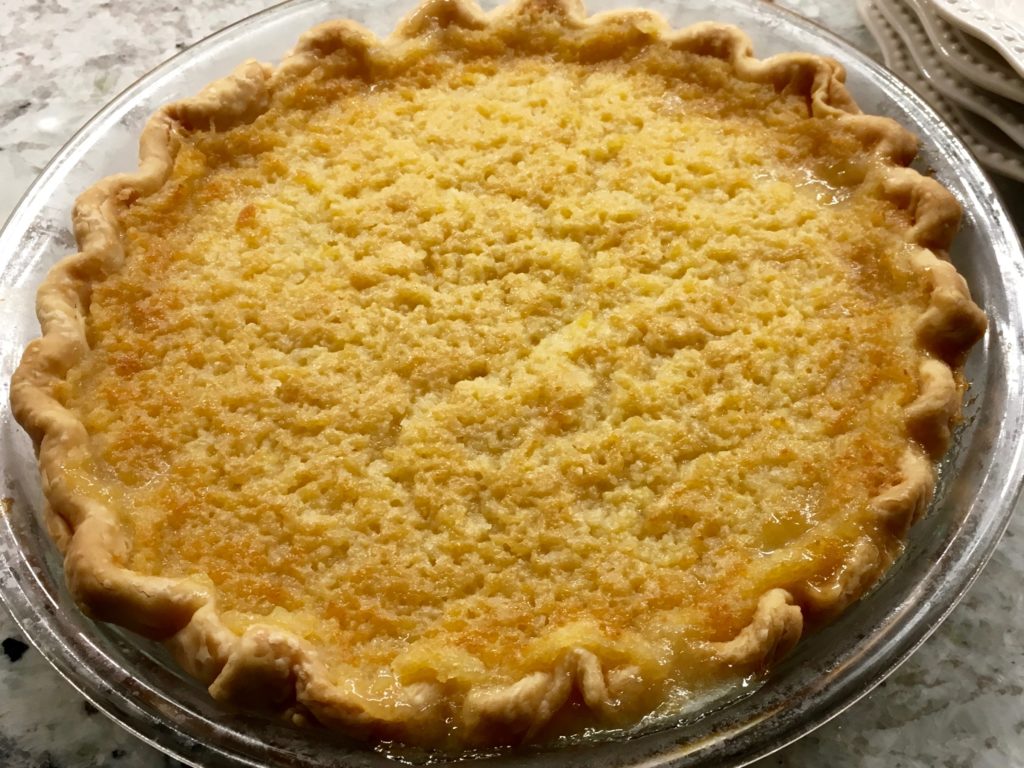 Not too heavy with just the right amount of sweet and citrus. What I love about this recipe in particular is that I have a handwritten version by my grandmother.  It is written on Hotel Ritz stationary – Hotel Ritz is a hotel that was owned by my family in Palm Springs, California back in the late 70's and early 80's.  My Gama remained in Texas when my parents moved to SoCal to run the hotel but came for a few visits.  Apparently on one of her visits she was asked for the recipe for her Buttermilk Pie and I treasure it, especially because it is on this letterhead.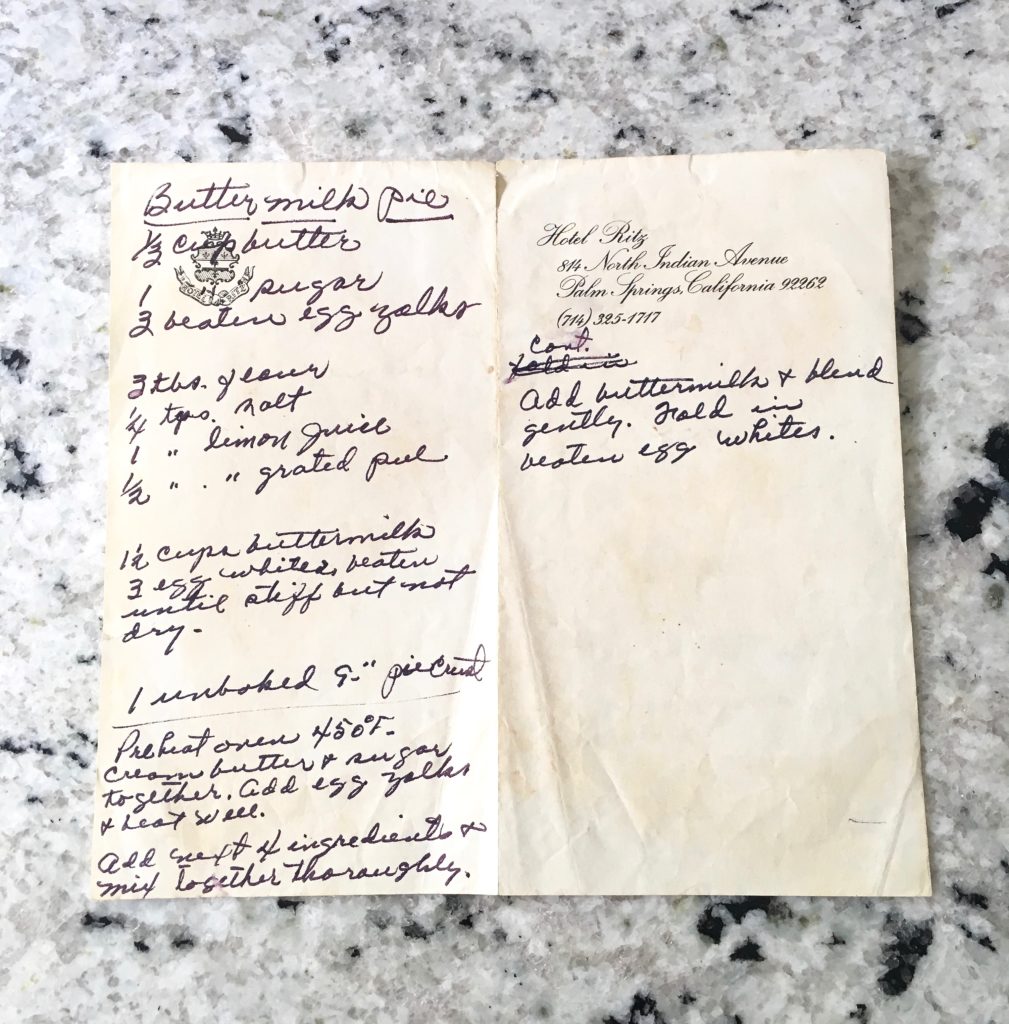 You'll notice she lists the ingredients and basic instructions but not baking time!  So it's a guessing game.  I start baking it at 45 minutes and am able to go up to 60 minutes if need be.  I'd say you should do the same if you choose to bake this delicious little pie, since all ovens do not bake the same.  The pie is done when a sharp knife inserted in the center comes out clean – but be careful not to over bake, as a dry buttermilk pie is not so yummy!
I love the simpleness of this buttermilk pie but my favorite pie is Lemon Meringue.  I polished off the last piece of our Easter lemon meringue pie last night.  It never lasts more than a day or two because I cannot help myself.  Or should I say, " I help myself to too many pieces"? Anyway I did share it with my husband but I took the final slice!  Here is the recipe for Lemon Meringue Pie.  Both of these pies are rather plain and unelaborate and that is, to me, what makes them so delicious.
I hope you'll try one or both.  If you have a favorite pie recipe please share it here in the comments section or on the Orange Bee FB page.  I find pies one of the easiest sweet treats to create and would love to hear about your favs!