Brunch At Main Street Kitchen – Walnut Creek
Here is the scoop on brunch at Main Street Kitchen, as promised, from my dinner post on Main Street Kitchen, Walnut Creek, California.  After my daughter LuLu and I enjoyed such a delicious dinner and friendly service under the stars on a lovely Saturday night we could not resist returning for brunch the following day.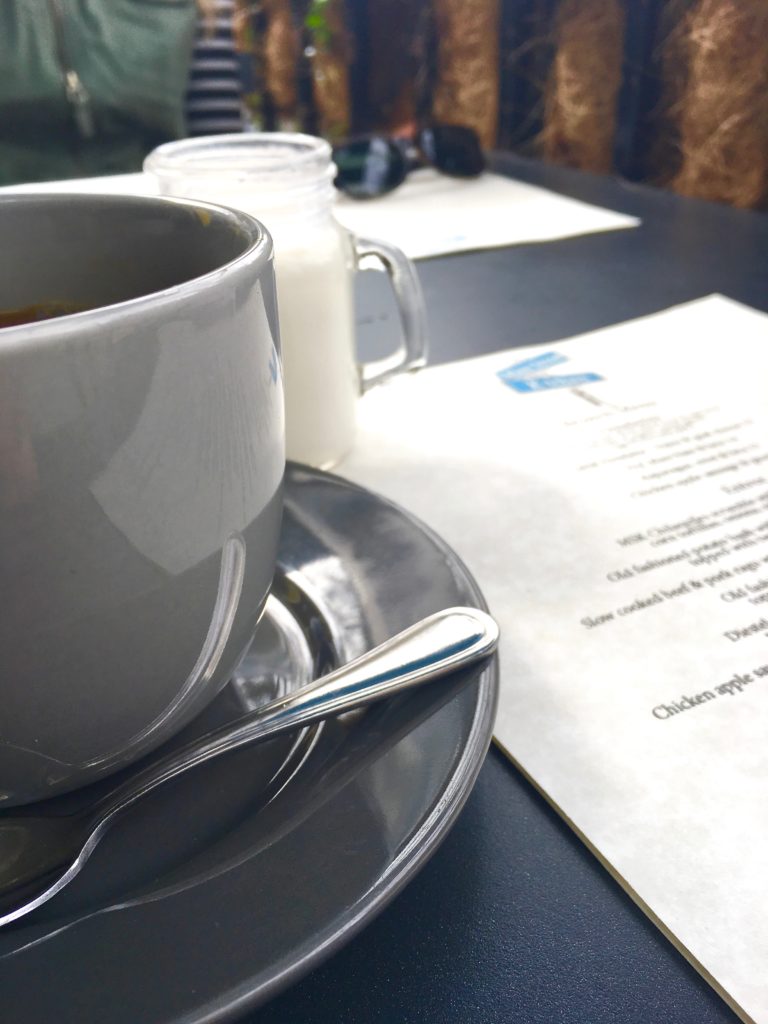 The reason we ended up in Walnut Creek two days in a row was to visit the Apple store.  LuLu had a late afternoon appointment to have some work done on her phone, which as it turns out couldn't be completed on Saturday evening.  We were encouraged to return the following day when service would be completed by early afternoon.  Sounded perfect as we'd already made plans to go out for brunch on that Sunday!
We began our brunch with big cups of hot coffee and milk, bottomless mimosas and a cider and sparkling wine cocktail.  Brunch offerings range from Omelettes to Eggs Benedict to Hash and Eggs.  Sounds pretty basic – right?  Not so!  First of all the eggs are organic, the sausage is made in house, the sourdough is from Acme Bakery, the seasonings are unique, and the jams are organic and house-made too.  Chef Arash offers menu items such as, slow cooked beef and pork ragu topped with poached eggs and ricotta salata, roasted turkey benedict with pickles, wild arugula, poached eggs and hollandaise, or MSK chilaquiles scramble with Fra' Mani ham, jalapeños, corn tortillas, onions, salsa verde and sour cream.
The omelettes are filled with delicious foods like chef's favorite, dates and goat cheese, ham and brie, mint and feta or chicken apple sausage and gruyere.  LuLu selected the omelette with ham and brie and I chose the chicken apple sausage with salsa verde, avocado, butternut squash and two poached eggs.  I was really drooling over the Acme whole wheat sourdough lavan French toast with citrus butter, Opal apples, banana and cranberry sauce, but went with the eggs instead.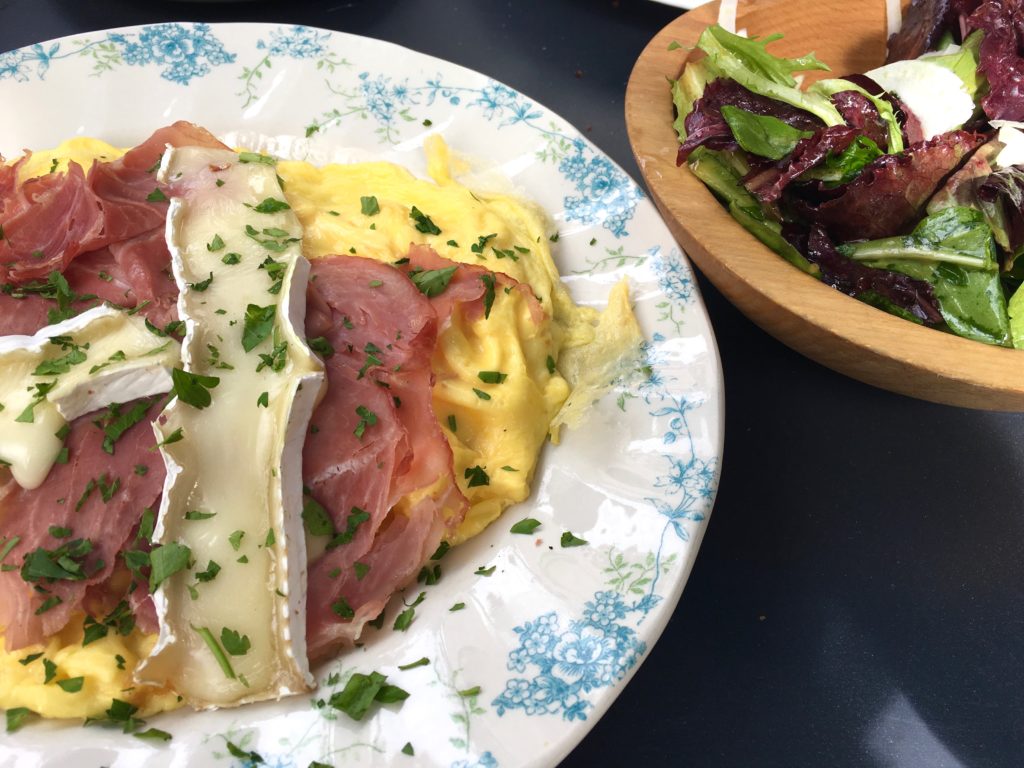 The delicious ham and brie omelette served atop whole wheat sourdough lavan comes with a lovely side salad of organic mixed greens.  All menu items are served on a variety of mis-matched china which makes for a homey atmosphere.  Nice thinly sliced ham and gooey slivers of brie were delicious with the gently made omelette.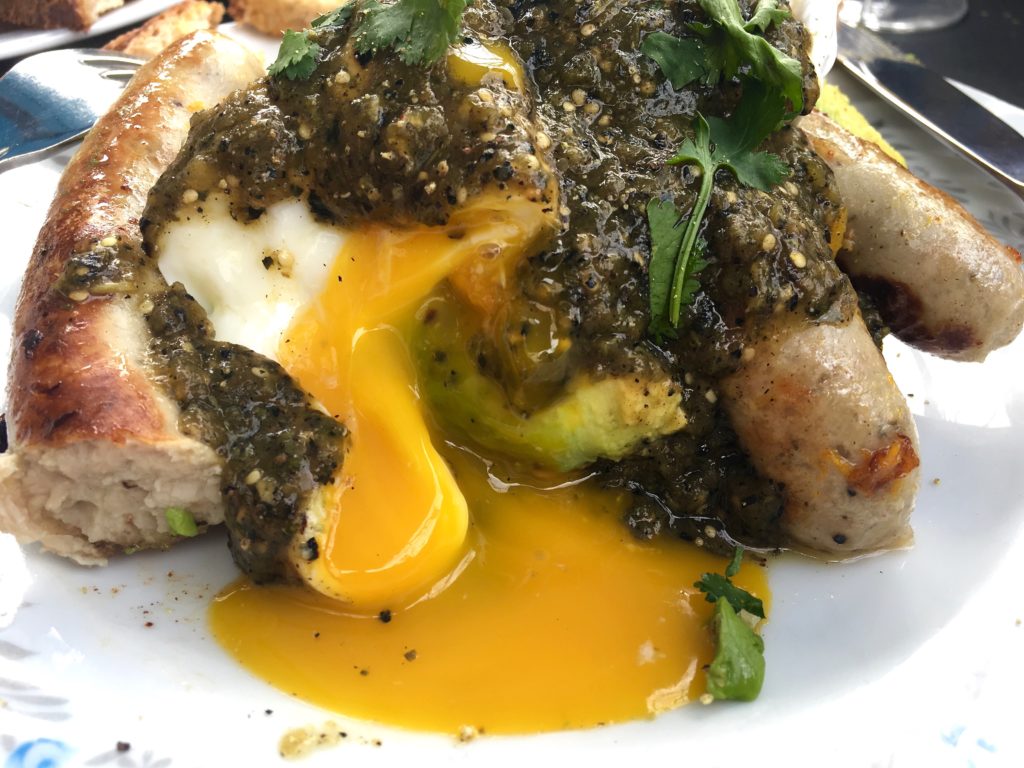 My selection of poached eggs and sausage smothered in salsa verde offered just the right amount of spice and sweet.  Creamy avocado and sweet butternut squash blended perfectly with the salsa verde and chicken apple sausage.  When Chef Arash served our brunch plates I mentioned how badly I wanted the French toast but had decided to go with eggs for a bit of protein. So, you know what he did!  After we'd enjoyed a leisurely brunch of our egg dishes he appeared with a delicious plate of the French toast piled high with lavan and covered in fruit sauce and citrus butter.  That citrus butter – OMG I'm in love!  I admit the photo does not do the French toast justice but looks can be deceiving.  I will order that French toast next time and the time after.  It is the "best" I've ever tasted.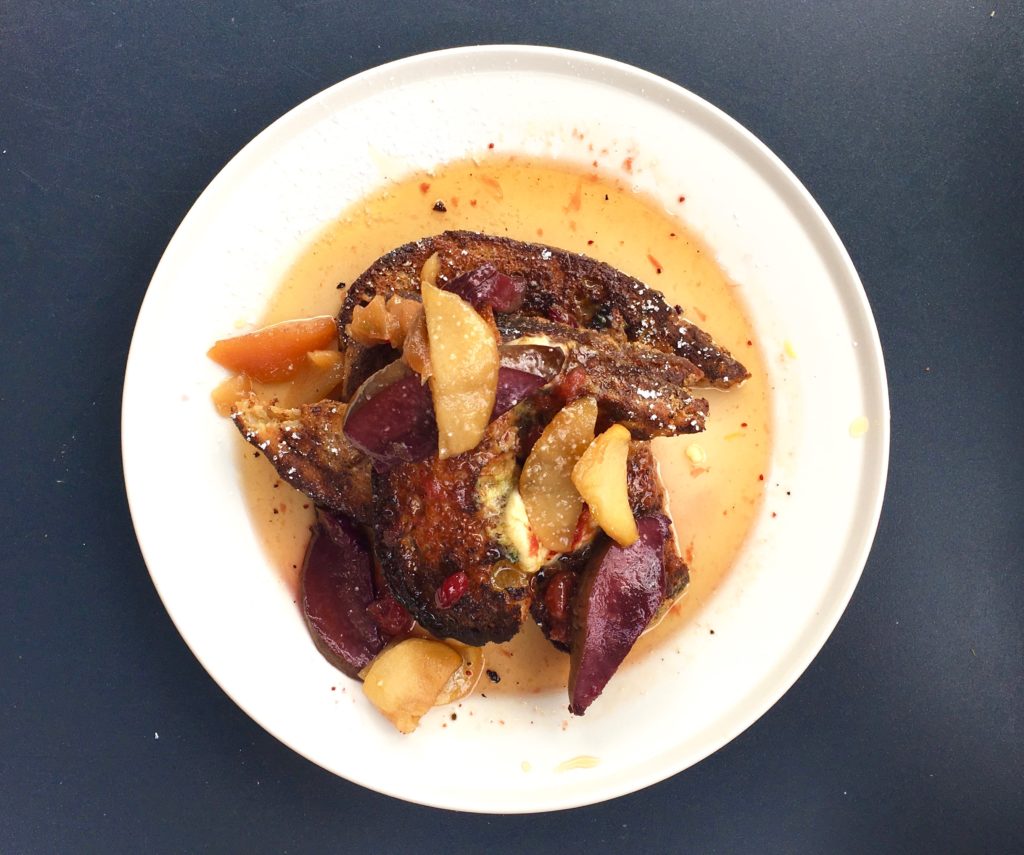 Nina, the fabulous wait person we enjoyed on Saturday night took care of us during brunch, along with Michael and chef making the experience one to enjoy.  Friendly, welcoming, attentive and polite. Nina packed up a bit of our brunch and added her own special touch! There was no French toast in that box!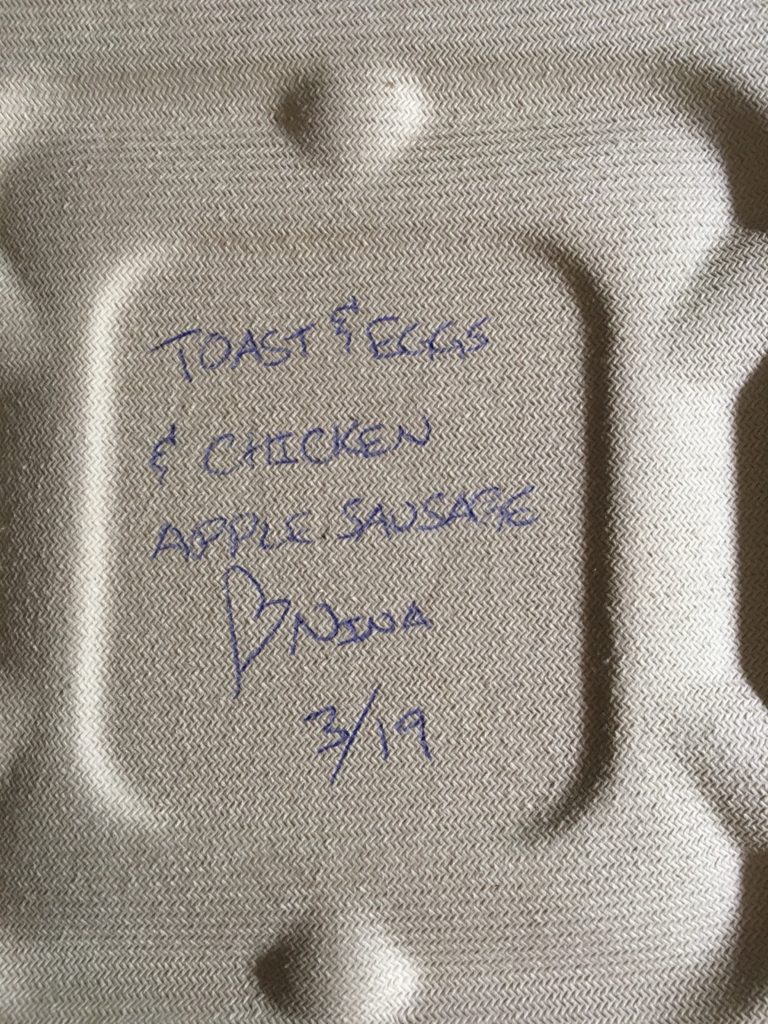 Again, I say if you find yourself in the snazzy town of Walnut Creek, California don't miss this jewel of a bistro.  Tell Chef Arash you read about it here – on The Orange Bee!