One chilly weekend morning I was hungry for a breakfast sandwich – one like those found at fast food restaurants.  An Egg McMuffin type sandwich to be exact.  I am not a fan of fast food restaurants.  In fact, I don't "do" fast food restaurants! I couldn't begin to tell you the last time I ate at a Mickey D's or any other fast food joint.  They are off my radar because the food they serve simply does not taste good to me.  It's food for the masses, over salted and I wonder, where do they get that beef or chicken being served?  Was it treated humanely before it was shipped to the restaurant?  That is a topic for another time.  I do however, like a good breakfast sandwich!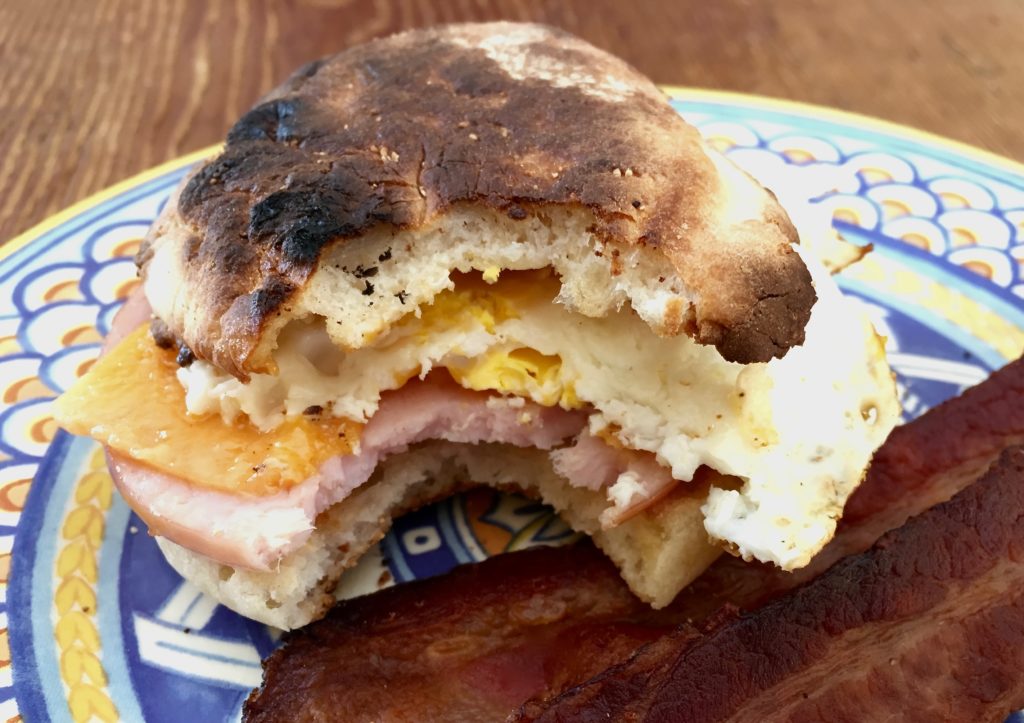 I am likely to order a breakfast sandwich when we eat out in a diner or coffee shop.  Egg McMuffin type sandwiches are very versatile and I love adding ingredients like sliced avocado, arugula, spinach or tomato.  On this day I made the basic Egg McMuffin, egg, Canadian bacon, cheese and toasted English muffin spread with butter.  I even cooked the yolk to the point where it wasn't runny – although that is usually my favorite part!
On occasion you might catch my man, Dan at a McD's for a cup of coffee and an Egg McMuffin but not if I'm with him.  This is such an easy breakfast to whip up and not too many calories either!  I prefer the homemade version of Egg mcMuffin and it totally made my guy a happy camper.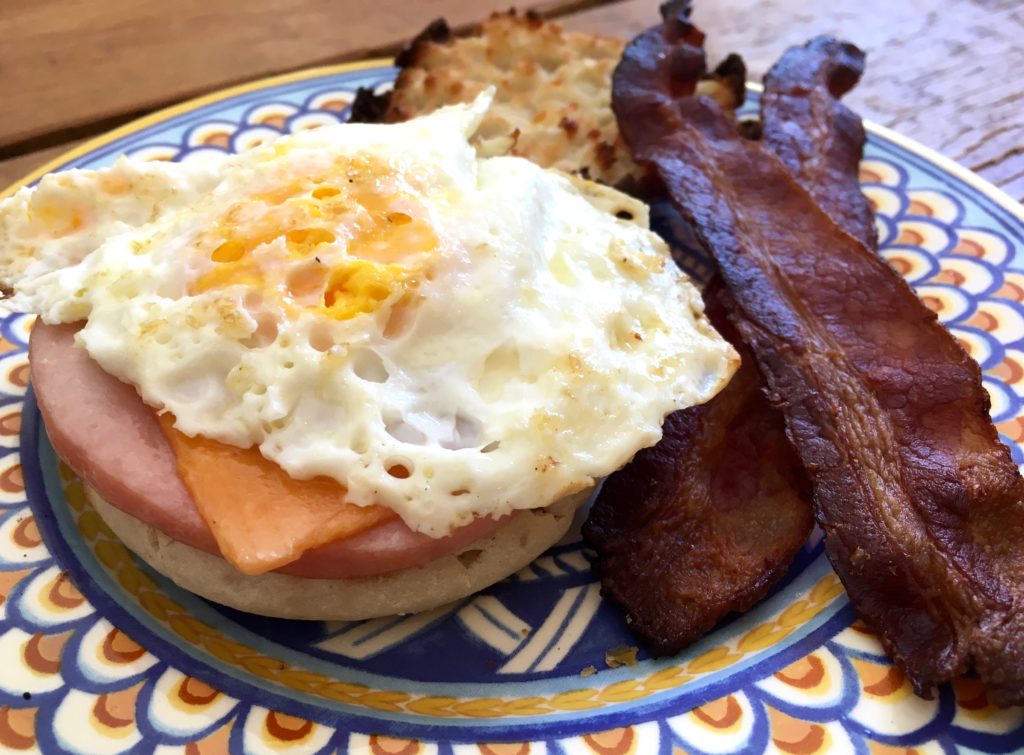 And yes, you do see some bacon on the side because, well you know #bacon!  Clearly this isn't a "recipe" so to speak but I'll post it as such just in case you are new to the world of Egg McMuffin style breakfast sandwiches!  Oh and that burnt English muffin?  Yes, well that is the way we like our toast, a little blackened please.
If you aren't into breakfast sandwiches this one pan breakfast is another favorite of mine.  Good morning!
Ingredients
English muffins
Eggs
Canadian bacon
Sliced cheese - I prefer sharp cheddar
Instructions
Split and toast one muffin per person.
Butter muffins when toasted.
Heat a skillet to medium high heat and cookCanadian bacon until it is hot.
Using coconut oil cook eggs in a skillet over medium or until the yolk is not runny.
Place the egg, bacon and one slice of cheese on one half of the buttered muffin.
Sprinkle with salt and pepper and top with other half of the toasted muffin.
http://www.theorangebee.com/2017/04/04/homemade-egg-mcmuffin/