Pasta Carbonara dall' Italia
Pasta Carbonara ~ it's like having eggs and bacon for dinner in a most delicious way! I'd even go so far as to call it "comfort food"!  We all know bacon makes everything better and this dish has just enough to lift the flavor and not be too unhealthy!  Moving from winter into spring we begin to lean towards lighter meals. I find Pasta Carbonara to be the perfect transition dish!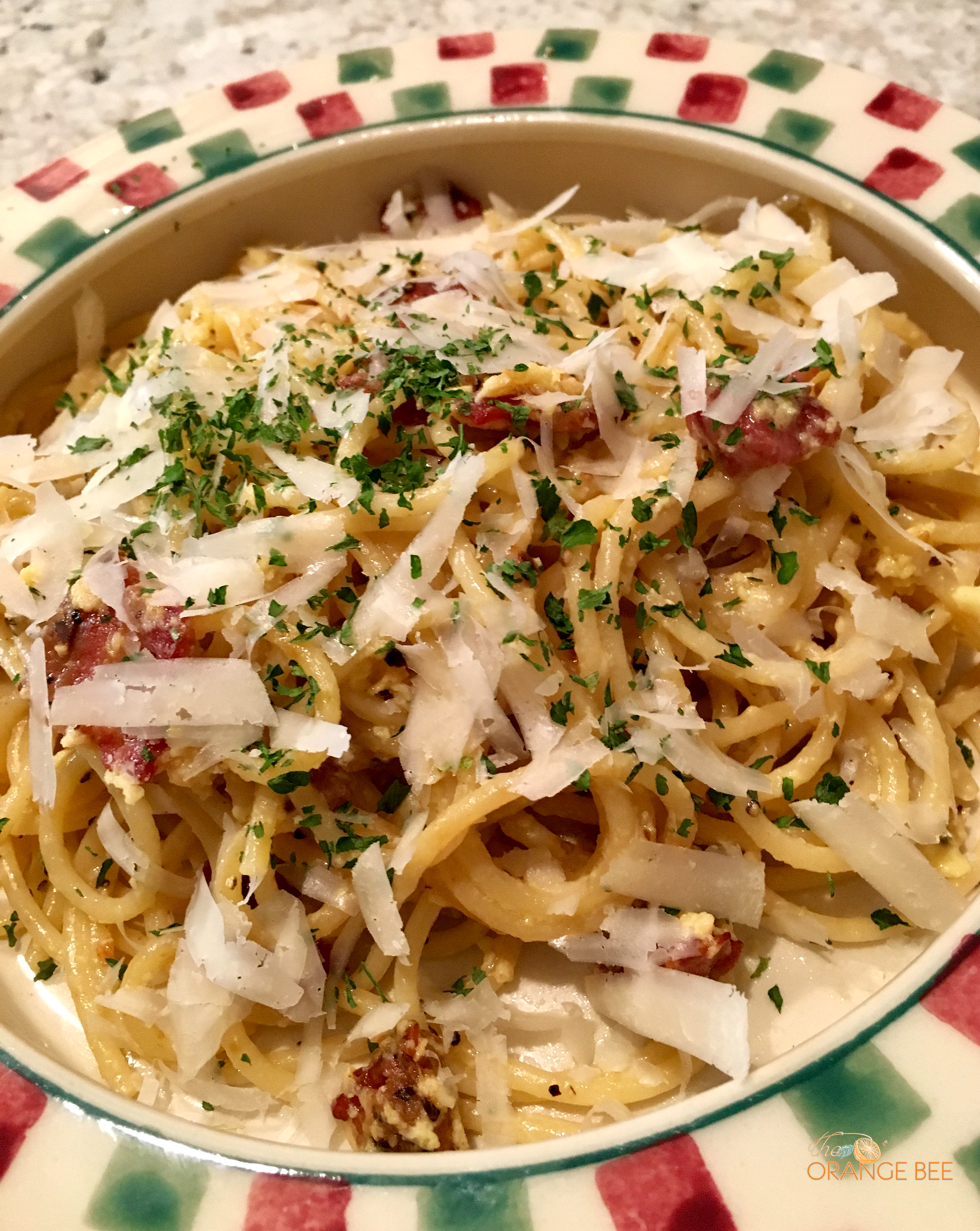 I distinctly remember the first time I enjoyed a plate full of Pasta Carbonara…..it was circa 1976 and one of my friends had just returned from a trip to Italy.  She came home professing of this fabulous and super easy recipe for "Bacon and Eggs Pasta", otherwise known as Pasta Carbonara.  The chef at the establishment where she'd first eaten it was kind enough to share the recipe .  She jotted down his instructions on a paper napkin and tucked it safely away for passage back to California.  I am so glad she did as it has been a favorite of mine ever since.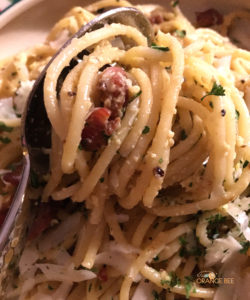 Do you eat your pasta with a fork and spoon or simply with a fork?  Personally, I like using a fork and spoon for tossing and twirling.  I found this article from the New York Times, May 1982 edition, regarding this technique, to be a fun read!  It gives the opinions of three NY restaurant owners of the time, regarding the fork & spoon vs. fork only method as well as which cheese is best to use with pasta, should bread be served alongside a dish of pasta and so on.  The end of the article includes a few recipes from these well-known Italian restaurants too!  It would seem some things don't change be it 1982 or 2017.
The important instructions in this recipe require us to be sure the pasta is hot when the sauce is ready.  This may take a couple of tries before perfecting, but it is imperative to get the dish right!  Timing is everything!  But you can do it!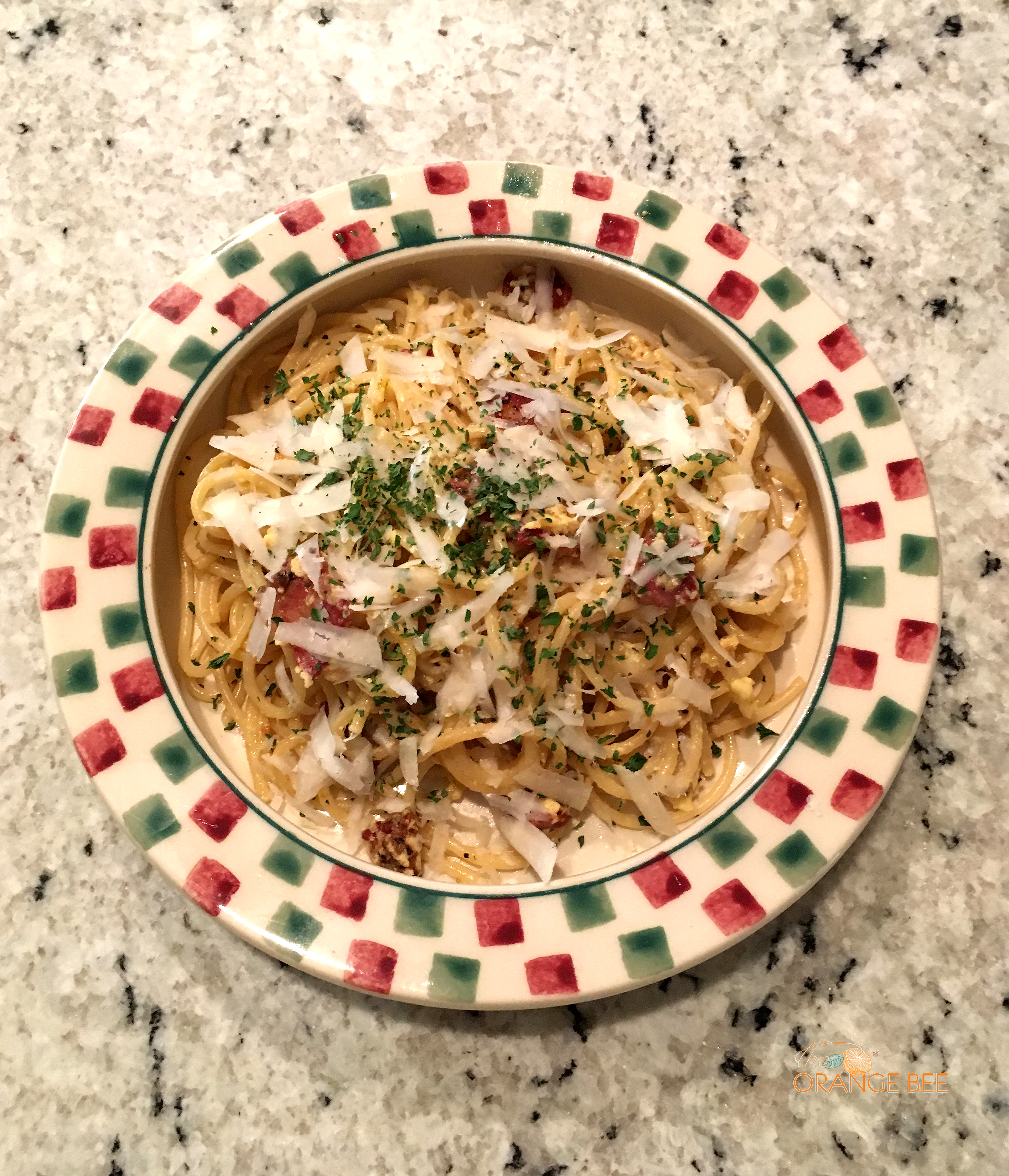 The recipe I'm sharing today is from Tyler Florence as it is closest to my friends long lost one.  Did I ever tell you about the time my daughter LuLu and I saw Tyler in a cigar shop in Napa?  Tall, lanky, handsome and mysterious…that's a story for another time!
Pasta Carbonara dall' Italia
Ingredients
1 pound spaghetti
2 tablespoons olive oil
4 ounces pancetta or slab bacon (natural- uncured) cubed or sliced into small strips
4 garlic cloves, finely chopped
2 large eggs
1 cup freshly grated Parmigiano-Reggiano, plus more for serving
Freshly ground black pepper
Handful of fresh flat leaf parsley
Instructions
Prepare the sauce while the pasta is cooking to ensure that the spaghetti will be hot and ready when the sauce is finished.
It is very important that the pasta is hot when adding the egg mixture so that the heat of the pasta cooks the raw eggs in the sauce.
Bring a large pot of water to boil; add pasta and cook for 8-10 minutes or until tender yet firm, "al dente"
Drain the pasta well, reserving 1/2 cup of the cooking water to use in the sauce.
Meanwhile heat the olive oil in a deep skillet over medium flame.
Add the bacon or pancetta and sauce for abut 3-4 minutes until the bacon is crisp and fat has rendered.
Toss the garlic into the fat and sauce for less than 1 minute to soften.
Add the hot, drained spaghetti to the pan and toss for 2 minutes to coat the pasta in the bacon fat.
Beat the eggs and the parmesan together in a mixing bowl, stirring well to prevent lumps.
Remove the skillet from the heat and pour the egg/cheese mixture into the pasta, stirring quickly until the eggs thicken but do not scramble.
Doing this step off heat helps insure this does not happen.
Thin out the sauce with a bit of the reserved pasta water, until it reaches desired consistency.
Season the carbonara with several turns of fresh ground black pepper and taste for salt.
Pile the spaghetti into bowls and garnish with parsley and ground cheese.
http://www.theorangebee.com/2017/03/21/pasta-carbonara-dall-italia/