Orange Cinnamon Cookies ~ Sweet Little Bites
Oil & Honey Edition Orange Cinnamon cookies are sweet and cheery little bites.  Using wild orange oil and orange zest turns them from a plain little cookie to a zingy little cookie! The cinnamon oil brings warm and spicy flavors and pairs perfectly with the orange.  A cookie full of flavor and elevated to deliciousness by the addition of cranberries and pecans.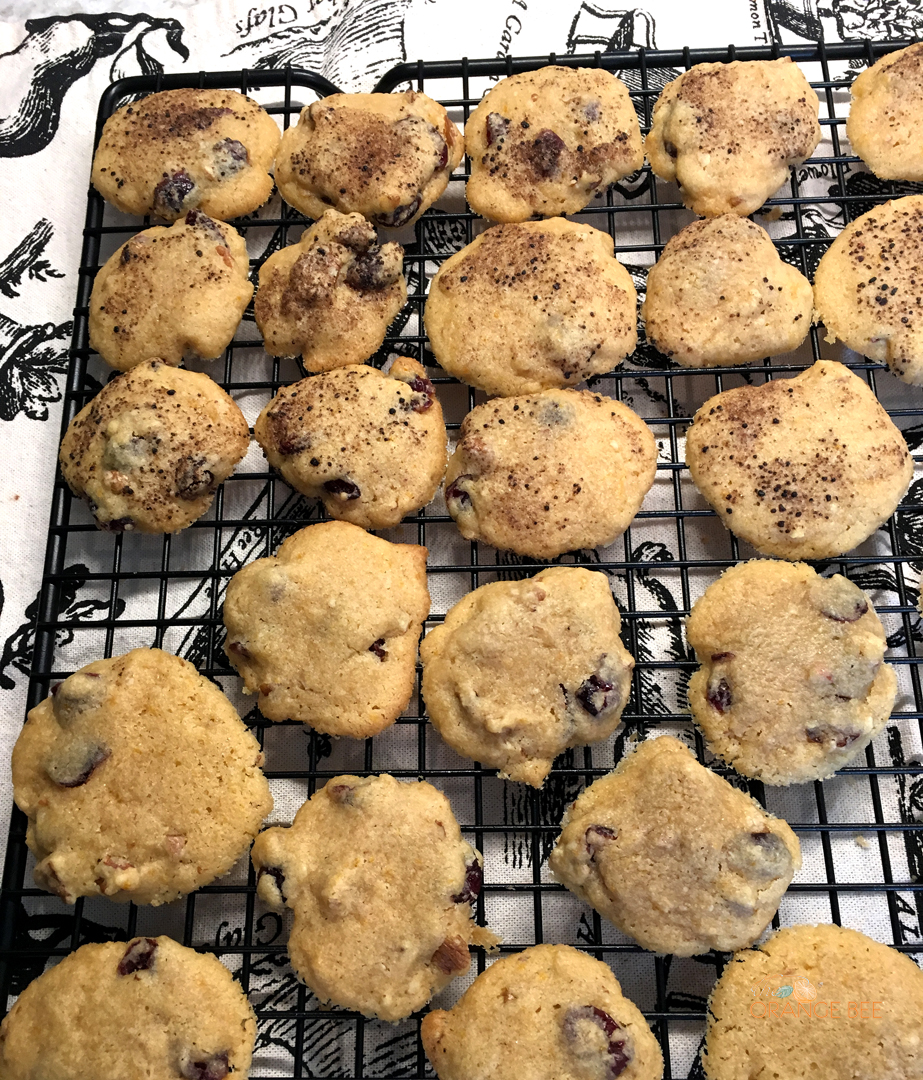 Are you aware that cinnamon has the ability to balance blood sugar levels?  Cinnamon oil or powder is derived from the bark of a tropical evergreen tree.  This spice has been around since biblical times when it was used in anointing oil.  In ancient India cinnamon was used to treat respiratory ailments, stomach upsets and diabetes.  Practitioners of traditional Chinese medicine also used it for respiratory problems and muscle aches.  We are most familiar with the use of cinnamon in baked goods.  It's most popular in sweet dishes – apple pie, coffee cake, buns, muffins, cakes or simply sprinkled on toast with a bit of sugar.
Cinnamon is used for a variety of issues in the essential oil world.  Besides adding the oil to recipes, it is used to support the immune system in the battle aganist cold and flu symptoms, to fight germs and bacteria, diluted and applied topically to alleviate muscle pain and of course for balancing blood sugar.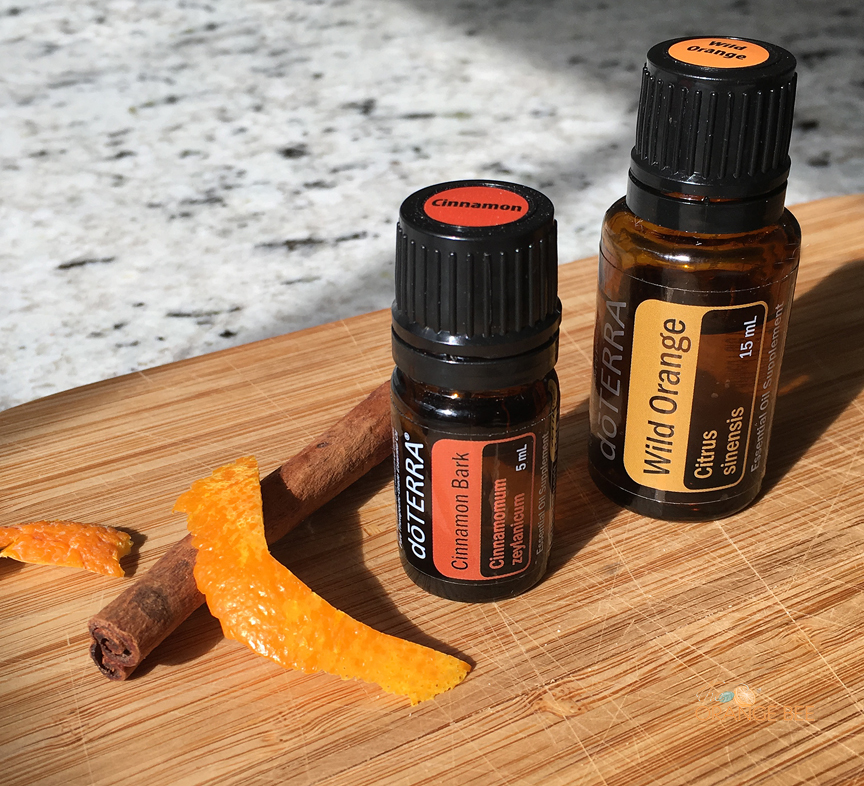 Now let's talk about wild orange for a moment.  If you've ever read much on The Orange Bee you already know that orange is my favorite color and one of my favorite flavors.  It's bright citrus freshness adds an uplifting flavor to many foods and moods!  The Chinese first recognized the value of the orange peel for treating coughs and colds.  Did you ever notice when you add a bit of the zest to a recipe how much it promotes the orange flavor?  Orange juice is full of flavor but even more tang comes from the oil in the peel.
Besides being a delicious addition to salad dressings or marinades orange is a tasty addition to cheesecakes, cakes, muffins or cookies.  As an essential oil, wild orange provides a feeling of vigor and cheer.  Energizing and uplifting wild orange helps with feelings of anxiety, stress, nervousness and lack of concentration.  I use it often in my diffuser with other oils such as lavender, peppermint or cinnamon.  The smell is intoxicating and definitely lifts my mood!  I especially like using wild orange oil in my recipes for the flavor boost.  Orange is what makes these Orange Cinnamon Cookies so yummy ~ to me anyway.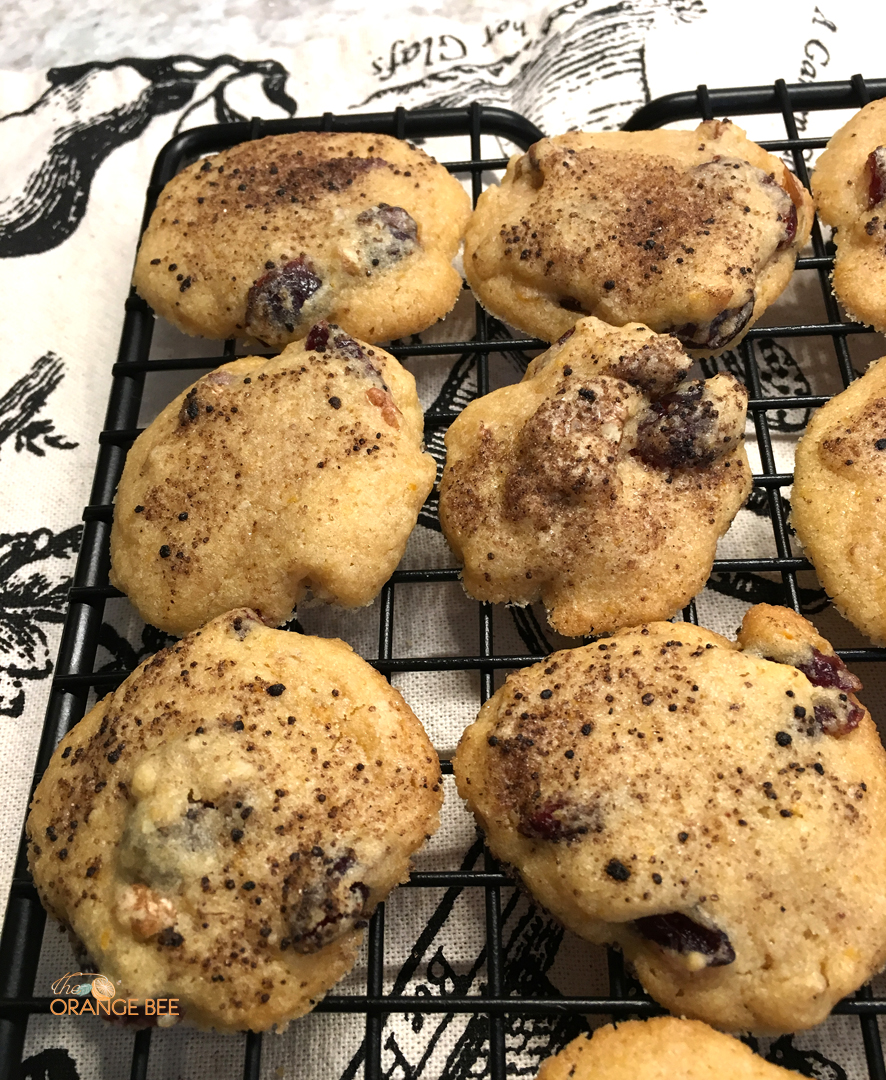 Now on to the recipe and why some of these Orange Cinnamon Cookies have dark sprinkles on top.  I adore the mixture of chocolate and orange together.  I dipped a glass in some dark chocolate sugar and used it to press out half of the batch – I left the other half plain. Both cookies are equally tasty. I'd like to try this recipe with the addition of chocolate to the batter another time as using the sugar didn't provide much chocolate taste.  None the less these are sweet little bites that come together quickly and without much mess.  Go forth and bake!
As always if you'd like to learn more about EO's please don't hesitate to contact me at my email Linda@theorangebee.com, via my FB page The Orange Bee or leave a comment on this post! Be sure you don't miss any Sunday Stinger posts – subscribe to The Orange Bee above!
Ingredients
1 stick unsalted butter - softened
3/4 cup brown sugar
4 drops wild orange essential oil
2 drops cinnamon essential oil
Zest of one orange
1 teaspoon vanilla
1/4 teaspoon baking powder
1/2 teaspoon salt
1 large egg
1 1/2 cups unbleached all-purpose flour
1/2 cup dried cranberries
1/2 cup chopped, toasted pecans
Chocolate sugar (optional)
Instructions
Preheat oven to 375*F.
Lightly grease 2 baking sheets.
In a large bowl beat together butter, sugar, essential oils, vanilla, baking powder and salt.
Beat in egg.
Add the flour and zest and stir until well combined.
Mix in the cranberries and pecans.
Drop teaspoon full portions onto the baking sheets, leaving about 2" between cookies.
Lightly press down each cookie with a glass dipped in sugar or your fingers.
Bake the cookies for 7 minutes until set and lightly brown around the edges.
http://www.theorangebee.com/2017/03/19/orange-cinnamon-cookies/