The Only Brownie Recipe You'll Ever Need ~ One Bowl Brownies
This my friends is the one and only brownie recipe you'll ever need!  I promise – rich, decadent, dark chocolate mixed with dark and bittersweet chips, chopped walnuts, as well as a dash of espresso powder and the best part?  It all comes together in ONE bowl!  That is the second reason why this is the only brownie recipe you'll ever need.
If I'm not careful this will become my new addiction and then my jeans won't fit at all.  I'm serious!  One of these babies and an ice cold glass of whole organic milk could be my breakfast, lunch and dinner.  Just kidding….These brownies are my favorite kind.  Kinda cake like but somewhat gooey too.  I love when I bite into the chunks of chocolate chips and meaty walnuts.  Heaven!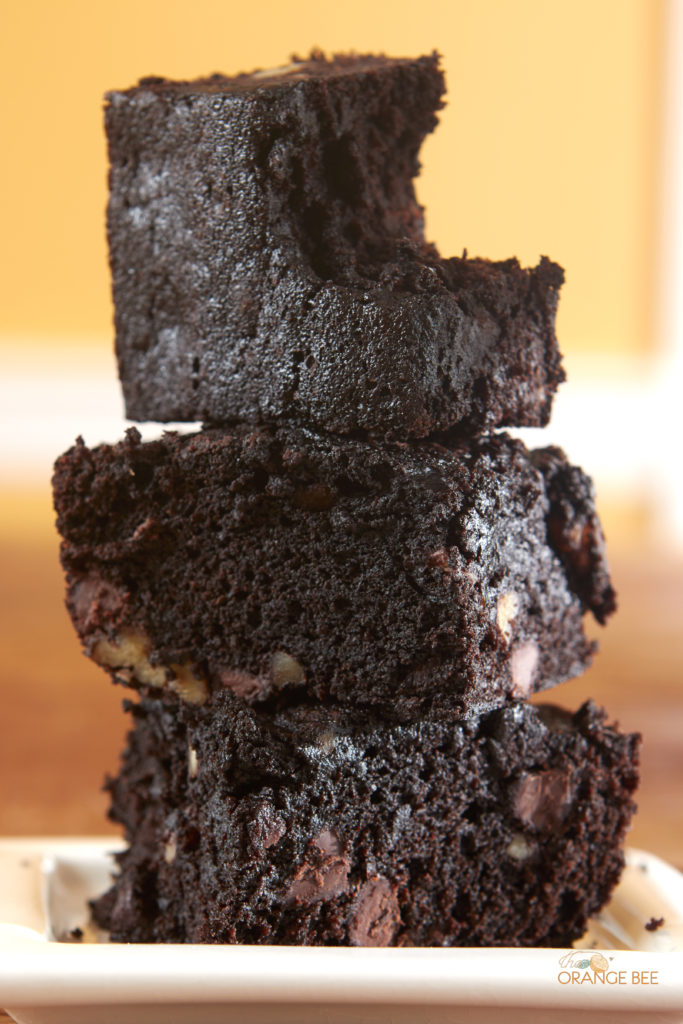 I made these because other than chocolate chip cookies my man, Dan loves brownies.  I've been lazy about baking either one for him so decided to surprise him.  I had a big plate of these amazing brownies sitting on the counter when he walked in the door on Friday night.  Brownies for the weekend!  You know what I found out?  He likes this brownie recipe but he'd rather have a fudgy brownie!  What the hey?  I now know that we have different opinions of what is the "best brownie".  But you know what?  Who's doing the baking here?  Just sayin'!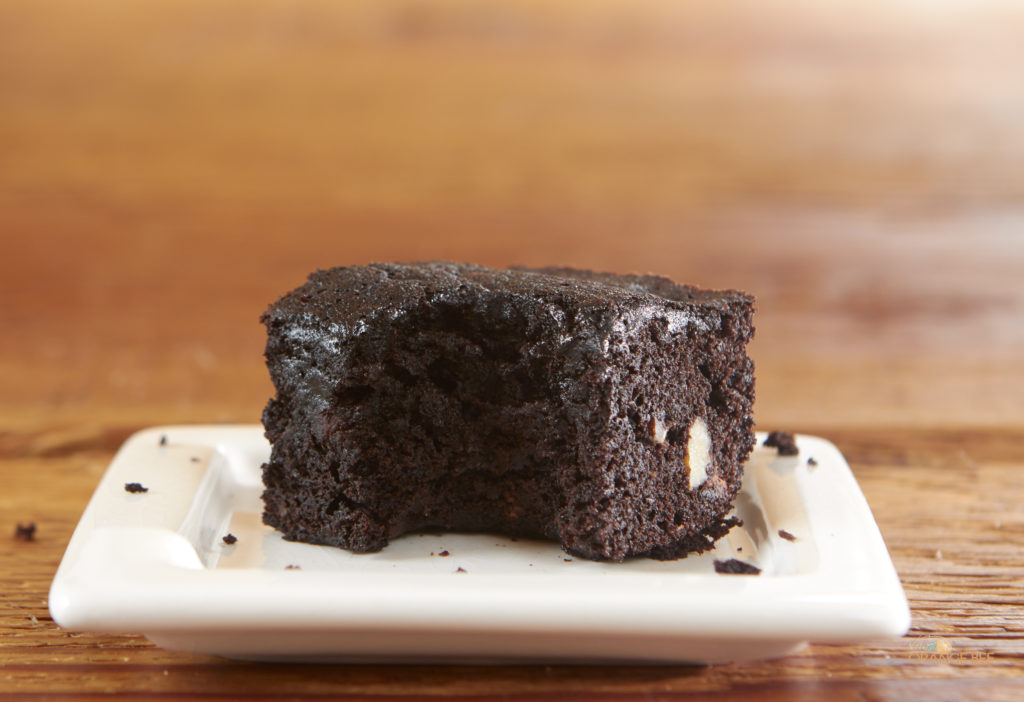 I'll leave you now with the best ever brownie recipe and hope that you in turn will leave me comments about your favorite brownie.  Better yet…tell me where to find the best fudgy brownie recipe so I can make a batch of those to keep the peace in The Orange Bee kitchen!  Here is a link to my other favorite brownie recipe – Mexican Mocha Brownies.  Now go bake some brownies in your kitchen!
The Only Brownie Recipe You'll Ever Need ~ One Bowl Brownies
Ingredients
1 cup unsalted butter, melted
2 1/4 cups sugar
1/2 cup Black Onyx cocoa powder (dark chocolate cocoa powder)
1/2 cup natural cocoa powder
1/4 cup Dutch process cocoa powder
1 teaspoon salt
1 teaspoon baking powder
1 tablespoon vanilla extract
1 teaspoon espresso powder
5 large eggs
1/2 cup water
1 1/2 cups all-purpose flour
1 cup chopped walnuts
1/2 cup semi-sweet chocolate chips
1/2 cup bittersweet chocolate chips
Instructions
Preheat oven to 350*F.
Lightly grease a 9" x 13" baking pan.
Combine the melted butter and sugar in a large bowl and stir until smooth.
Stir in the cocoas, salt, baking powder, vanilla and espresso powder.
Beat in the eggs one at a time.
Scrape the bowl and add the water, stirring until smooth.
Add the flour, nuts, and chocolate chips, stirring until well blended.
Scrape the batter into the prepared pan.
Bake the brownies for 30-40 minutes or until a toothpick inserted into the center comes out clean, or with a few moist crumbs attached.
Cool brownies before cutting and serving.
http://www.theorangebee.com/2017/02/28/the-only-brownie-recipe-youll-ever-need-one-bowl-brownies/