Black-Eyed Pea Polenta Bowl
It's time I came clean – I have an addiction…to polenta.  In particular to what I call a "Polenta Bowl"!  I am laughing as I write this.  Do you have a food addiction?  What's your addiction?  To food specifically – I mean, this is a food blog!  I have a terrible sweet tooth too, but lately, well actually since last year, I've been addicted to polenta.  Once I tried this recipe for Creamy Polenta with Mushrooms I became hooked on polenta.  Completely intoxicated at the idea that there are so many ways to serve and enjoy polenta.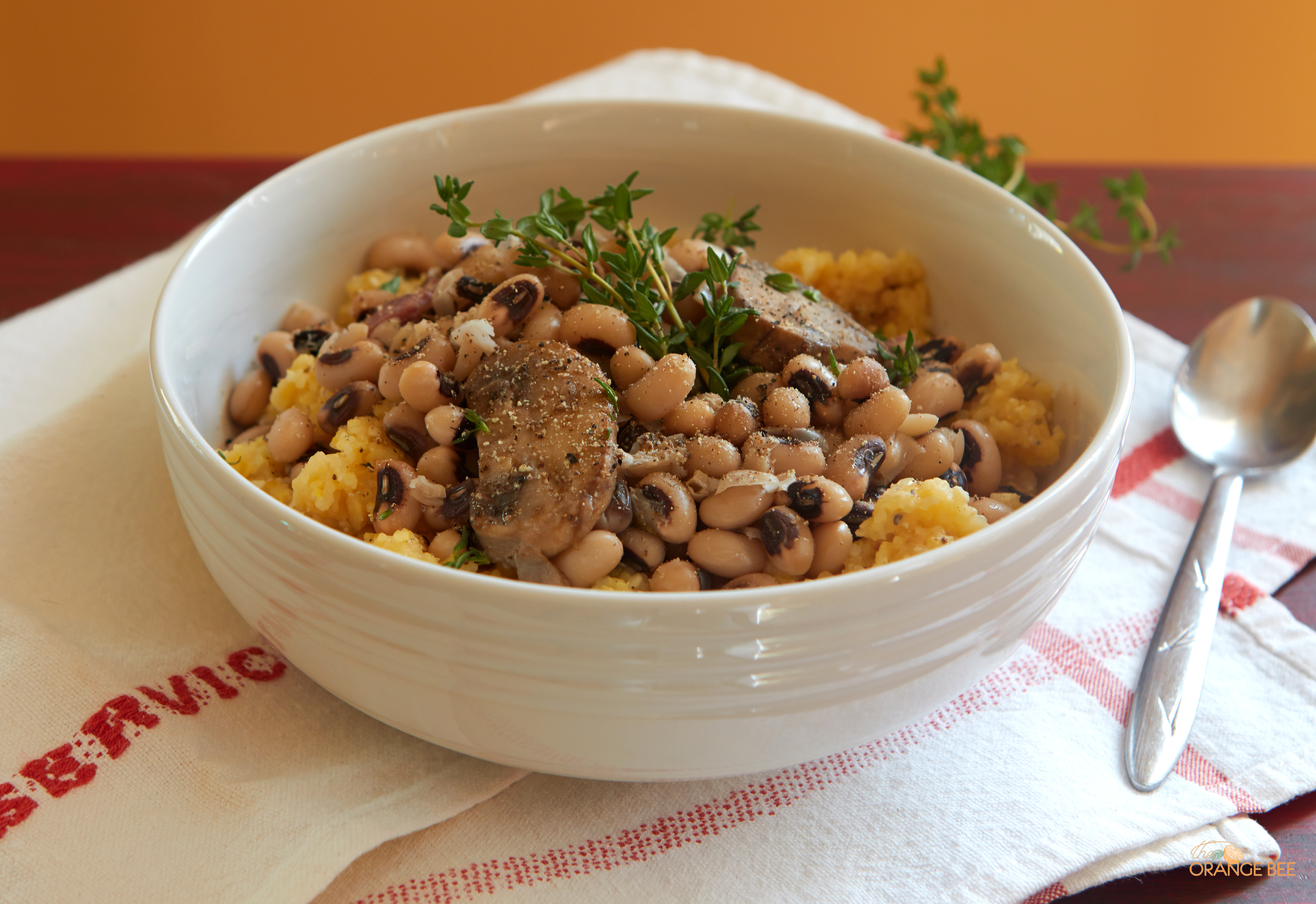 I was excited to see fresh black-eyed peas in my local grocery the other day.  My man, Dan brought home some fresh peas to prepare and serve on New Year's Day ~ you know ~ for good luck and all!  I love black-eyed peas and fresh is best, in my opinion.  I grabbed a container of fresh black-eyed peas and refrigerated them for a day before I decided what to do with them.  Black-Eyed Pea Polenta Bowl!  Bring on some more good luck!
We are still doing several "meatless" dinners a month and a polenta bowl fits right in.  For me polenta is a satisfying comfort food.  Hey, all you gluten free readers out there polenta is a perfect substitute for pasta!  It is filling and versatile.  A variety of sauces lend themselves to polenta bowl, think…homemade marinara with fresh basil and a bit of grated parmesan.  Let it sit in the fridge and firm up a bit to make croutons.  Serve a polenta bowl for breakfast with a drizzle of honey and fresh berries.
Can you see why I am addicted?  I'd love to hear your ideas for how you best like your polenta!  Leave me a comment below – maybe I'll even share your ideas on The Orange Bee!
Black-Eyed Pea Polenta Bowl
Ingredients
1 cup stone ground polenta.
2 cups salt free beef broth
4 cups salt free chicken broth
1 pound fresh mushrooms - your choice
Fresh thyme
6 slices smoked bacon or salt pork - cut up
1 clove minced garlic
1 onion, chopped
16 oz. black-eyed peas
Olive oil
Salt
Fresh ground pepper
Instructions
Polenta:
Bring beef broth and 2 cups of chicken broth to a boil and slowly stir in polenta.
Stirring frequently, cook polenta at a low boil for about 20 minutes.
Peas:
Add a splash of olive oil to a sauce pan and heat over med-high heat.
Add cut up bacon or salt pork and cook until slightly browned.
Add chopped onion and cook until softened.
Add peas and stir just to blend.
Pour in enough remaining chicken stock to cover peas and simmer until tender.
About 20-25 minutes.
Mushrooms:
Add another splash of olive oil to a sauté pan.
Add mushrooms and garlic and sauté over med-low heat until mushrooms are sweated.
Add in fresh thyme - about 1-2 tablespoons, stir until blended.
Add salt and fresh ground pepper to taste.
Allow the flavors to blend over low heat.
To make polenta bowls:
Spoon polenta into individual serving bowls.
Using an unslotted spoon add black-eyed pea mixture being sure to get some broth too.
Spoon mushroom blend over the top and garnish with a sprig of fresh thyme and a bit of fresh ground pepper.
http://www.theorangebee.com/2017/02/07/black-eyed-pea-polenta-bowl/