Rubbermaid® BRILLIANCE™ My New Fav Storage Containers
This shop has been compensated by Collective Bias, Inc. and Rubbermaid® BRILLIANCE™. All opinions are mine alone. #OrganizeWithBrilliance #CollectiveBias.
These new Rubbermaid® BRILLIANCE™ food storage containers are my new favorite.  I especially like using them for my husband's lunches!  This is the reason why ~ Rubbermaid® BRILLIANCE™ containers are guaranteed 100% leak proof and they're stain and odor resistant!  They work perfectly for my man to brownbag it without any mess.  Because if there is a mess, well let's not even go there.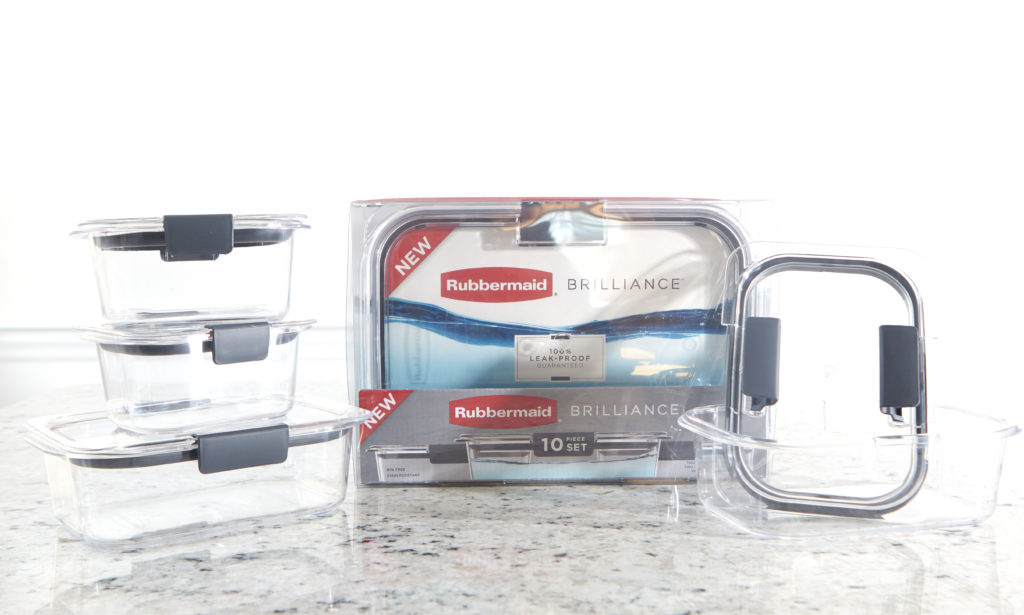 The routine in my kitchen is, I always prepare extra at meal time so that we have leftovers for my hubby to carry to work.  He enjoys bringing a lunch from home and getting some fresh air as opposed to dining out at noon.  My suspicion is after he eats – he naps. Just sayin'!  Because we almost always have leftovers there are constantly food storage containers in the fridge.  I have a pet peeve when it comes to round storage.  I don't know about you but all the refrigerators I've ever seen are box shaped.  This means rectangular or square shaped containers fit so much better on the shelves.  Another reason why I like the Rubbermaid® BRILLIANCE™, they are rectangular in shape.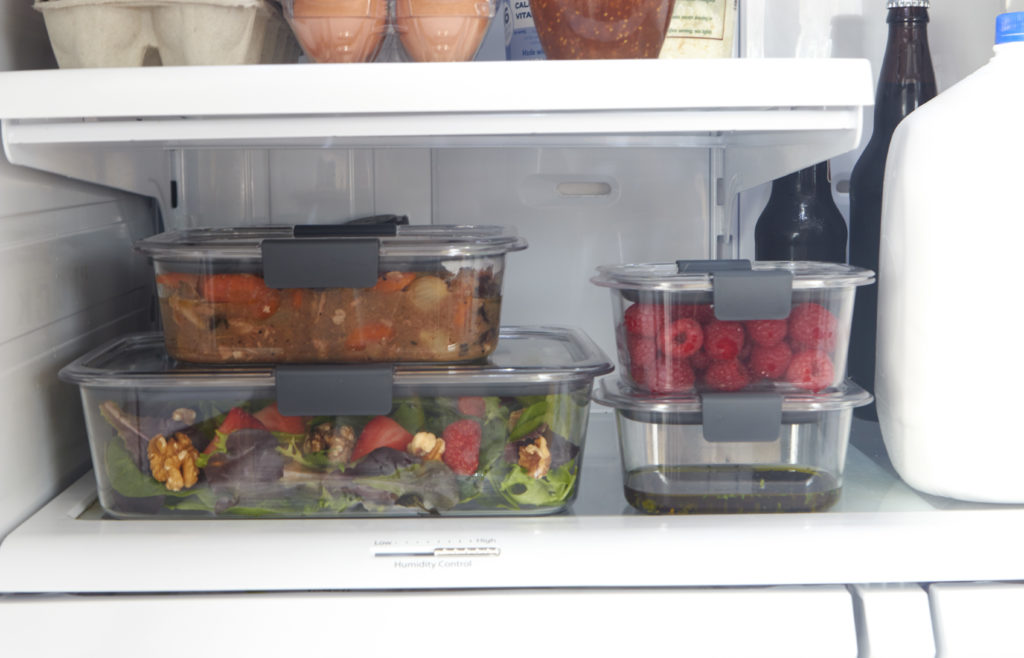 This past weekend we had another cold snap and I made one of my man's most-liked meals ~ beef stew.  He was pretty excited to know that he could take it for lunch this week.  I also made a big salad and homemade dressing.  I love oil and vinegar dressings but do you know what a disaster it would be if the dressing leaked out in his lunch bag?  Yikes!  But guess what?  Not a drop seeped out of the Rubbermaid® vessel.  100% guaranteed leak-proof.  Win-Win!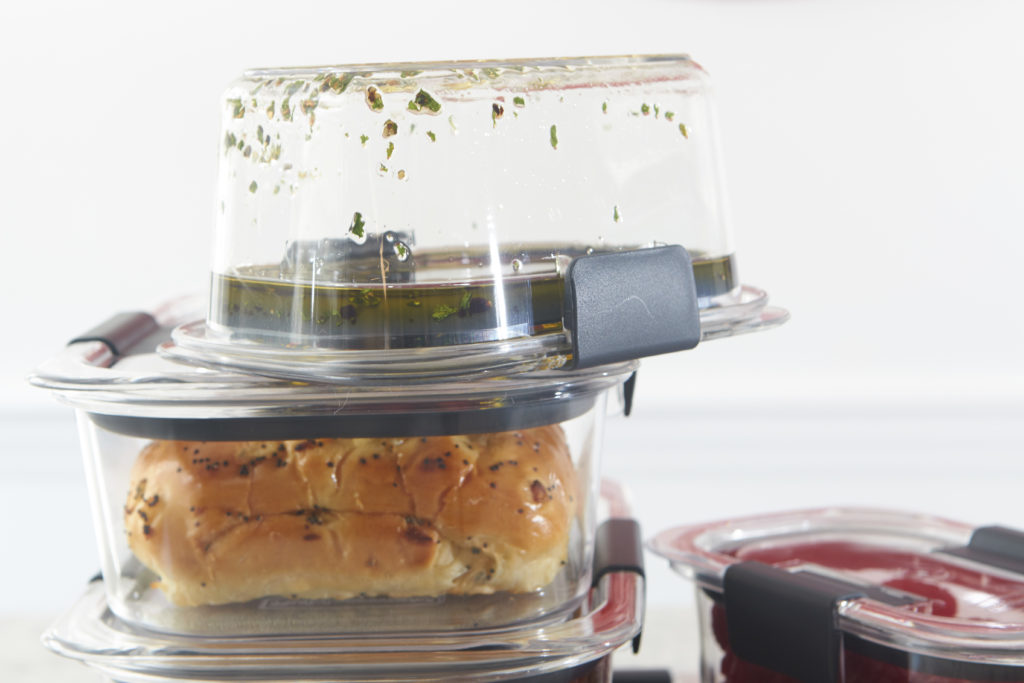 Here is what I do when prepping his lunches:
Fill one container with salad greens and toppings
Pour enough salad dressing for one serving in a separate container
Store fresh fruit, applesauce, cheese cubes, etc. in another container
Place a roll, slice of bread, or crackers in a vessel
Fill one container with the main course, in this case Beef Stew
Stack all the containers together on a shelf in the fridge, so in the morning all the hubby has to do is place it in his brown bag or lunch box!
The alternative to this method is to have him prepare all his lunch items in Rubbermaid® BRILLIANCE™ storage containers himself! (I like this plan best)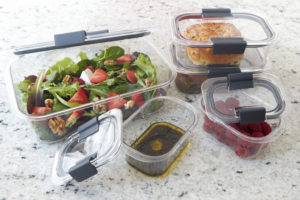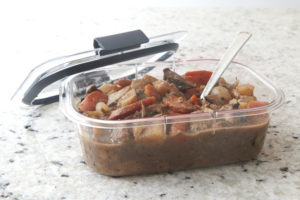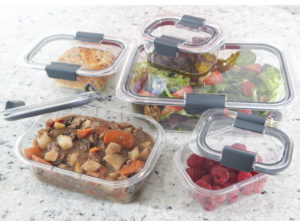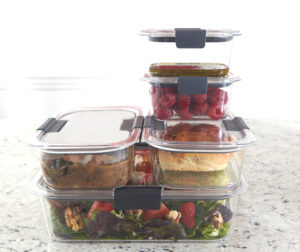 If you want to learn more about Rubbermaid® BRILLIANCE™ click here.  This is the most upscale food storage container.  Crystal clear, stain and odor resistant.  This my friends, is a good thing.  Has your husband or kid ever forgotten their lunch box at work or school?  Then a few days later it comes home and after a quick inspection you throw out all the food containers.  You won't need to do that with Rubbermaid® BRILLIANCE™.  Simply wash, dry and reuse – no worries.  The 10 piece BRILLIANCE™ set stacks so beautifully in the fridge or in the cabinets when not in use.  Rubbermaid® 10 pc BRILLIANCE™ set is available nationwide at Walmart, Bed Bath & Beyond, Target, Amazon and other fine retailers.