Stewed Apples With Honey & Lemon EO
Oil & Honey Edition – My soft diet was wearing thin until I decided to make a pot of stewed apples.  Soft – yes, but with a bit of texture and delicious flavors. If you didn't read about my recent diagnosis of "diverticulitis" you may not get where I'm coming from.  Read it here.  If you did read it or are familiar with the dietary restrictions that accompany the healing process yo will know exactly from whence I come!
Bottom line is, after being on a liquid diet for 6 days, then moving onto soft foods for 5, I needed a bowl of something with a touch of color and flavor!  Most "soft foods", mashed potatoes, pasta, rice, eggs, applesauce, canned pears, are all pretty much the same creamy white or pale yellow in color.  As my tummy still needed easy to digest options, my issue with these soft foods was a lack of flavor and texture.  I know that essential oils, honey and spices are also good for my stomach and digestion – SO..  Bingo – easy to digest, cooked apples with some wonderful fall flavors and good for the belly additions.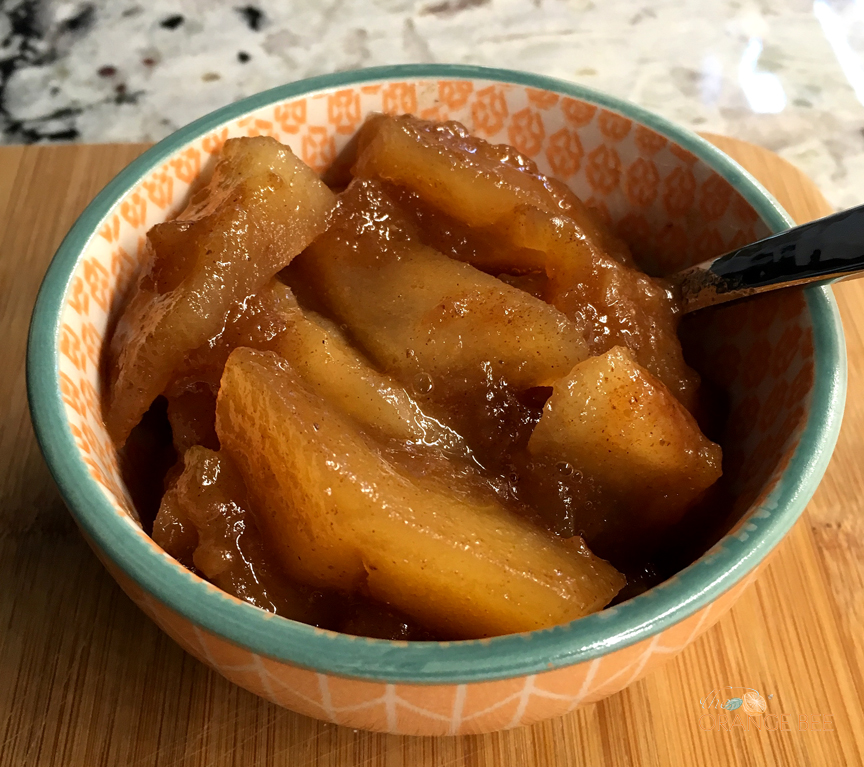 These apples are delicious and satisfying all on their own but would also make a great addition to a bowl of creamy vanilla ice cream, plopped on top of a fluffy pancake, or added to a bowl of steamy, hot oatmeal!  I ate them for breakfast, when I needed a little snack mid-day, and they make for a tasty dessert.  Versatile to be sure!
The Lemon essential oil adds a refreshing, citrus tang and also aids in digestion, is cleansing to the gut and helps with heartburn.  Cinnamon is thought to help with diabetes, cholesterol issues, heart disease and food poisoning, plus, don't you love the flavor and smell of deep, rust colored cinnamon?  Vanilla beans are so delicious and add an amazing flavor to these apples, well to any dish, really.  You could use pure vanilla extract if you don't have any beans on hand, but I love cooking the whole bean in with the apples and then scraping it's insides into the pot at the end. I can't say that vanilla has any healing properties for the stomach but I wanted a variety of flavor!  The final addition that is good for our tummies is honey!  It is antibacterial, helps with gastrointestinal disorders, (exactly what was bothering me) and it also has probiotic qualities which I hoped would finish flushing out any nasty bacteria still hiding in my gut.
I'm not kidding these are so yummy – they didn't last any time at all, but since they are super easy to make, no biggie.  When you find yourself in the mood to smell "fall" in your kitchen, whip up a batch of these and savor the flavor of my favorite time of year!
I'm curious to hear any advice or ideas you may have on the "soft food" diet.  If you've got some amazing and delicious recipe ideas PLEASE leave me a comment and enlighten me with your brilliant ideas!  I'm counting on YOU!
Next up my delicious recipe for European Style Veggie Soup, the next colorful, flavorful "soft" food I added into my diet.  If you're a soup lover you won't want to miss the recipe for this healthy, shock full of nutrients, super delicious soup!
Here's the recipe for Stewed Apples!
Stewed Autumn Apples With Honey
Ingredients
2 cups peeled, sliced apples - your choice
1/8-1/4 cup local, pure honey
3 drops lemon essential oil
1 teaspoon cinnamon
1/2 vanilla bean
Instructions
Place all ingredients in a saucepan and bring to a boil on medium high heat.
When mixture begins to boil lower heat and simmer for about 45 minutes.
When apples are tender - not mushy - remove pan from heat.
Remove vanilla bean with a pair of tongs and allow it cool to the touch.
Slit vanilla bean down the middle and scrape out beans and pulp into apple mixture.
Gently stir until vanilla beans are incorporated into apples.
Serve warm or chilled.
http://www.theorangebee.com/2016/10/02/stewed-autumn-apples-with-honey/