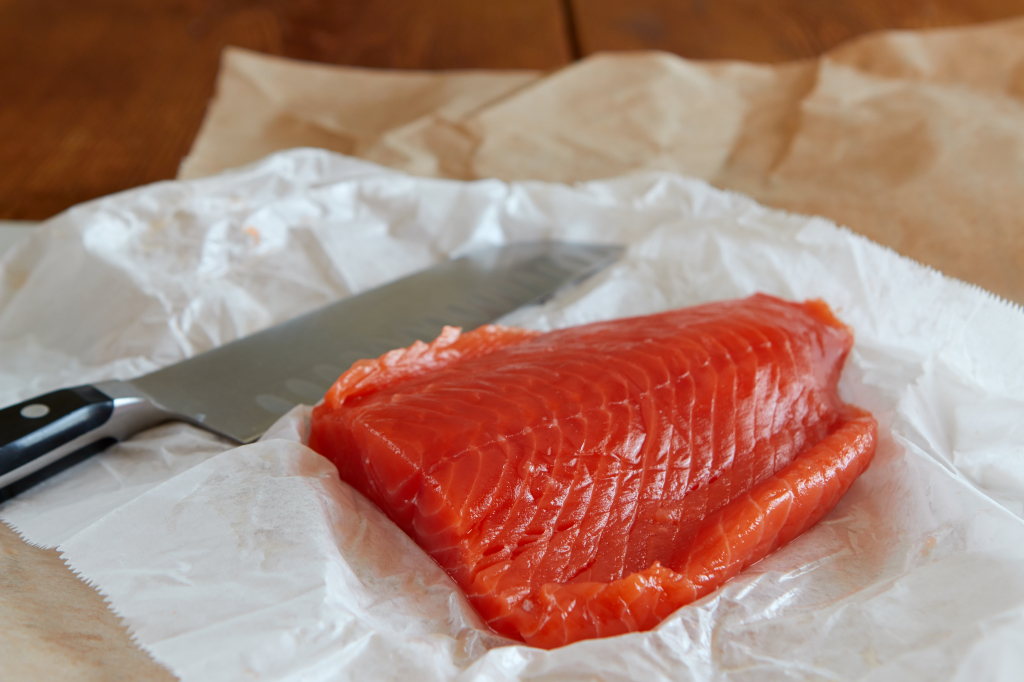 I'm so excited today to share a fresh, healthy and savory seafood recipe with you.  What I am even more psyched about is my partnership with the Sustainable Seafood Blog Project! 
Participating in a conversation about sustainability, especially when it comes to our seafood, justifies my struggle with seeking out and purchasing sustainable seafood. Most of us don't think of fish as a restricted resource. What we do think, is that the deep blue oceans are vast and endless with an unfading supply of fish. Did you know that ocean species are the last class of animals that we hunt on a titanic scale, and it's taking its toll on our marine environment?
Concerns about the methods in which fish are caught and farmed is at the top of the list.  I buy my seafood from a local fisherman at our farmers market, from Whole Foods and occasionally from my local grocery store, if and when they are able to tell me where it came from and how it got here.  I'm not crazy about buying fish that comes from half-way across the world when there is plenty of "local" catch at hand.  I admit selecting the best seafood is a daunting task.  So many words and facts to absorb.  Sustainable, aquaculture, trawl caught, farmed, over fished…
The methods by which fisherman catch their bounty can or cannot be detrimental to the life of our oceans and the creatures residing there.  It can be done in a way that is respectful to our waters and what lives in them or it can disrupt the entire underwater ecosystem.  Which would you choose?  What do you choose?  One significant resource to educate ourselves about what is involved in getting seafood from the waters to our dinner tables is the Monterrey Bay Seafood Watch.  They have valid advice about the ratings, issues and partners associated with sustainability in seafood.
The Sustainable Seafood Blog Project is also a site where you can read some well-founded advice on the best practices to use when purchasing seafood.  I am proud to be associated with SSBP. Below you'll find links to several other bloggers who've also hopped on board and will be sharing some delicious seafood recipes and information for you to benefit from on this critical subject!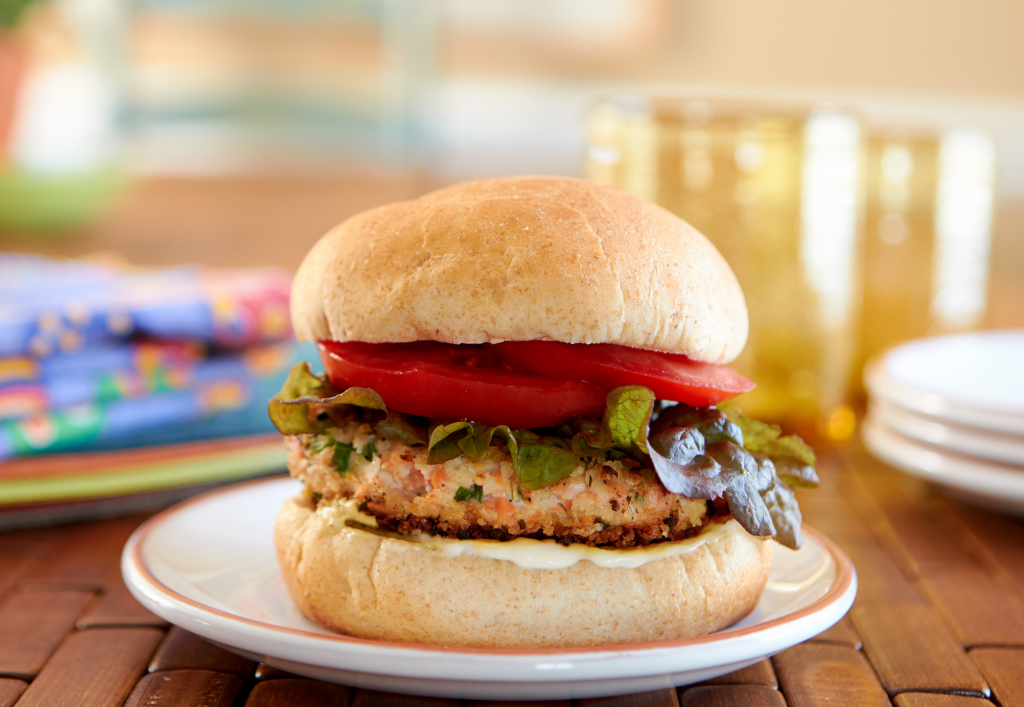 Now let's talk food!  Seafood to be exact.  I took a risk and decided to make Salmon Burgers from scratch.  I ordered my salmon from the fishmonger at Whole Foods. It was wild caught, Alaskan, fresh and tagged with the green label – meaning "best choice".  Go here to read about how Whole Foods practices sustainability in their seafood department.  I asked for it to be skinned with as few bones as possible.  I brought home a beautiful filet, with no bones and chopped it up myself.  This was easier than I'd anticipated and now I know I'll never purchase another pre-made salmon patty again!   Mixing in some fresh tarragon, dijon, green onion, capers, lemon, and horseradish with a bit of mayo and panko delivered a herby, sweet, juicy, fresh flavored salmon burger with a bit of a kick from the horseradish and dijon, like none I'ever had.  Happy, happy me!
Read my recipe below and then be sure to check out the other delightful links for more fantastic seafood recipes.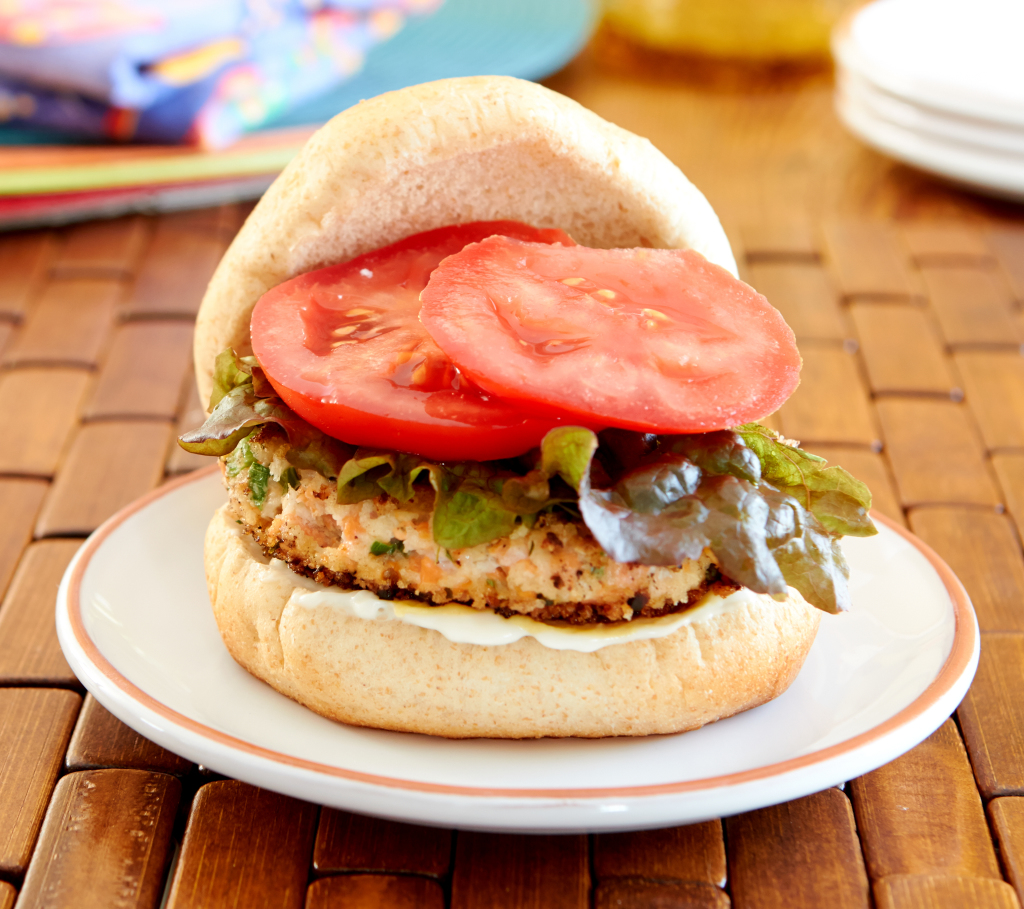 Herbed Salmon Burgers
Ingredients
1 pound skinless salmon fillet, cut into ¼-inch pieces (about 2¼ cups)
4 green onions, chopped
1 tablespoon drained capers
1 tablespoon fresh lemon juice
1 tablespoon chopped fresh tarragon + 1 teaspoon for crust
1 teaspoon Dijon mustard
1 teaspoon prepared white horseradish
½ teaspoon salt + ¼ teaspoon for crust
½ teaspoon pepper + ¼ teaspoon for crust
½ cup Panko breadcrumbs + ½ cup for crust
1 tablespoon butter
1 tablespoon dried shallots
Whole wheat buns
Sliced tomatoes
Leaf lettuce
Instructions
Combine first 9 ingredients in medium bowl.
Add 3 tablespoons mayonnaise and mix well. (Can be prepared 6 hours ahead. Cover and refrigerate.)
Meantime add ½ cup Panko breadcrumbs into a shallow bowl, mix in dried shallots, ¼ teaspoon salt, ¼ teaspoon pepper and a ½ teaspoon of tarragon.
Mix ½ cup unseasoned breadcrumbs into salmon mixture.
Form into four 1-inch-thick patties.
Place each pat tie onto the seasoned crumb mixture and pat gently - just to coat the outside.
Flip and repeat on second side, until all patties are coated.
Melt butter in heavy large skillet over medium-high heat.
Add salmon patties; cook until just firm to touch and brown and crusty, about 3 minutes per side.
Build burgers by spreading warmed buns with mayo and dijon to your liking. Add salmon patties, sliced tomato and lettuce.
Don't hesitate to check out all the other SSBP partners and  their fantastic seafood recipes!